IOL Gibson Pyle says Nebraska checks all of the boxes following junior day
3 min read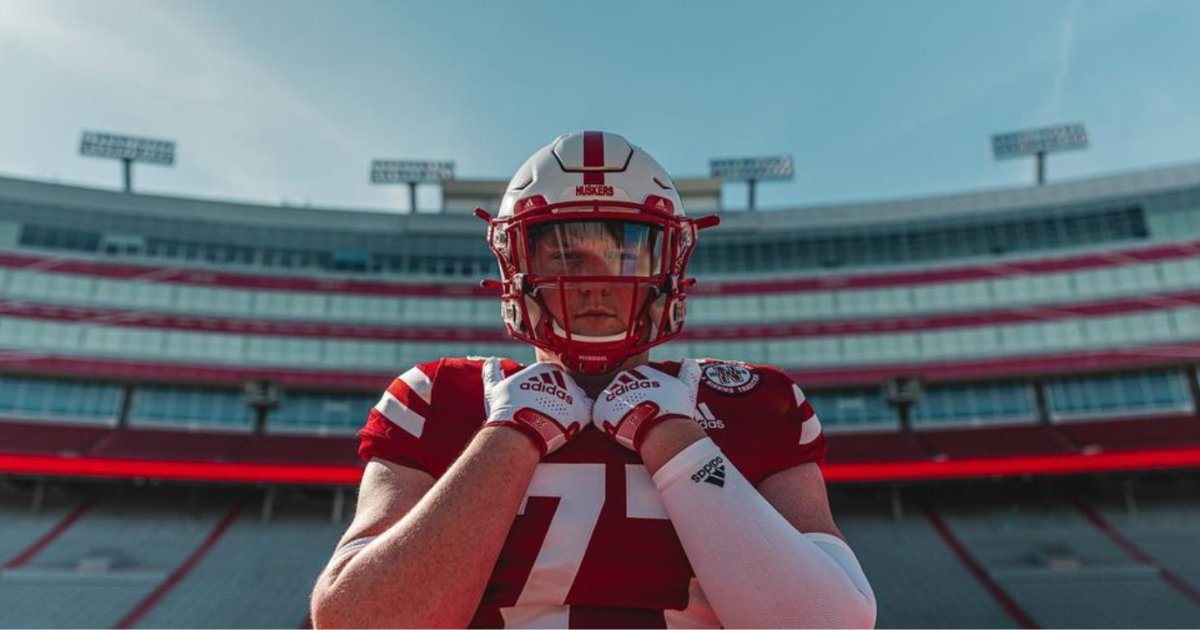 Houston (Texas) Klein Cain IOL Gibson Pyle has been to Nebraska twice in two months. This weekend was a junior day in Lincoln, and there were a couple of critical items that Pyle wanted to experience on this second trip, including a look at practice on Saturday morning.
"We got in pretty late because of our flight," Pyle said. "Our flight was delayed on Friday. We went to the campus on Saturday for practice that morning."
Pads were popping on Saturday morning according to Gibson Pyle
On Saturday morning, Pyle was awake and alert because of the sound of popping pads. He didn't feel like that was a team in the spring or a group holding their fourth practice with their new head coach.
"The first thing that I noticed on Saturday was how physical practice was. I didn't know what to expect, like shorts and shells, but that really felt like a football practice.
"I really liked the way coach Raiola was tough on his guys during practice. As soon as practice ended, he was coaching them up and talking to them about it."
Several recruits noted, including Pyle, the coaches' attention to detail. If a player did something wrong, they got to do it again or got coached up on it. At the same time, Pyle noted that players doing it right got recognition during practice too.
"I feel like it means more. They are hard on you when you need to do something different or better, but they also praise you when you do something right. I think that means more."
Gibson Pyle finally got a chance to meet head coach Matt Rhule
The last time that Pyle was in Lincoln, there was a family issue, and he was unable to meet coach Matt Rhule. This weekend he and his family got a lot of face-to-face time with the head coach.
"My main thing was to meet coach Rhule," Pyle said. "We got about 30 minutes with him and my family. I really like Nebraska, but I didn't know how coach Rhule was going to be. He made a great impression with my family."
Pyle was just in Lincoln a little less than a month ago, but he was surprised with the progress made with the new indoor facility in Nebraska.
"I saw the facilities only about three weeks ago, but it's exciting to see how fast they are moving and all their progress. All of the upstairs stuff is getting completed, and you can see it. The recovery room seems to be what they are still working on."
Nebraska checks all of the boxes for Gibson Pyle
A short and sweet summary for Pyle's trip to Nebraska is that the Huskers check all the necessary boxes, and Pyle will schedule an official visit. Before Pyle plans his official visit, he wants to find out when some of the other recruits in Lincoln this weekend will be back for their official visit too.
"Nebraska definitely checks all of the boxes, and I will be coming back for an OV," Pyle said. "I connected with a lot of the offensive linemen that were there on Saturday. When they do their OV, I kind of want to be with them because I have all of their numbers."
There were several other offensive linemen in Lincoln this weekend for the Nebraska junior day that Pyle connected with. He likes the idea of seeing those guys again in Nebraska for another visit to get to know them all better.
"I really connected with a number of the recruits there this weekend. Like Gage Ginther because he's from where my dad used to live in Fort Collins. It was cool to talk to him about that. I also talked to Grant Brix, and he was cool. It was really good to talk to all of those guys."
There is just one more visit planned for Pyle this spring, and it is to Nebraska again next month for their spring game. Pyle says he's getting ready for spring practices for his high school, which start in the coming weeks.
"I am just working on myself," Pyle said. "The only visit that I have is to Nebraska for the spring game. We start spring practices pretty soon here."
The post IOL Gibson Pyle says Nebraska checks all of the boxes following junior day appeared first on On3.