Isaiah Horton says his shoulder injury is 'fine'
2 min read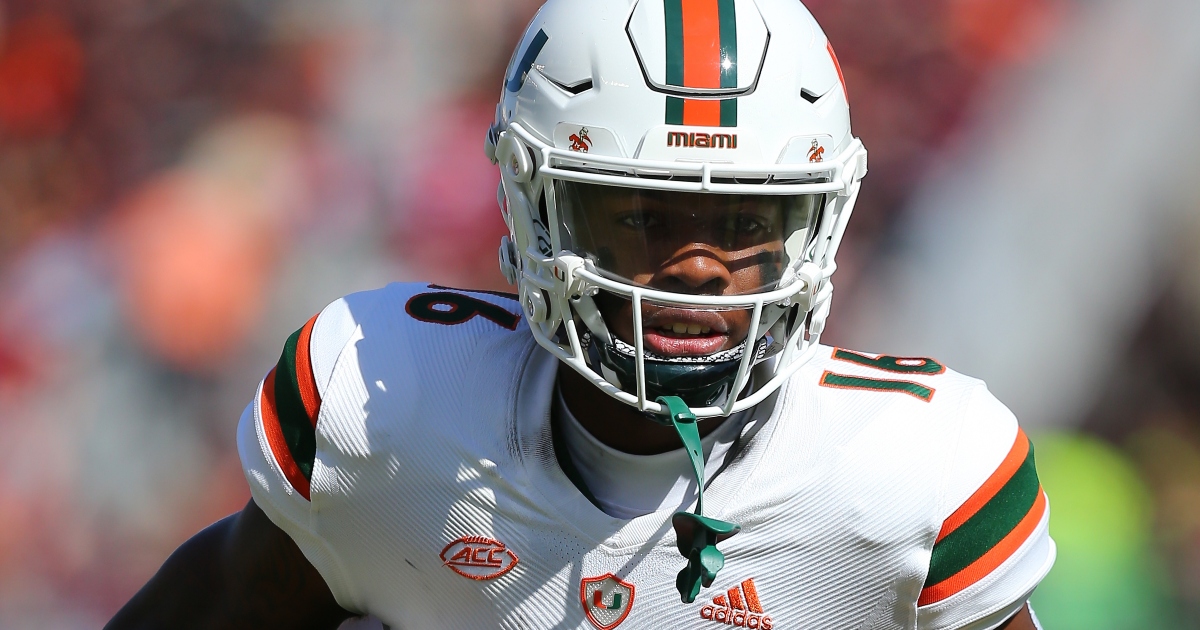 In head coach Mario Cristobal's inaugural year leading the program, the Miami Hurricanes dealt with a rash of injuries. One of which was the shoulder injury of freshman wide receiver Isaiah Horton. As the Hurricanes prepare for the 2023 season in spring practice, Horton has been there front and center. And one of the things that's on the minds of Miami fans across the country is whether or not his shoulder is healed and ready to go. Well, according to Horton, his shoulder is just 'fine.'
"yeah, I'm good now; healthy now. The shoulder is fine," said Horton. "Mentally, I'm good. I'm good, mentally. Just gave me a minute to sit down and think about what I have in front of me; the blessing that I have in front of me. It's a true blessing. Not many people get to play college football at the level I'm playing. So, I just got to sit down and take the opportunity that I have to take it in as a blessing and not take it for granted."
Horton was a true freshman receiver last season and wowed the Hurricanes' coaching staff during their fall camp. That earned him the opportunity to showcase his skills early in the season. Unfortunately, had to serve a one-game suspension, which hindered that opportunity. And due to the shoulder injury, the six-foot-four wideout from Murfreesboro, TN, was only able to play in one game last season for Miami. That lone game was against Virginia Tech late in the season, where he would make just one catch for six yards.
Cristobal explains why Shannon Dawson was the right fit as Miami's offensive coordinator
Along with injuries last season, the Hurricanes' offense failed to find any rhythm. And that lead to Cristobal finding a new offensive coordinator, Shannon Dawson. So far, through spring practice, Cristobal said Dawson is settling into the role well.
Speaking with On3's J.D. PicKell, Cristobal spoke highly of what Dawson brings to Miami. Last year, he helped lead Houston to the No. 2 scoring offense in the American Athletic Conference and the conference's No. 4-ranked total offense. Add in history with Hal Mumme and the Air Raid offense, and Cristobal said there's plenty of reason for excitement.
"Shannon's a stud," Cristobal said on The Hard Count. "I mean, he was able to blend the principles of the Air Raid in the passing game and has really done a great job pounding the football. He was at West Virginia, his most recent time over at Houston. He's an elite human being and he's an elite teacher. And what he does really fits what we are looking for. We want to be an explosive offense and we want to be a physical offense.
The post Isaiah Horton says his shoulder injury is 'fine' appeared first on On3.