Isaiah Wong describes fan excitement after making Final Four
3 min read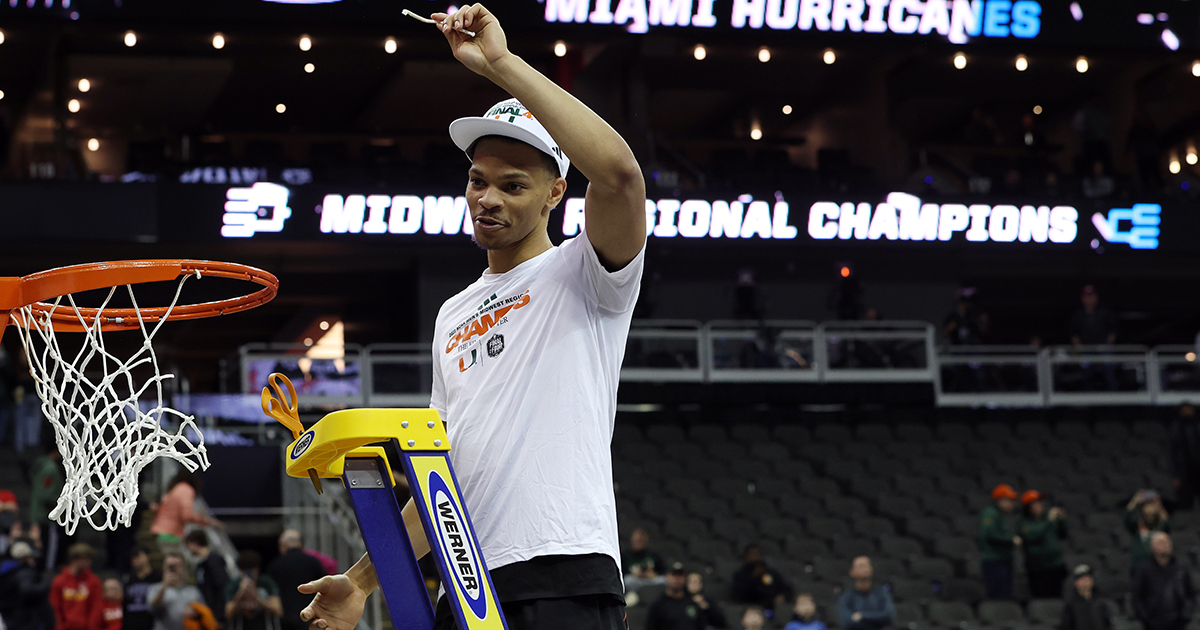 For the first time in program history, Miami is heading to the Final Four. Hurricanes fans have waited a long time to see their team on the biggest stage, and Isaiah Wong said the reaction has been about as expected.
Wong met with reporters Wednesday before Miami headed to Houston for the Final Four this weekend. Fans have been vocal in their support of the Hurricanes when they see the players around, and the vibes around the program are — understandably — pretty good.
"It's just been great," Wong said. "The fans are supporting us. Just walking around, they're showing us love. We appreciate them for that. It just feels good being in Miami right now."
Wong has been instrumental in getting Miami to Houston, leading the team with 16.2 points, 3.2 rebounds and 1.4 assists per game this season. That helped him earn ACC Player of the Year honors, and he was one of three Hurricanes players named to the Midwest Region All-Tournament team, joining Nijel Pack and Norchad Omier.
Wong dropped 14 points against Texas in the Elite Eight to help send Miami to the Final Four. That game wasn't easy for Miami, though, as the Hurricanes came back from 13 points down to punch their ticket. It's not the first time this tournament they had to come all the way back — they did so against Drake in the first round — and Wong said the ACC schedule played a huge role in getting Miami ready for those come-from-behind games.
"I would just say I thank the ACC for preparing us for these types of games, just coming in, every game we played in the ACC is always a close game," Wong said. "It's always a shot to win. I feel like coming into March we'd been in those types of situations, and we played good. We weren't afraid or scared of any situation. We just stuck together and played together throughout the game. I would just say I appreciate the ACC for the competition."
With a matchup against No. 4 seed UConn in its sights, Miami will have its hands full to start the Final Four. The Huskies are the No. 1 team in KenPom and are riding plenty of momentum into the national semifinals, including a huge 82-54 victory over Gonzaga in the Elite Eight.
But Hurricanes coach Jim Larranaga had a simple message for his group as they departed.
"Have more fun," Larranaga said. "Basketball is a game. You want to enjoy it. You don't want to put a lot of pressure on yourself and be all stressed out. It's very hard to play when you're uptight and you're worried about the score or maybe the opponent. You really have to execute the game plan. That means every player doing their job executing their role. We've been able to do that so far and hopefully we'll do it on Saturday."
The post Isaiah Wong describes fan excitement after making Final Four appeared first on On3.