'It's going to be whoever wants to do the little bit': Texas players don't want this run to end
6 min read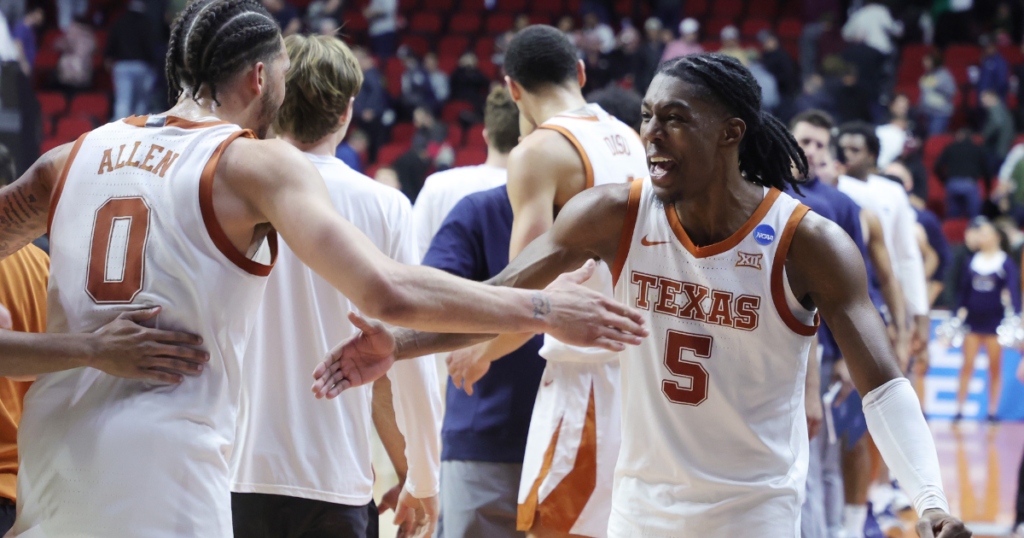 Before Texas even played a game in the 2022-23 season, the nine players that would end up comprising the core rotation for the Longhorns entered with 23 seasons of playing experience. Seven of the nine had played at least one season in the Big 12 and won one game in the NCAA Tournament.
[Get Inside Texas Plus until 8/31 for just $29.99!]
The age and experience on the roster helped the Longhorns all year, especially against top-10 teams like Creighton, Gonzaga, Kansas State, and Kansas. It was something the entire squad leaned on in the aftermath of Chris Beard's suspension and dismissal, throughout the Big 12 Tournament, and in two NCAA Tournament wins that put the program into the Sweet 16 for the first time in 15 years.
But even with all that experience, the current stage Texas finds itself in is familiar to only two players. Only Tyrese Hunter and Christian Bishop have played in a second weekend game in the NCAA Tournament, and neither did so at Texas. Hunter's Sweet 16 appearance was with Iowa State in 2022, while Bishop's was with Creighton during the bubble tournament in 2021.
Even with his inexperience relative to fellow starters, Hunter has offered guidance in recent days.
"I kept telling the guys, I forgot who heard it from, but when the best meets the best the differences are a little bit, and it's going to be whoever wants to do the little bit," Hunter said Tuesday. "Whoever wants to dive on the floor, second effort, energy, and all that. Really, just be yourself. I feel like this time of year, nobody really changes what they do. They're just really emphasizing what they're really good at."
Texas did the little bit all year, whether it be through Hunter's youthful yet veteran presence, Bishop's grit, Marcus Carr's scoring additions, Jabari Rice's prowess off the bench, Timmy Allen's exploits as the heart-and-soul of the team, Dylan Disu's recent explosion, Dillon Mitchell's unselfishness despite his high profile, Arterio Morris' development, or Brock Cunningham's do-it-all, glue-guy efforts.
But to get past Xavier, and help Texas reach the Elite Eight for the first time since 2008, they'll need to do a little bit more.
"It's about what team is going to play defense, what team is going to be the tougher team, make the least amount of mistakes, (and) is able to stay together because it's going to be a game of runs," Rice said Tuesday. "It's not going to be a game that goes away. It's going to be a close games because it's two great teams, and that's how it always is with March Madness."
Much of the local and national focus since Beard's early January dismissal has been on interim head coach Rodney Terry. The stream of 'will he or won't he' has been a consistent topic on television broadcasts, and even in Kansas City this week with more national media outlets focusing their eyes upon the Longhorns.
On Tuesday, when the Texas players were available to local media in Austin, the topic was centered around the players. They are the ones on the court, after all.
Terry's guidance has been needed and necessary. Coaches aren't paid handsomely for no reason, and Terry's January pay-bump once he moved into the head coach's chair is further evidence of that.
But whether Terry is coaching this team, or Texas teams to come, this team — this group — won't be together again. That's motivating the veterans who want to use their experience to create more experiences in uncharted basketball territory and advanced a bit further.
"Being here with this group is special," Allen said Tuesday. "We've been doing things that haven't been done here in a long time all year. I've been keeping receipts in my head. But I'm glad that Brock, Dylan, (Carr), (Bishop), we are doing it. I think we deserve it. We're not entitled to anything, but these guys deserve the love that they're getting."
 (Photo by Stacy Revere/Getty Images)
So how does the group continue to do things that haven't been done, as Allen said, in a long time?
By getting past No. 3 seed Xavier on Friday night.
When asked about who the Musketeers remind of, several answers were given but Creighton and TCU were the two mentioned most often. Hunter mentioned XU plays drop coverage on ballscreens and utilizes 6-foot-11 Jack Nunge on defense.
"Finished second in the Big East, and Nunge is a big part of that," Disu said Tuesday. "I believe he averages 14 points per game, and he can also stretch the floor. He shoots at about a 40% clip. He'll be a difficult matchup. Any guy that's 7-foot and can shoot the ball is going to be a difficult matchup, but we're ready for the challenge for sure."
Disu's ability himself to score from multiple levels will be important in determining the Longhorns' fortunes. On Saturday versus Penn State, the Pflugerville (Texas) Hendrickson product scored 28 points on 14-of-20 shooting. However, he was 0-for-1 from three.
His low-block and midrange game will be critical. If he can start adding contributions from three?
"Dylan hitting his stride now, teams are going to have to respect it," Carr said. "It's become a huge weapon for us."
Defensive efforts will be just as key against one of the top offensive teams in the country. Like Colgate and Penn State, Xavier can shoot from outside. XU hit 39% of its threes in 2022-23, good for fifth in the country. It was also first in assists, with 19.3 per game.
The players to know for Xavier are Nunge, Souley Boum, and Colbey Jones.
Defending the Musketeers' top perimeter scorers will likely dictate the outcome of this game. That means Allen knows he can dictate the outcome of the game whether he's guarding Boum, Jones, or even Adam Kunkel.
[Sign up NOW for the Inside Texas newsletter for Texas Longhorns daily updates and breaking news in your inbox!]
"I just try to make it tough," Allen said. "I know I'm not going to shut anybody out. If I do, I probably got lucky because people are going to score. I'm not changing a lot of what I do, I'm changing what they don't like. Pressure, just trying to make things difficult, take them out of what they're used to doing."
Allen explained his tenacity this way: "I'm willing to run across seven screens and still guard the ball. Not a lot of people are willing to do that."
Should Texas prevail over the Musketeers, the winner of the other semifinal game in the Midwest region between Houston and Miami (Fla.) awaits the Longhorns. That's ahead of where Texas' current focus is.
The next game is the most important one for Texas, and its players don't want Friday's battle to be the last. They want to keep going a little bit further, and the Musketeers stand between them and their goal.
"We're treating it like another game," Cunningham said. "We're preparing the same way. Same focus goes into the preparation. We're just ready to get out there and compete. This team loves each other and we want to play for as long as possible."
The post 'It's going to be whoever wants to do the little bit': Texas players don't want this run to end appeared first on On3.