'It's just going to be a show' … high-profile OL transfer Jeremiah Byers loving Florida State offense
3 min read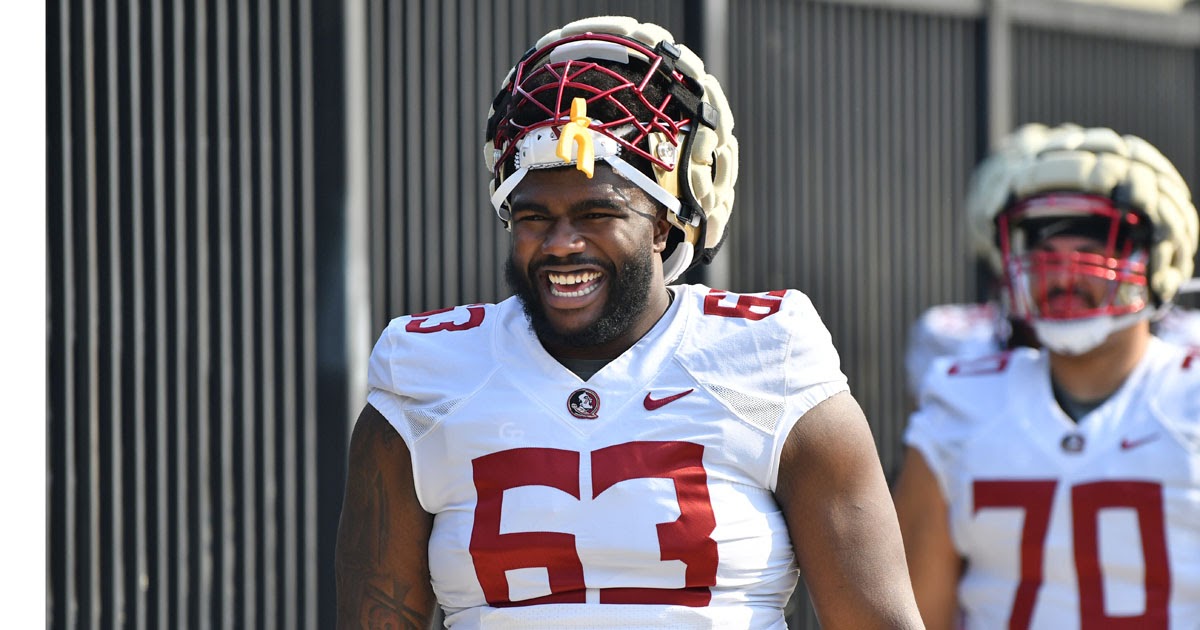 Jeremiah Byers was one of the most coveted transfer portal products in the United States a few months ago.
Just about every big-time college football program in America would have taken the talented offensive lineman from UTEP.
Florida State was lucky enough to get his commitment, in part, because the Seminoles didn't promise him a darn thing — other than he would have an opportunity to start in 2023. But the coaching staff, led by head coach Mike Norvell and offensive line coach/offensive coordinator Alex Atkins, made sure Byers knew things were going to be really, really hard if he chose to come to Tallahassee.
So, with that in mind, maybe it shouldn't have been a surprise how Atkins talked to the potential NFL draft pick on the very first day of spring practice.
"You set like a middle-schooler," Atkins told him about four seconds into that first workout.
Welcome to the Florida State offensive line, Jeremiah!
"And I was just like, 'OK. Umm. So, I just transferred here, and now you're telling me I set like a middle-schooler? Crap, now I've got to start all over,'" Byers said Thursday with a smile. "But you've just got to fall in love with your journey. At the end of the day, you've just got to fall in love with your process and how everything operates with you. And just keep your head down and keep working.
"That's what he always tells us."
Byers was ranked the second-best offensive line prospect in the On3 transfer portal rankings.
The Austin, Texas, native started 30 games for the Miners, and he was an All-Conference USA selection in both 2021 and 2022.
He knows he hasn't earned a starting spot yet for the Seminoles, but he is most definitely in the mix. He is listed at 6-foot-4, 329 pounds on the Florida State roster and has impressive speed and agility for someone that big. And,as he pointed out on Thursday, he's also strong.
When asked how he had developed since coming to Florida State, he flexed and essentially said, "Can't you see this?"
And make no mistake, Byers is a massive human being.
But there's more to playing offensive line, especially at Florida State, than just being big and strong. And he thinks that's where he has grown quite a bit, too, through the first 11 practices with the Seminoles.
"My football IQ," Byers said. "It's grown a lot more being in this offense. A lot of schemes, a lot of concepts and different formations."
Byers has been lining up strictly at right tackle this spring, he said, and he absolutely loves getting to play that position in the Florida State offense.
"It shows I can get out on the outside zone," Byers said. "It shows I can pull. Like this offense, it's made for O-Linemen. This offense is. If you want the scouts to see how you operate, it's this offense for you to operate in."
When Byers talks about the Florida State offense, it's impossible for him to hide his excitement. He has compared it multiple times to the NBA's "Showtime Lakers" from the 1980s.
He said Jordan Travis is Magic Johnson.
Johnny Wilson is Kareem Abdul-Jabbar: "Because he's tall as heck."
Maybe Byers will be Worthy of the "Big Game Jeremiah" moniker. Who knows?
Either way, through 11 practices, it sure sounds like he loves the decision he made to finish his college career wearing garnet and gold.
"It's just going to be a show," Byers said. "It's one of the most explosive offenses this (last) year in the country. I'm just coming in on the bandwagon. I'm just trying to join the team."
And help that offensive line reach its full potential.
"Coach Atkins is a real coach," Byers said. "He's going to give it to you straight, give it to you how it is. And then on the other side of the ball, there's a lot of talent in that D-Line room. … We're seeing the best D-Line in the ACC, and we're trying to be the best O-Line in the ACC."
Talk about this story with other die-hard FSU football fans on the Tribal Council.
The post 'It's just going to be a show' … high-profile OL transfer Jeremiah Byers loving Florida State offense appeared first on On3.