Jacurri Brown hopes to overcome stereotype surrounding Black quarterbacks
2 min read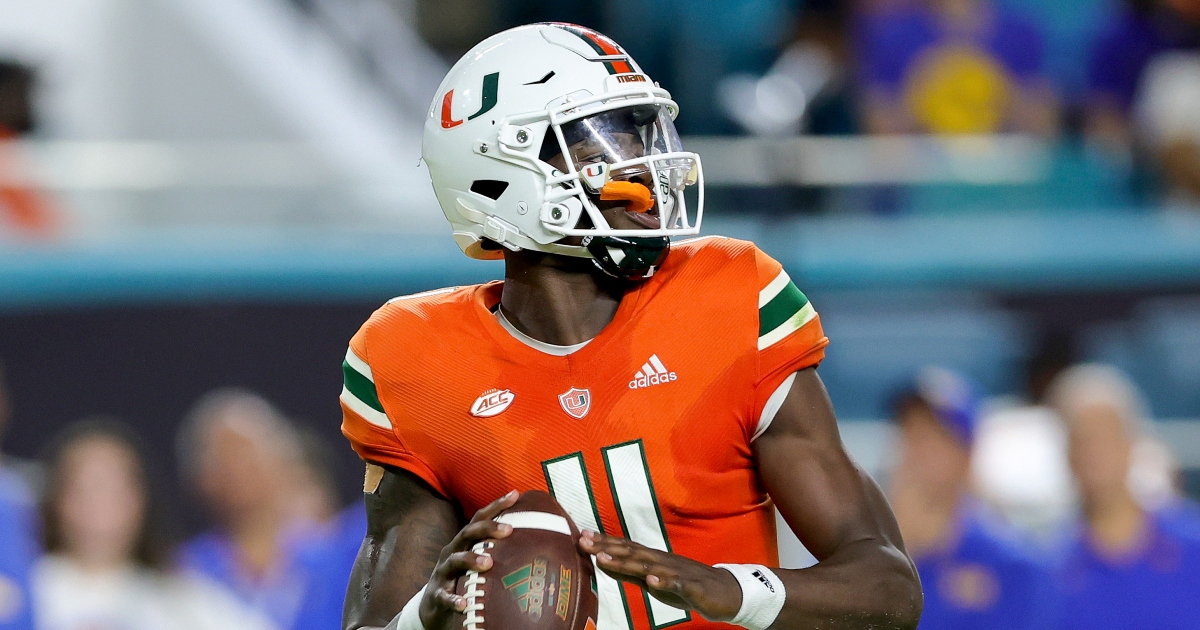 Miami Hurricanes quarterback Jacurri Brown is working hard to win the starting position for the upcoming 2023 season. Along the way, he will have to overcome many obstacles, including beating out last year's starter for much of the season Tyler Van Dyke. But there is an obstacle he will have to overcome over and over again in his playing career — stereotypes imparted on black quarterbacks.
During a recent interview, Brown highlighted how he hopes to overcome those stereotypes surrounding black quarterbacks during the Hurricanes' spring practices and as he continues his football career.
"Yeah, for sure. I feel like I'm; okay, let's be real. I'm a black quarterback, right? So, they put those black quarterbacks in the box of athleticism," said Brown. "And I feel like if, let's say if Cam Newton had the same mindset as Tom Brady, he'd still be playing in the league right now, even with his physique and everything like that. So I feel like if I expand on my mental part of the game, then I'll be great forever."
As a true freshman, Brown saw action in eight of the Hurricanes 12 games on the season, starting in two of them. Brown was 1-1 as a starter, beating Georgia Tech but losing to the eventual ACC champs, Clemson. In those eight games, the six-foot-four Valdosta, GA, native showcased his dual-threat ability on the field. Brown finished the year completing 27 of his 45 pass attempts for a 60 percent completion percentage. He also had 230 yards through the air, 223 on the ground, and three passing touchdowns. Brown even caught a pass for nine yards. Unfortunately, he did have three interceptions on the year and was sacked six times.
There have been several instances where a black quarterbacks style of play has been used against him. The most recent situation has been that of Baltimore Ravens MVP quarterback Lamar Jackson. During Jackson's quest for a new contract, his style of play, based on his athleticism, was called into question numerous times. This has led to a stalemate between the former unanimous MVP, the Ravens franchise, and other possible teams who are in desperate need of a quarterback.
Brown is not looking to part ways with using his athleticism. But he would prefer it not to be the skillset that defines him as a quarterback. For Brown, if he can combine Newton's athletic skill set and Brady's cerebral approach, he believes it will make him a force on the field for years to come.
The post Jacurri Brown hopes to overcome stereotype surrounding Black quarterbacks appeared first on On3.