Jahdae Barron says Quinn Ewers' confidence went 'way up' in the offseason
2 min read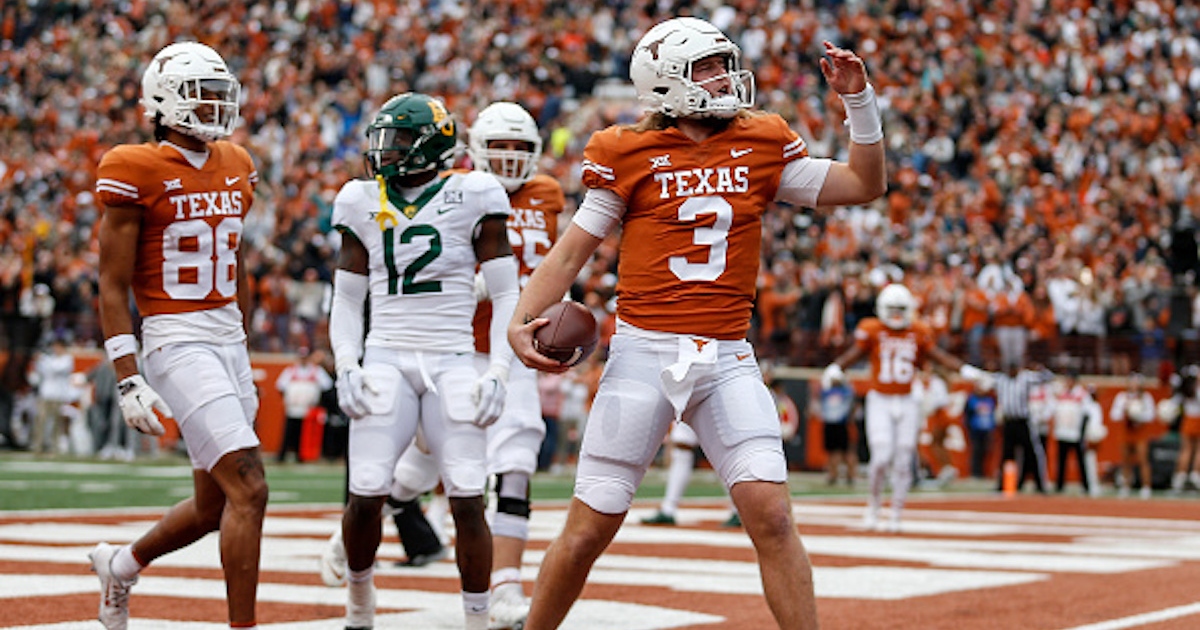 Texas cornerback Jahdae Barron said Quinn Ewers' confidence went up compared to last season, his first on campus.
Ewers was a high profile transfer from Ohio State and the former five-star actually skipped his entire senior year of high school. After making one appearance at Ohio State, he transferred closer to home and won the starting gig, showing elite flashes.
But the 2023 season might be the one where Ewers puts it all together, according to Barron.
"Quinn, he's improved his confidence," Barron said. "His confidence went way up. It went way up. He's confident, he runs the ball when he needs to and he's patient. I like that."
Barron mentioned he really wanted to pick Ewers off in practice or in scrimmages. He said, "I need that pick."
Basically, it's the embracement of competition between the two players and the team.
In his first season as a starter (10 games), Ewers had 2,177 yards, 15 touchdowns, six interceptions and a 58.1% completion percentage.
As a member of the Class of 2021, Ewers was a five-star recruit out of Southlake (Texas) Carroll, according to the On3 Industry Ranking, a weighted average that utilizes all four major recruiting media companies. He was the No. 1 overall prospect in the state, the No. 1 quarterback in the class and the No. 3 overall prospect in the class.
Barron wasn't the only one to notice a difference in Ewers' confidence over the course of the offseason. Safety Jerrin Thompson echoed those comments.
"Quinn, you can tell that he's come a long way, learning like the defense and knowing what we're playing, even if we're disguising on him," Thompson said. "He does a good job of looking-off the safeties. I'm saying he came a long way, just from that aspect."
A first year under someone like Steve Sarkisian can be complicated, especially when going through a quarterback competition.
"I think Quinn had a really good winter offseason conditioning," Sarkisian said. "I think he got himself in really good shape. He definitely feels more comfortable. He's throwing the ball very naturally, very comfortably.
"From a decision-making standpoint, the reads are just happening that much quicker, that much more decisive. I think the management of our style of offense, right? The shifts, the motions, the varying tempos."
CLICK HERE to subscribe to the On3 YouTube channel today for all of the latest news on college football, recruiting, NIL, more!
The post Jahdae Barron says Quinn Ewers' confidence went 'way up' in the offseason appeared first on On3.