JaVontez Spraggins analyzes where Tennessee's offensive line stands
2 min read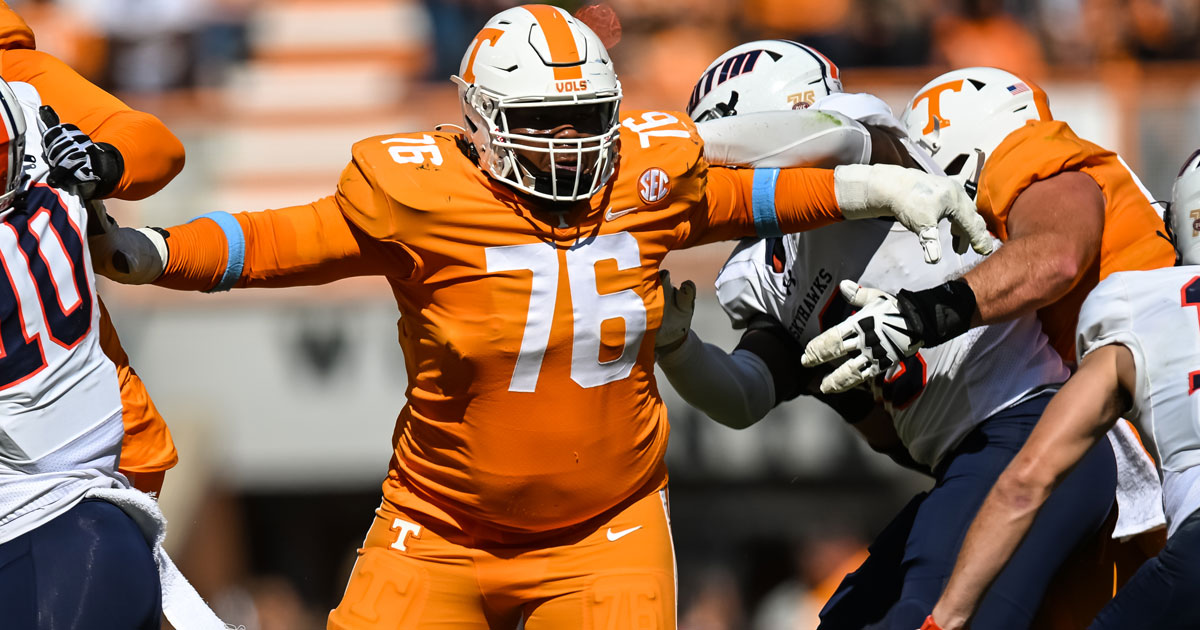 As Tennessee trudges on in spring football practice, the offensive line is taking a motto to heart that has paid dividends already through coach Josh Heupel's first two seasons in charge.
Just get a little bit better every single day.
"Every day no matter what we do, whether it's getting down the field, or pass-blocking better, run-blocking better," senior offensive lineman JaVontez Spraggins explained. "It's an inch forward no matter what, all the way until we put our pads on to play."
Tennessee's offensive line will play an absolutely pivotal role this fall, perhaps even more than normal.
With starting quarterback Hendon Hooker now off to the NFL Draft and veteran Joe Milton expected to take over in his stead, the Volunteers offensive line will be tasked with keeping Milton clean.
The better looks he has to operate from in the pocket, the better the chances of him making that transition reasonably seamless. And it's a big one.
There's absolutely no understating how excellent Hooker was for the Vols in 2022.
He finished fifth in the Heisman Trophy voting and threw 27 touchdowns against just two interceptions. His ability to play smart, safe football from a mostly clean pocket allowed Tennessee's offense to score points, build leads and continue to heap pressure on opponents as games progressed.
It's no accident Tennessee won 11 games as a result.
But replicating those kind of looks from the pocket isn't a given. Not with star offensive tackle Darnell Wright also off to the NFL Draft.
Spraggins was fairly up front in his assessment of the Tennessee offensive line to this point in spring practice.
"I wouldn't say it was bad, I wouldn't say it was the best," he said. "We've got to keep pushing forward every day, building our limits, like stretching it, inching it every day."
Offensive lineman Ollie Lane provided a reasonably similar assessment as well after the team's first scrimmage of spring, essentially noting that there's still plenty of room for improvement.
"Up front, I think that we had a pretty solid scrimmage for the first scrimmage of spring. Obviously, the first scrimmage is always there's a ton of improvement on the stuff that we need to work on," Lane said. "But I think, all in all, we are starting to play more aggressive.
"We're getting our technique and our footwork down, and our assignments are a lot more clearer now. We're not having a lot of mistakes as we used to. You know, the first scrimmage, there's always going to be a lot of room for improvement. But I think we came out there with the right mindset and had a very aggressive day upfront."
The post JaVontez Spraggins analyzes where Tennessee's offensive line stands appeared first on On3.