Jim Schlossnagle explains why Texas A&M, Alabama played despite weather issues
3 min read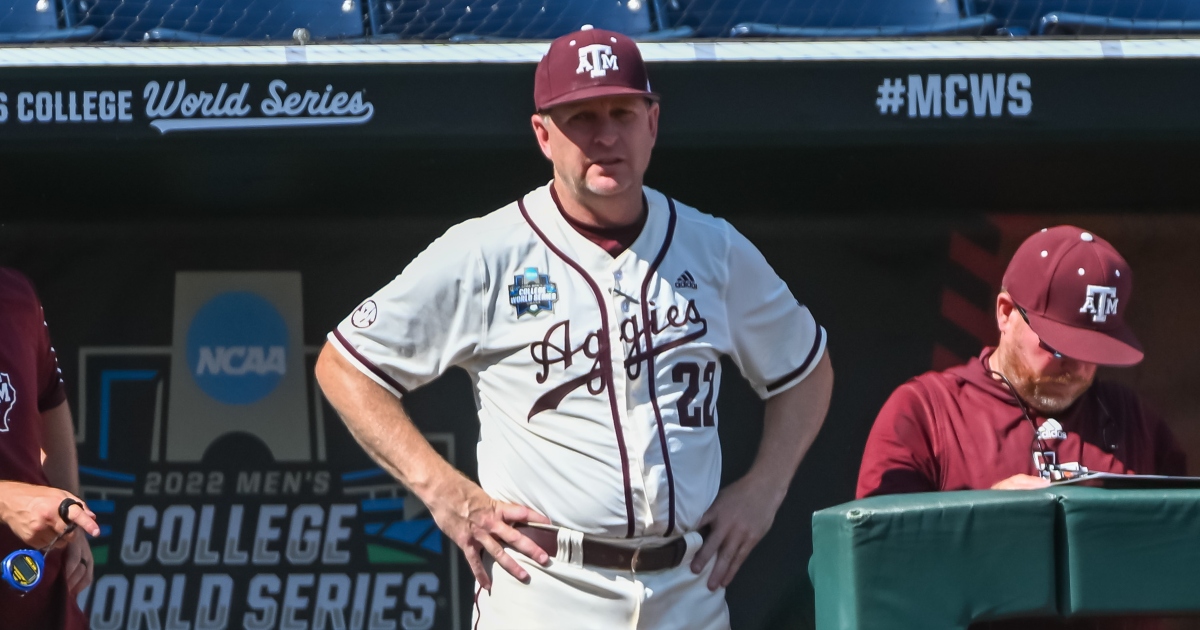 Texas A&M and Alabama faced off Sunday night after their game was delayed due to bad weather in the College Station, Texas, area. The game was originally set to start at noon before being delayed until 7 p.m. Sunday night.
The Crimson Tide blew out the hosts, 11-0, to win the series.
Aggies head coach Jim Schlossnagle said after the game that the weather was so bad that he sent his team home because the two sides had originally agreed to cancel the game. He broke what happened with the media.
"Came to the ballpark," Schlossnagle said. "Got four inches of rain this week, three in the last 24 hours. Got with our administration, got with our field guy, talked to the meteorologist. All you can do is try and make the best decision that you can possibly make with the information that you have. We determined that the field was going to be unplayable and the forecast was for more rain. Then I called their coach and he said, I understand no problem. Can we come over and get in the batting cages in a little bit? Said, sure, no problem."
Schlossnagle then continued, explaining the SEC got involved from keeping the Alabama-Texas A&M game from getting fully canceled and instead just suspended due to the weather.
"I personally try and take into account everybody else that's involved in this including you guys, people that work at the stadium, concessions grounds crew," Schlossnagle said. "It's Mother's Day. I'm not trying to avoid a game. We needed to play and we needed to win and we didn't. For 15 minutes, I met with players. I sent them home. Then apparently, I don't know what's going on over there in terms of interim coach and who's making decisions. The interim coach is a really nice guy but I don't know who's making decisions. Apparently, their athletic director got involved. The league put a stop hold on it. Then we for a while deemed the field unplayable then they wanted us to work on it for a while. Of course then the sun came out. That's not why we lost the game."
Alabama got a great start from Jacob McNairy, who shut down the Texas A&M hitters over seven innings of six-hit ball with nine strikeouts.
The big moment of the game came in the second inning when Crimson Tide leftfielder Tommy Seidl worked a full count and then smashed a grand slam to make the score 5-0. Seidl finished the day 3-for-5.
Schlossnagle didn't want to give any excuses about the team's lackluster performance after being sent home saying that the Crimson Tide had to deal with a worse scenario.
"Not as hard as the fact that Alabama had to check out of the hotel at one o'clock and had to sit over there till seven in the dugout or bus or visitor locker room, whatever they were doing," Schlossnagle said. "Alabama out toughed us today."
The post Jim Schlossnagle explains why Texas A&M, Alabama played despite weather issues appeared first on On3.