Joe Milton vs. Nico Iamaleava: Tennessee doesn't have a quarterback controversy, but one wouldn't hurt the Vols, either
5 min read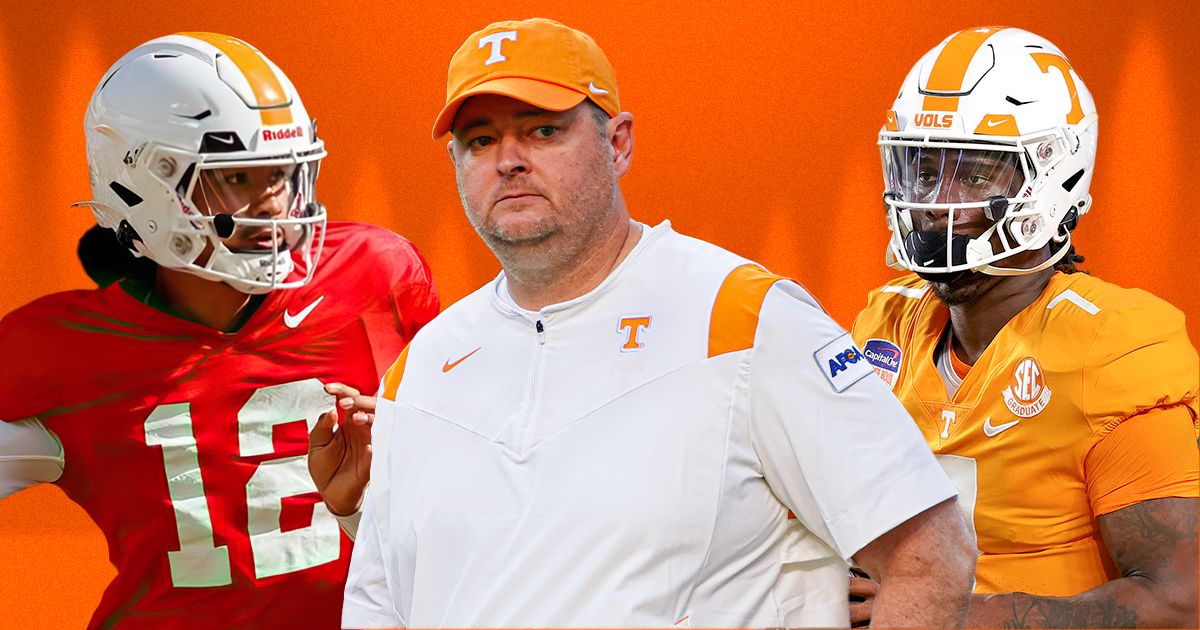 After serving as Hendon Hooker's backup last season and then starring in Tennessee's win over Clemson in the Orange Bowl, veteran quarterback Joe Milton is the Vols' presumed starter in 2023.
Freshman 5-star phenom Nico Iamaleava is the generational prospect waiting in the wings, biding his time until he's the team's starter in 2024. 
In a perfect world, it all makes sense. 
Milton flubbed his initial audition to lead Tennessee's offense in 2021, as an injury and inconsistent play opened the door for Hooker to run away with the job the rest of the season. 
Only a weird thing happened then. 
Milton didn't pout or immediately jump back into the transfer portal. The former Michigan quarterback stuck around and focused on his development. He became a sounding board for Hooker last fall, as the two developed a strong bond that resonated in the locker room.
In mop-up duty in 2022, Milton was mostly fantastic, throwing six touchdowns to zero interceptions. Armed with a potato rocket launcher, Milton still had his occasional misfire, but overall, he was more accurate and had a better understanding of Josh Heupel's system. 
Milton was pressed into greater action late in the loss to South Carolina after Hooker tore his ACL. Milton started the final two games for the Vols, including the bowl win over the Tigers. He was great against Clemson (19 of 28 for 251 yards and three touchdowns), yet despite his obvious improvement, that still represented an outlier performance against Power 5 competition throughout Milton's career. 
Against Vandy in the regular-season finale, Milton was just 11 of 21 (52.4 completion percentage) for 147 yards and a touchdown. The Vols ran all over the 'Dores (56-0), so a few miss-throws were nothing more than that. 
Still, outside of the Orange Bowl, Milton's career performances against P5 competition have been mostly middling. He's 111-of-216 (51% completion) with nine touchdowns to six picks. 
Now, it's not a huge sample size and it stretches across four+ seasons in multiple offensive systems. Perhaps a zebra can change its stripes. Who he was in 2019 is now who he is in 2023. Maybe Milton deserves to be Tennessee's heavy frontrunner for the starting job. He absolutely has the tools, frame and athleticism to be next year's Will Levis — as in a top NFL Draft pick despite some holes in the resume. 
But a couple of weeks into spring practice, Josh Heupel must be thrilled that his ballyhooed freshman hasn't simply come to campus and ceded the job automatically to the vet. 
Nico Iamaleava is making a strong early impression this spring
Since bowl practices in December, the early returns from Iamaleava have been positive to outright glowing. On3's top overall high school recruit in the 2023 class has come to Rocky Top ready to compete. There have been some natural mistakes, and Iamaleava is still getting comfortable learning the tempo of Heupel's go-go offense. The staff has also pushed the 5-star freshman to "rip it" and be ok with making a mistake or two this spring so long as he's playing with his prized confidence and moxie.
"He's mature beyond his years," newly promoted Vols offensive coordinator Joey Halze said earlier this spring of Nico Iamaleava.  
"He doesn't act like a freshman, but with that said, the first time you take the field, no matter how prepared you are going from high school to college, it's fast. It's fast. There's a lot more on you. We put as much on the quarterback as anybody in the country, if not more, so it's a lot. He's handling it well with a great attitude. He stays positive. He competes at a really high level, and he just lets his athleticism take over, too, which is fun to watch.
"My focus the whole time is telling him, 'You're going to make mistakes.' So awesome. Now that we know that, there's no reason to play timid. If we know we're going to make this mistake, we're going to throw some picks this spring as we're learning and figuring out new defensive structures. So there's now nothing to play timid about if we already know that's coming."
Halze continued, "So just going out there and rip it. It's fun to watch him when he lets that thing go and when he's just playing confident out there, and it's just going to keep coming and keep coming and being more consistent as he gets more and more comfortable in the offense." 
Well, it all culminated in Iamaleava outperforming Milton in Tennessee's first scrimmage over the weekend, per multiple reports. 
It's one scrimmage. And the defense won the day anyway.  Heupel was complimentary of both quarterbacks afterwards, though, as neither turned the football over. Tennessee is set to scrimmage again Thursday. The Vols host the Orange & White Game on April 15. There's a strong chance Milton outplays Nico in the scrimmages to come. 
So what might it all mean? Tennessee doesn't have a full-blown quarterback controversy. But maybe one wouldn't hurt the Vols, either?
The more Nico Mania the better. Either the 5-star freshman is so gifted that Heupel — who told On3's JD Pickell on the Hard Count that Iamaleava is "as talented as anybody I've ever been around in my coaching career" — is forced to play the kid early in the fall, or Iamaleava pushes Milton to be the best version of himself — which with his ceiling means perhaps the top quarterback in the SEC this fall. 
"It's my job to go out there and compete and be ready when my number is called," Iamaleava said. 
"Anything can happen this season."
For Heupel and the Vols looking to capitalize on last year's 11-win season and continue to press for a College Football Playoff ticket, it's a win-win for Tennessee either way. 
"I believe Joe will be ready to play at an elite level," Heupel said earlier this spring. 
"But there's competition at every position. I've said that from the time that I've got here. I don't care how you were recruited, if you were a walk-on or not, you started a game or a year ago – it doesn't matter. It's about who you are today. That's why you've got to be very competitive in everything that you're doing, intentional in the way that you work. I believe Joe will be ready to play at a really high level, but there's going to be competition everywhere."
The post Joe Milton vs. Nico Iamaleava: Tennessee doesn't have a quarterback controversy, but one wouldn't hurt the Vols, either appeared first on On3.