Joel Klatt labels Olu Oluwatimi a steal at offensive line in NFL Draft
3 min read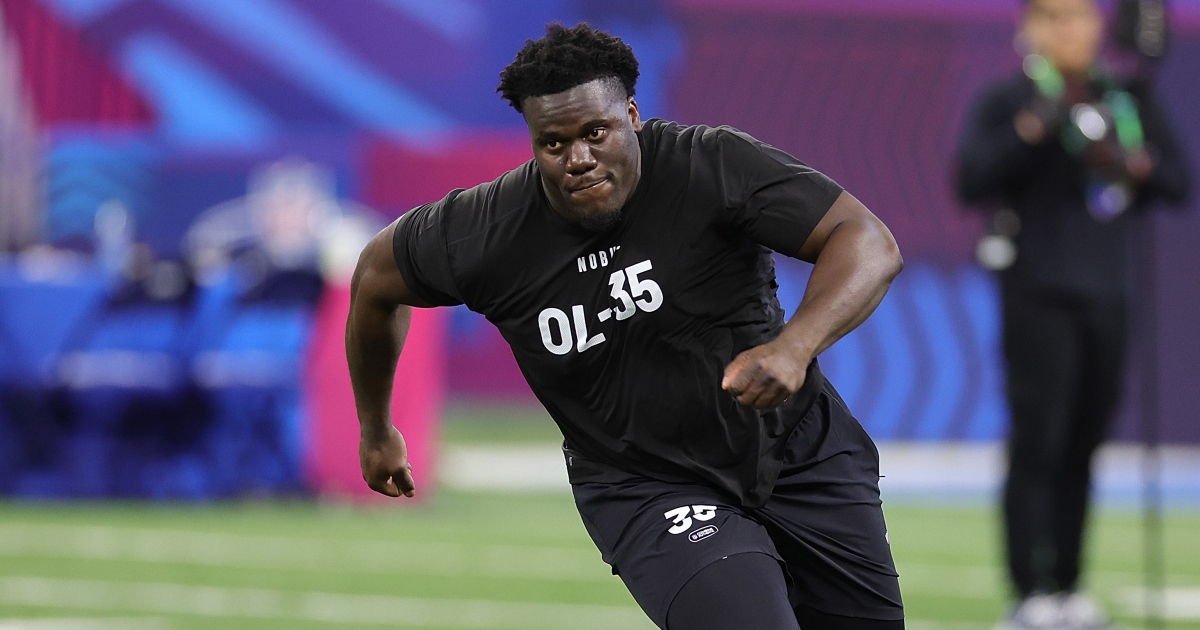 The Michigan Wolverines have been consistently cranking out top offensive line talent that has gone on to successful careers in the NFL. And in this year's NFL draft, Fox college football expert Joe Klatt sees another former Wolverine continuing their run of excellence. On his podcast, The Joe Klatt Show, The college football expert pinned Michigan's Olusegun Oluwatimi as that guy while simultaneously calling him his offensive lineman steal of the draft.
Here's a guy that I think can and will be a starter in the National Football League. And he's not a guy that projects super high into the draft," said Klatt. "Therefore, I think that this is a draft steal. And it is the Remington Award winner, Outland Award winner Olu Oluwatimi the center from Michigan."
Oluwatimi has impressive stand-alone season at Michigan
The season was almost dreamlike for Oluwatimi. He and the Wolverines meshed together almost instantly and seamlessly in their lone season together. That allowed for the one-time Michigan offensive line star to rack up several awards. And Klatt explains why that was the case and how that will bode well for Oluwatimi in the NFL.
"So obviously, I did a lot of Michigan games this last year. And I will tell you they were not just pleasantly surprised, but they were blown away by Olu Oluwatimi as a transfer coming in from Virginia. The way that he integrated into the locker room, that he became a part of the team, became so well-loved, and became a leader on the offensive line; it was seamless. And that only happens when you have a guy that is selfless, that is team-first, and that is really good on the field. You see, that's the currency in the locker room; it's talent. And then the next bit of currency is your attitude and your work ethic. When you have all of those things: talent, attitude, and work ethic, you can make it in any locker room."
Many thought after Michigan's offensive line won the Joe Moore Award last season that they would take a step back with the departures they had last offseason. But with Oluwatimi leading the Wolverines' offensive line, they became the first-ever back-to-back recipients of the award.
"He transfers in form from Virginia. And remember, this was a team that had just won the Joe Moore Award with the top offensive line. There were some thoughts that they were going to take a step back on their offensive line… and now Olu steps in, and he's the center, the quarterback of that offensive line, and they didn't miss a beat. Not only did they not miss a beat, they got even better running the football. They were even tougher at the line of scrimmage, and a lot of that was due to Olu Oluwatimi.
"…You've got a fabulous football player that will be overlooked early, and you're gonna find value with him in the middle of the draft. That is a really good draft steal right there in the middle of the draft at center; I think he can play guard as well."
Behind Oluwatimi and the rest of the Wolverines' offensive line, star running back Blake Corum was in the running for the Heisman Trophy award before he went down late in the year with a season-ending knee injury. Corum would rush for 1463 yards and 18 touchdowns and was also named a consensus all-American in the process while running behind Oluwatimi.
The post Joel Klatt labels Olu Oluwatimi a steal at offensive line in NFL Draft appeared first on On3.