Josh Heupel defends his Tennessee offense against criticisms from NFL Draft analysts
3 min read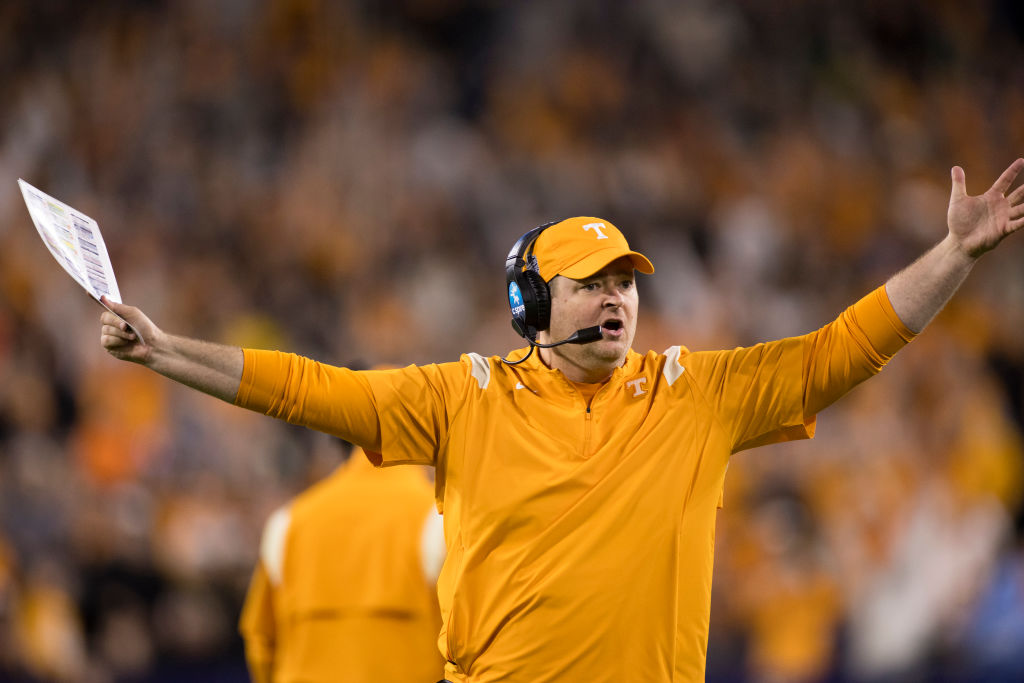 Whenever an NFL Draft analyst praises Hendon Hooker, it's usually followed with a criticism. Tennessee's uptempo offense, the one Hooker was so productive in the last two seasons, doesn't translate that well at the next level.
Josh Heupel's wide receivers are split too wide — wider than they're split in the NFL — is a common point made. The Tennessee offense doesn't force the quarterback to make multiple reads and usually only focuses on one half of the field. The high-speed tempo isn't used in the league.
"They have a system that spreads things out," ESPN's Todd McShay said earlier this week, "makes the reads easier for him."
Age plays a factor, too. Hooker will be 26 in January. And then there's the ACL tear he suffered on November 19 at South Carolina.
"Coming off the ACL, the age," Mel Kiper Jr. said on Tuesday on ESPN, "the fact that it's a quarterback friendly offense, that's why I have a second-round grade on Hendon Hooker."
Hendon Hooker at Tennessee: 6,080 passing yards, 58 Tbs, 5 INTs
Hooker laughed it off on Thursday afternoon while meeting with reporters after Tennessee hosted its Pro Day.
"It's always funny to hear people talking about our offense," Hooker said. "But, you know, there are a lot of intricacies that go into what we do and how we do it. It's a lot of things that you have to process. 
"So the mental side of the game is at an all-time high. The physical side of the game, it looks easy because we make it look easy. Not just because it's easy."
Hooker certainly made it look easy. 
He passed for 6,080 yards, 58 touchdowns and just five interceptions over his two seasons as Tennessee's starting quarterback. He completed 68.8 percent of his 632 pass attempts with the Vols. In 11 games last season, Hooker completed 69.6 percent of his passes, throwing for 3,135 yards, 27 touchdowns and two interceptions.
Up Next: NFL Draft, April 27-29, Kansas City
Heupel on Thursday had his own response to the draft analysts that say his offense isn't something that can be replicated in the NFL.
"I'm getting a lot of questions about scheme and guys that want to incorporate a lot of what we're doing (in the NFL)," Heupel said. "So I think it will transition just fine. You look at the NFL, college football, how it's impacted the way that game is being played now, a lot of what is happening on this level is transitioning upward. Not necessarily just downward."
Heupel also was strong in his defense of Hooker, who he said had as much responsibility as anyone for Tennessee's explosive offensive numbers.
"I'm not sure anybody in college football has more on their plate than Hendon does," Heupel said. "Then you throw in the tempo that we play at. You've got to be a quick decision maker, you've got to recognize defensive structure extremely quickly. He controls some of our run game. He controls the RPO (run-pass option) game, making a decision out of that every snap. He's got loaded-box checks, he's got alerts, he's got kills. 
"He controlled the entire game on every single play. And I think that puts him in a great position to be able to transition to the next level, handle all that is coming at him and be able to handle it at a really high level."
The post Josh Heupel defends his Tennessee offense against criticisms from NFL Draft analysts appeared first on On3.