Kansas State basketball notebook: First step of the offseason
3 min read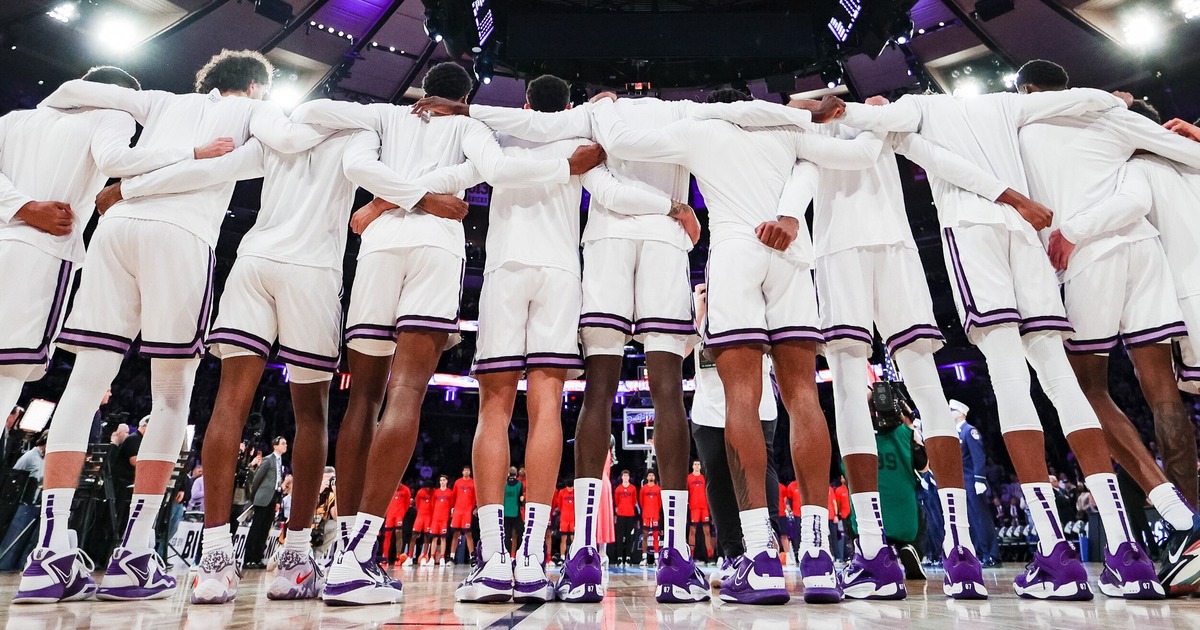 KANSAS STATE PHYSICALITY AND DEPTH
Kansas State is losing two players that are extremely hard to replace. Markquis Nowell and Keyontae Johnson were the most important pieces for a team that finished in third place in the Big 12 and advanced to an Elite Eight.
However, there is already optimism within the program about the quality of depth they will have next season. They may not have players as talented as Nowell or Johnson, at least not two, but there is confidence that K-State will have a better roster 1 through 13.
Additionally, Kansas State should have more size and physicality.
Three players in particular should provide them with the a toughness that they sometimes missed in the paint this past season. That trio is composed of redshirt freshmen Taj Manning and Jerrell Colbert and incoming freshman Macaleab Rich.
And another invaluable element behind the scenes will continue to be Director of Strategies, Kevin Sutton.
Sources have shared that he is tremendous with player development. Even K-State head coach Jerome Tang has shared that. He played a major role in the quick construction and success of last season's roster.
With more youth coming into the program and another year under the returners' belts, Sutton's impact in Manhattan will be powerful.
ANY MORE OUTGOING TRANSFERS?
Ismael Massoud recently announced his intent to transfer from Kansas State. There isn't a clear reason as to why, but it probably is associated with his role for next season. After a strong finish to the year, he likely sees greener pastures in a high usage role elsewhere.
It does beg the question as to whether or not anymore Wildcats with eligibility will follow the stretch-four to the portal. Some of our sources suggest that everyone else will remain. With that being said, Massoud's announcement to transfer surprised some within the program.
THREE OPENINGS
Massoud leaving opens up three scholarships that K-State will ideally fill during the Spring and early Summer.
At least one transfer guard and one transfer wing seem necessary to help replace Nowell and Johnson's production. The third spot could then go towards either another perimeter-oriented player or a big. That is a choice that will likely be made according to their positional depth leading up to Summer workouts.
Most recently, Jon Rothstein of CBS Sports reported that Tulane transfer guard Jalen Cook has heard from Kansas State and many other programs. K-State actually saw the Green Wave in the Cayman Island Classic, but Cook was out with an injury.
Another report from Jake Weingarten suggests that the Wildcats are in the mix for Indiana transfer guard Tamar Bates. Bates is a Kansas City native and was previously recruited by K-State when Bruce Weber was the head coach.
Earlier this week, KSO also laid out a few solid options that also may make sense for Kansas State. But it is wise to note that K-State head coach Jerome Tang will not rush to land a player out of the transfer portal.
They will want to scour the potential options in a more comprehensive manner in order to ensure that they have a clear understanding of everyone that is available and also everyone that might become available in the future.
Sources have supported that as well.
In fact, there are some rumblings that Tennessee freshman Julian Phillips might be considering a fresh start at a new school. If you remember last offseason, Kansas State was very close to hosting Phillips for a visit to campus late into the five star senior's recruitment.
If he does ultimately decide to leave Rick Barnes' team, Tang and assistant Rodney Perry could likely be back on the prowl.
The post Kansas State basketball notebook: First step of the offseason appeared first on On3.