Kentucky center Oscar Tshiebwe declares for 2023 NBA Draft, retains college eligibility
3 min read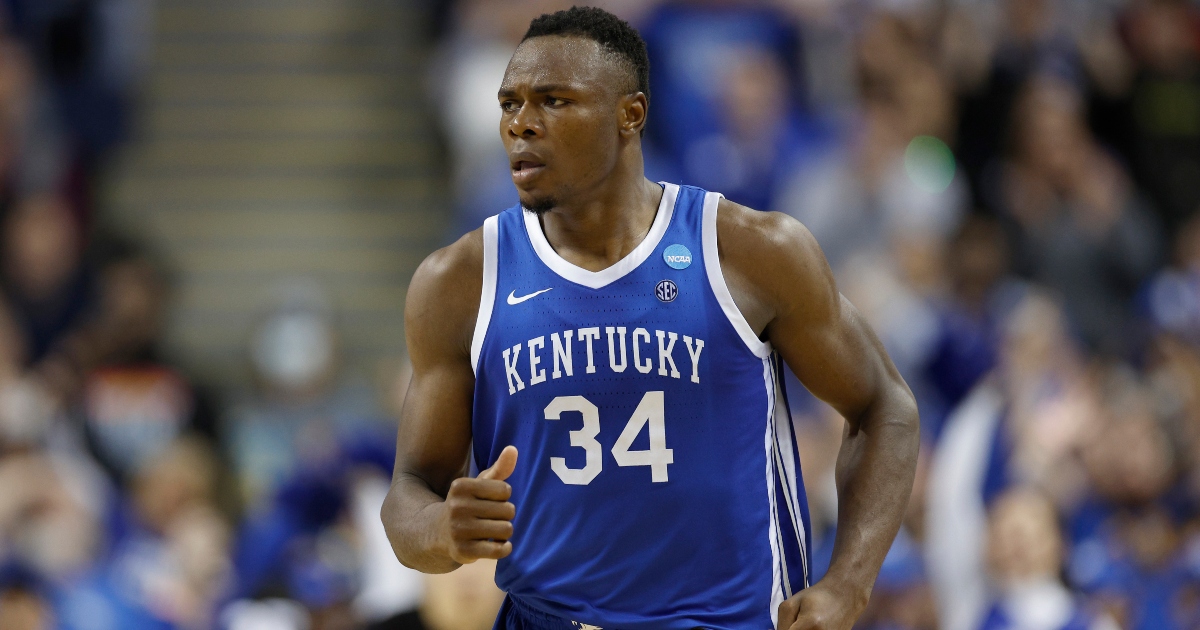 Former National Player of the Year and two-time consensus All-American Oscar Tshiebwe has made a decision on his future. According to an Instagram post, Tshiebwe is entering the 2023 NBA Draft while maintaining college eligibility.
This decision comes, as mentioned, after back to back All-American seasons for the Big O since coming to Kentucky. Tshiebwe originally committed to West Virginia over the Wildcats out of high school and spent a season and a half In Morgantown before transferring across the border to Kentucky in the middle of the 2020-21 season.
Of course, the rest was history from there. In 2021-22, Tshiebwe put together inarguably the greatest modern rebounding season from any power conference player and set so many rebounding records in '22 and '23 that it would be ridiculous to try and list them all. He averaged 15.2 rebounds per game in 2022 and scored 17.4 points a night on top of that. He also posted 1.8 steals and 1.6 blocks as a better defender than he would be in 2023. Just an all-time great individual year in UK hoops history.
In 2023, the season never reached expectations, but Oscar Tshiebwe was great nonetheless. He had a 37-point, 24-rebound performance against Georgia and countless other rebounding clinics that reminded everybody why he won the Wooden Award the year before. Even though Kentucky was bounced early from the tournament yet again, Oscar went down playing his best ball, averaging 16.5 points and 21.5 rebounds in the two tourney games. Those numbers are just laughable — 20 rebounds in a single tournament game is unheard-of for people not named Oscar Tshiebwe. But that's just who he's always been.
Just for fun, here's a little headstone of his collegiate achievements through four years of school:
2023 Consensus Player of the Year2022 SEC Player of the Year2020 All-Big 12Two-time Consensus All-AmericanTwo-time All-SECTwo-time NCAA D1 rebounding leader
More on the 2023 NBA Draft
The 2023 NBA Draft is set to take place on Thursday, June 22, 2023, in Brooklyn at Barclays Center. Round 1 of the draft will be announced by NBA Commissioner Adam Silver, while Deputy Commissioner Mark Tatum is expected to handle the second round of picks.
To be eligible for the NBA Draft, players must be at least 19 years in age during the calendar year that the draft is held and at least one NBA season from their high school graduation date, or the date that would have been if they are not graduated. It is not required that player spend that one year playing college basketball, though. Players can play in either college, abroad, or the G League Ignite if they choose so.
While this is a significant change from what the rules once were, players are eligible to enter their names into the NBA Draft pool and explore their options by hiring an agent to go through the process, while still keeping their college eligibility. The deadline to make that move is on April 23 beginning at 11:59 p.m. ET. Players have until June 12 at 5 p.m. ET to withdraw their name from the pool and return to college.
The NBA Draft Lottery will be held on May 16, which is also the start of the NBA Conference Finals.
The post Kentucky center Oscar Tshiebwe declares for 2023 NBA Draft, retains college eligibility appeared first on On3.