Key quotes from Dan Lanning following Oregon's sixth practice, with context
5 min read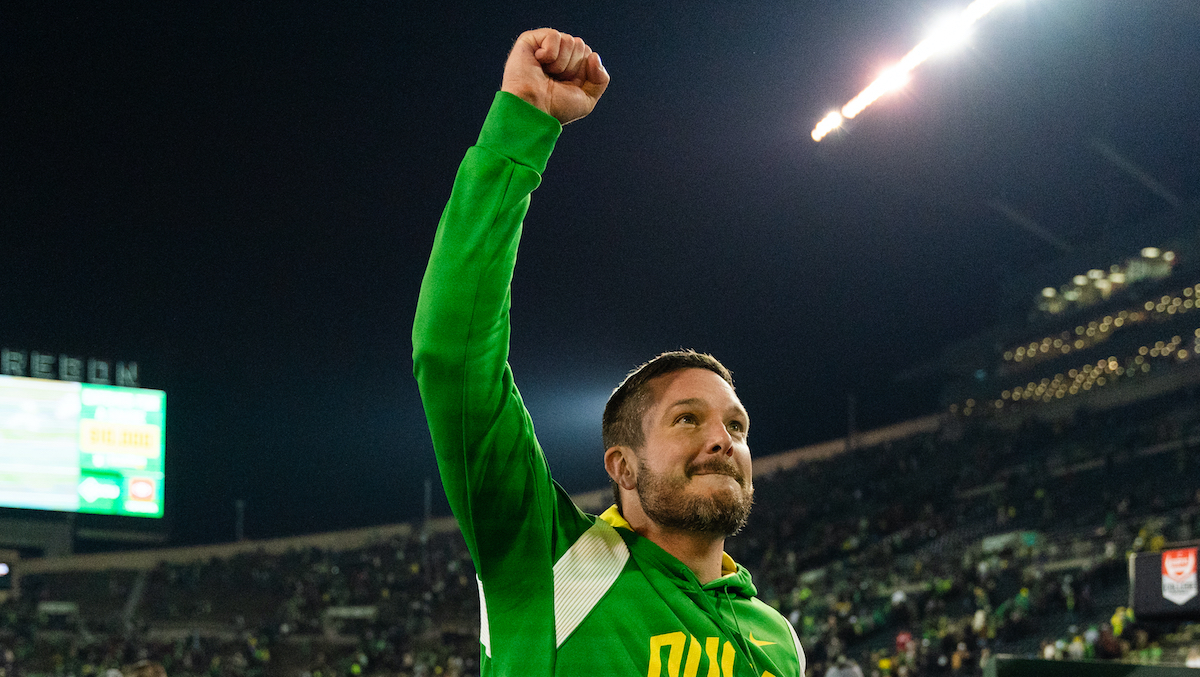 Following Oregon's sixth spring practice on Tuesday, Oregon head coach Dan Lanning met with reporters and discussed myriad topics.
Here's a rundown of the key quotes from Lanning's Tuesday presser, with a bit of added context.
Opening statement
Lanning: "Good practice today, good physicality. I thought there was some good competition. You know, Marcus Harper said it at the very end of practice, like we got to start a little bit faster at practice so we finish with great competition. We got to start that way. It's a low red day, we're playing close to the endzone, got even some goal line there at the end. Was good to see some guys compete. Gotta keep building off of it."
Context: This isn't the first time this spring that Lanning has made a point of mentioning his team's slow start to the day.
On a handful of occasions, the second-year head coach has indicated that he would like to see more urgency from Oregon's players from the get-go. Offensive line coach Mike Cavanaugh lit into his players during the first period of Tuesday's practice for a perceived lack of intensity.
Marcus Harper, Oregon's fourth-year junior offensive lineman, has stepped up as a leader this spring along the Ducks' re-vamped offensive front. It's encouraging to hear that he's leading the charge from an energy standpoint.
Can you tell us about the four new coaching hires that were announced today?
Lanning: "(Josh Robinson) is a guy I've always known. We were together at Sam Houston State. I knew that he fit a certain role that we were trying to achieve there from a special team standpoint and he has some good experience there. He's a guy that certainly I trust.
Every one of those guys brings something different to the table and I think it's an exciting opportunity for us to grow as coaches and just grow as a program.
Context: On Tuesday, Oregon announced four new staffing additions.
Lanning has added Antonio Parks as an offensive assistant, Jordan Salkin as a quarterbacks coach, Skyler Jones as a defensive assistant, and Josh Robinson as a special teams analyst.
Salkin's addition will help fill the void left by former offensive analyst Jordan Somerville, who left the program to join the Tampa Bay Buccaneers staff in March.
Jones spent last season as an assistant defensive line coach with the Los Angeles Rams. Parks spent the 2022 campaign working alongside Oregon OC Will Stein last year at UTSA.
What does Troy Franklin need to do to become a 1,000-yard receiver?
Lanning: "Operate within the framework of the offense. At times, that's going to lend itself where you get opportunities to make sure you're able to get on the ball and there's gonna be times where he's probably going to be doubled. We're gonna take the ball somewhere else. But understanding what he does and then we have to do a good job as coaches moving him around and creating advantageous matchups."
Context: Last season, as a true sophomore, Troy Franklin nearly became Oregon's first 1,000-yard receiver in half a decade.
The 6-foot-3 wideout caught a team-high 61 passes for 891 yards and nine touchdowns.
During fall camp last year, there was plenty of debate about how would emerge as Oregon's No. 1 receiving option. Franklin, Chase Cota, Seven McGee, Kris Hutson, and Dont'e Thornton performed well during spring ball and all seemed to be in the mix for significant playing time.
Ultimately, Franklin emerged as Oregon's clear-cut top target — and one of the top receivers in the Pac-12.
Franklin won't be flying under the radar in 2023. It will be intriguing to see how Will Stein and Junior Adams go about getting the most out of his immense talents.
What traits are you looking for in your cornerbacks to replace Christian Gonzalez?
Lanning: "Again, I think you just have to play to the strengths of your players. Not everybody's going to be the same, but ultimately what do you want from a corner? A guy that can cover, that's smart, that understands how to prevent the big play. It's about figuring out ways to make sure corners tackles — so, we have to be able to do that and get guys on the ground."
Context: It goes without saying that it won't be easy for Oregon to replace all-conference cornerback Christian Gonzalez next season.
As a third-year sophomore last season, Gonzalez was the Ducks' best defensive player and one of the cornerbacks in the country. He's expected to be a first-round — and possibly top-10 — pick in the 2023 NFL Draft.
The Ducks return starting corner Trikweze Bridges, as well as Dontae Manning and Jahlil Florence. They also added former Alabama reserve Khyree Jackson via the transfer portal.
It's still early days for Oregon's secondary, but it sounds like Lanning and defensive coordinator Tosh Lupoi don't necessarily intend to find a like-for-like replacement for Gonzalez.
While there may not be a corner as physically talented as Gonzalez on the roster, Oregon features plenty of depth at the position.
What are your thoughts about potentially playing your spring game against an opposing school in the future?
Lanning: "I'm not opposed to it. I think why people probably say that is right now in college football more than ever rosters are really depleted in the spring. People don't have enough bodies to actually get through practice and make themselves better. Obviously, there are injury concerns.
Last year, I would have been all for that because we didn't have as many as many bodies. Now, we've got a lot of guys that need to work. And personally, I want to get the work of our guys in the spring. But if we had a depleted roster, I'd probably be in favor of doing that. Our numbers are a lot closer this year to where we're able to go out and play."
Context: Last week, Auburn coach Hugh Freeze made waves when he suggested that it could be advantageous for his program to scrap the traditional spring game format and instead scrimmage an opposing school.
"Allow us to scrimmage somebody on A-Day. Another team," Freeze said. "I think everybody would get out of it exactly what they want."
As Lanning notes, Oregon's roster was significantly depleted by injuries last spring.
The Ducks were without defensive linemen Brandon Dorlus, Popo Aumavae, and Keyon Ware-Hudson for the entirety of spring ball. The depth was so badly depleted along the defensive front that Oregon temporarily shifted standout offensive lineman Jackson Powers-Johnson to the defensive side of the ball.
Now, though, the Ducks are nearly at the halfway point of their spring schedule and have just a handful of scholarship players sidelined with injuries.
The post Key quotes from Dan Lanning following Oregon's sixth practice, with context appeared first on On3.