Kim Mulkey reveals LSU's plan to limit Iowa superstar Caitlin Clark in National Championship Game
3 min read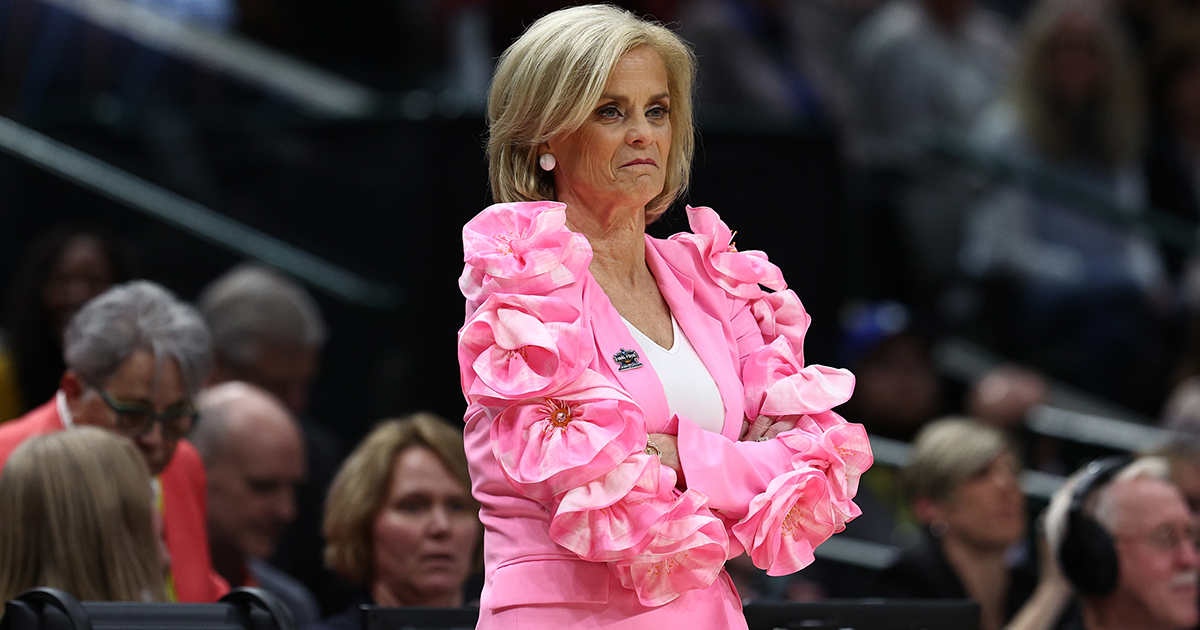 Kim Mulkey knows stopping Caitlin Clark on Sunday could be the difference in whether LSU or Iowa is hoisting the trophy at the end of the game.
Speaking with Holly Rowe of ESPN prior to tip, Mulkey elaborated on what the Tigers' plan will be. They're not looking to score like Clark has been throughout the NCAA Tournament, LSU will simply be hoping to play their style of game.
"Do what we've been doing," Mulkey responded. "Do what got you here. We're not going to reinvent anything. Defense and rebounding got us here, and we know that we have quite the challenge, with [Caitlin] Clark. She's a generational player. She has taken that team and put them on her shoulders and said, 'Let's go places we've never been.' I hope that it'll be a great game, and I understand the scoreboard is what really matters, but at the end of the day, I don't think either team can leave that court without feeling like it's been a great year."
Guarding Clark for the Tigers will likely be Alexis Morris, and Mulkey added doesn't want her getting in foul trouble attempting to play hero-ball on the Iowa star.
"Don't get in foul trouble, we need Alexis on the floor," added Mulkey. "We need Alexis on the floor. Don't try to be spectacular, be who you are. Use your tools.
"She's going to get her points. You shoot it 31 times like she did against South Carolina, you're going to score. What we can't allow to happen is everyone else to score and have All-American nights."
Of course, Mulkey is alluding to Clark's impressive performance on the big stage, setting a new semifinal record with 41 points to lead Iowa to the 77-73 victory over No. 1 seed South Carolina to hand the Gamecocks their first loss of the year. Not only did Clark score the ball at a high level, but she added eight assists and either scored or assisted on every Iowa point in the fourth quarter.
The seismic victory set up a title game that will have plenty of eyes on it between Clark's Hawkeyes and Mulkey's Tigers. Both squads are on impressive runs in the 2023 NCAA Tournament, but only one will lift the trophy at the end of it all.
While Clark has received a lion-share of the media attention, what Mulkey's team is doing can't be understated. They're on a wonderful streak, and made it to the title game by virtue of a comeback victory over Virginia Tech on Friday.
In the second half of Friday's matchup with the Hokies, Mulkey's team found itself facing a 12-point deficit. Virginia Tech contained the Tigers on the glass, and was 10 minutes away from a national championship appearance.
Then, the fourth quarter started — and the Tigers were off to the races.
LSU outscored Virginia Tech 29-13 in the final period to complete the comeback, defeating the Hokies 79-72 to advance to the national championship. The Tigers got some huge performances in the final 10 minutes, notably from Angel Reese, who notched her 33rd double-double of the season to help lead LSU to victory.
Now, it all comes down to this, Caitlin Clark and Iowa taking on Kim Mulkey's LSU Tigers at 3:30 p.m. ET on ABC in what figures to be a riveting showdown.
The post Kim Mulkey reveals LSU's plan to limit Iowa superstar Caitlin Clark in National Championship Game appeared first on On3.