Kirby Smart evaluates quarterback battle after first scrimmage
4 min read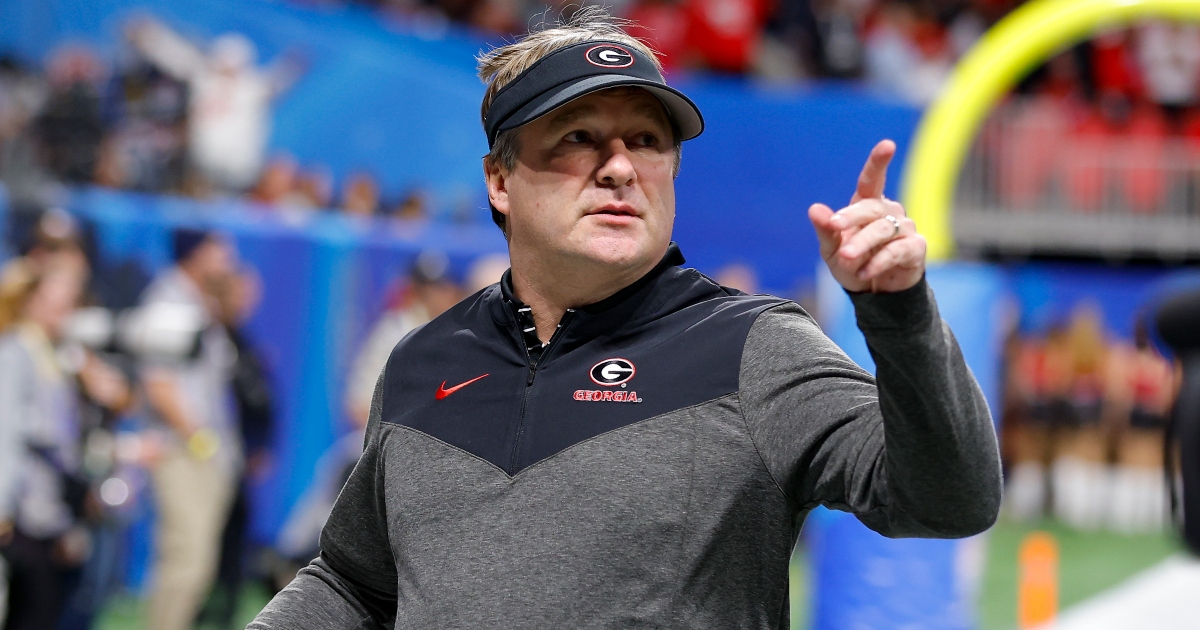 One of the biggest questions surrounding the Georgia Bulldogs this offseason is who will replace back-to-back national championship-winning quarterback and Heisman Trophy finalist Stetson Bennett. Carson Beck, Brock Vandagriff, and Gunner Stockton will be battling it out all offseason, and after the team's first scrimmage, head coach Kirby Smart gave his take on the battle.
"It's like everything, it's like the ebb and flow. I can think of really good things each one did, and I can think of really poor things each one did, so it's not like one guy's sticking out," Smart said. "Carson has really good command of the offense, he understands it inside and out, he communicates it, he gets things correct. He had a couple poor decisions and choices today, but he also made some plays, he made some really good throws. He's got a really good presence in the pocket to move around."
Smart also spoke on the play of Vandagriff during the latest scrimmage, the former five-star quarterback who sat behind Bennett the last two seasons.
"Brock made some plays, he made some plays getting out of the pocket, made some good throws. He had a couple downfield throws I think he wish he had back, give us a chance in some 50-50 situations and keep the ball in bounds with that. But he did a really good job in two minute," Smart said.
Gunner Stockton is the youngest of the bunch and still impressed in his reps of the scrimmage as well, rounding out a quarterback room that Smart feels more than comfortable with at the moment.
"Then Gunner made some plays. Gunner made some plays with his feet, the administration of the offense of getting everybody lined up, getting going, getting the call in, which is not all on him, but he's growing and getting better. He made some nice throws," Smart said. "So I'm gonna keep repeating myself, but we got three pretty good quarterbacks and they've grown, each one of them, and they're all three different on their own ways."
Smart was also asked if any dynamics have changed at all in his quarterback battle since the start of spring practice, revealing the current hierarchy at the position and their depth overall as an offense.
"I don't think the dynamics have changed, I mean Brock and Carson are both getting reps with the ones, Gunner got some reps with the twos, predominantly threes, but our threes are in a better state," Smart said. "There's times when you've had your threes, they couldn't function, this three group has really good skill players in it. We're not used to having this many wide receivers on our threes so we have some good guys to throw to. The offensive line with the threes has some experience, has a couple walk ons. So it functions so you can evaluate Gunner better where there's not always a chance to do that with the threes, but I can't sit and say the dynamic has changed in any way, shape, or form."
Roster depth has been a major key to UGA's success success over the last few seasons, and their third string unit being strong is surely a promising sign.
There's still plenty of evaluating to be done by Smart and his staff at the quarterback position, as he pulled back the curtain on one of the challenges that come with evaluating quarterbacks at practice.
"I think we'll evaluate this scrimmage and come back in Monday and be able to say okay what did they do well or poorly with no coach on the field. It's still a tough evaluation because there's probably 10 plays out there in the scrimmage where I have to say a guy got sacked, well did he get sacked or did he not get sacked, because we didn't tackle him. So you give the benefit of the doubt to the defensive player that's standing there unlocked, but they actually have to get them on the ground. And until you tackle a guy live, which we're not going to do, it's not gonna give you a true evaluation," Smart said.
The Bulldogs' annual G Day spring game is scheduled for April 15, giving fans a first look at who their potential starting quarterback for the upcoming season could be.
The post Kirby Smart evaluates quarterback battle after first scrimmage appeared first on On3.