Kirby Smart explains what goes into quarterback evaluation ahead of G-Day
4 min read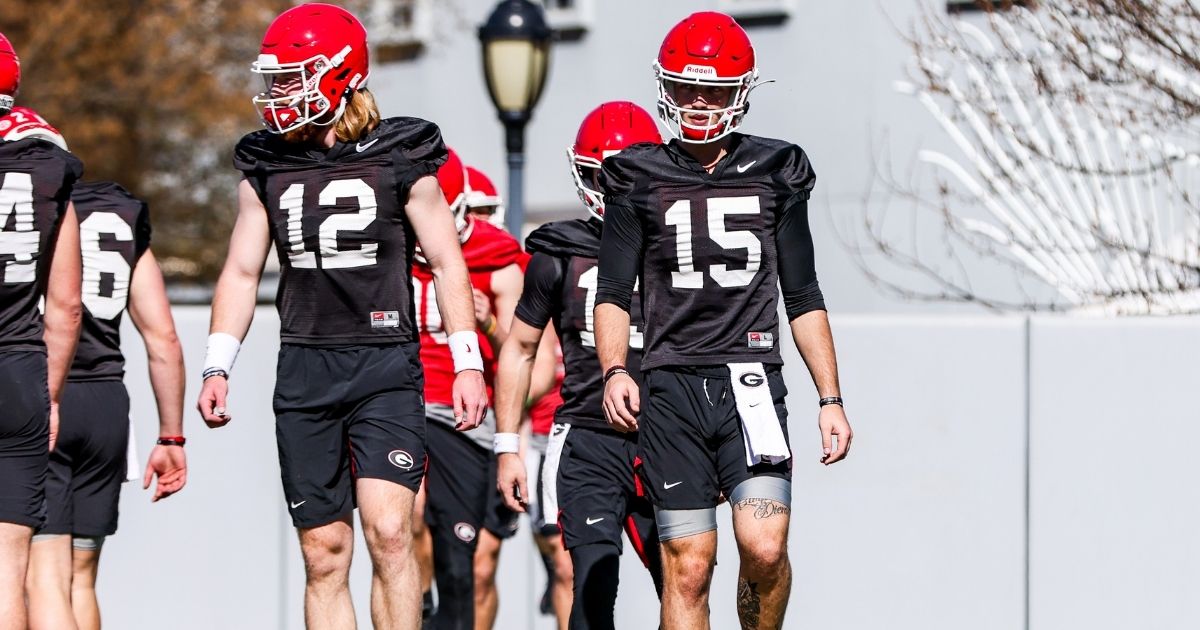 Georgia has its annual G-Day spring game coming up on Saturday, and the biggest storyline out there is the Bulldogs' battle at the quarterback position. With Carson Beck, Brock Vandagriff and Gunner Stockton all competing for the job, Saturday serves as the first post-Stetson Bennett era opportunity for fans to see the quarterbacks compete. For the coaches, it's another way to evaluate who's the best man for the job.
"I think the quarterback position shapes every team. We're not the only team privy to that," Georgia head coach Kirby Smart said during an interview on 92.9 The Game Wednesday morning. "The quarterback is the leader of the organization, the leader of the team on the grass, he makes a decision or two or three every play. There's literally plays where the quarterback has to make three to four decisions. Processing that information is built through the time you spend with the quarterback as an offensive coordinator or quarterbacks coach so that's critical."
"We all know the decision on who's back there is important, and a lot of it comes down to who's around him," Smart continued. "Who does he have around him? Does he have a group of players with the skillset around him that allows them to make plays or is he going to be forced to make plays? Is your defense going to play well enough that the quarterback doesn't have to make plays or does have to make plays? It's a total team effort. I think figuring out the identity of the team, what is it you need, what is the role of the quarterback on this team because it's not the same every year. You can define the quarterback position the same, but what you need out of quarterback play might be different. Certainly what we needed out of Stetson last year was different than what we needed out of Stetson the year before with five first rounders on defense. We're still figuring all that out."
Smart says the final decision is one that will ultimately be made with input from every level of the Georgia Football organization. From strength staff to nutritionists, trainers and players, because the quarterback position affects everybody, everybody will be allowed to voice their opinion. In the end however, it's one that Smart will make alongside his offensive staff to figure out what gives their team the best chance of winning.
"I'm very pleased with where we are at the quarterback position," Smart said. " … Those guys have done a great job. They've all taken really good quality reps. We've probably had more depth around them to help them in terms of wide receiver and o-line rooms. There's times where you can't truly evaluate a quarterback if he doesn't have the right people around him, and we've had a good run of luck in terms of not having injuries and having good numbers. When you've got good numbers at o-line and receiver, you can do a lot with the quarterbacks in terms of getting them reps."
While Georgia has been able to get all three of the quarterbacks reps, Smart recently admitted that nothing will compare to live football – which won't happen until the fall.
Beck holds an advantage in that category having been the backup, appearing in 12 games and throwing 58 times for 486 yards and six scores. Meanwhile, neither Vandagriff nor Stockton has completed a pass in their collegiate career with Stockton not having even gotten in a game yet.
And while Saturday won't be live, but it'll be the closest the quarterbacks get to it until September. While they won't get hit, the lights will be on and fans will be in the stands watching their every move, giving the coaches a chance to see how they respond to the pressure.
"Don't know that. Every game is different," Smart said when asked how many reps he's hoping the quarterbacks will get in Saturday's spring game. "We've got, I think, seven years history of G-Day to go through – not including the COVID year – and we count those reps and try to see what that's going to be like. I can't sit here and tell you, because it's varied from 50-55 to 60-65, and then obviously there's two teams. So you're looking at 130, maybe 140 snaps to try to go out there and play."
Kickoff time for Saturday is set for 4:00 p.m. ET. Fans not in attendance can watch on ESPN2 or listen through the Georgia Bulldogs Sports Network. Gates to Sanford Stadium will open at 1:00 with the annual alumni flag football game kicking off at 1:15. Then, the 2023 squad makes their way through the Dawg Walk at 2:45. Remaining available tickets can be purchased on georgiadogs.com.
The post Kirby Smart explains what goes into quarterback evaluation ahead of G-Day appeared first on On3.