Kirby Smart sees embodiment of Georgia program in veteran interior offensive linemen
4 min read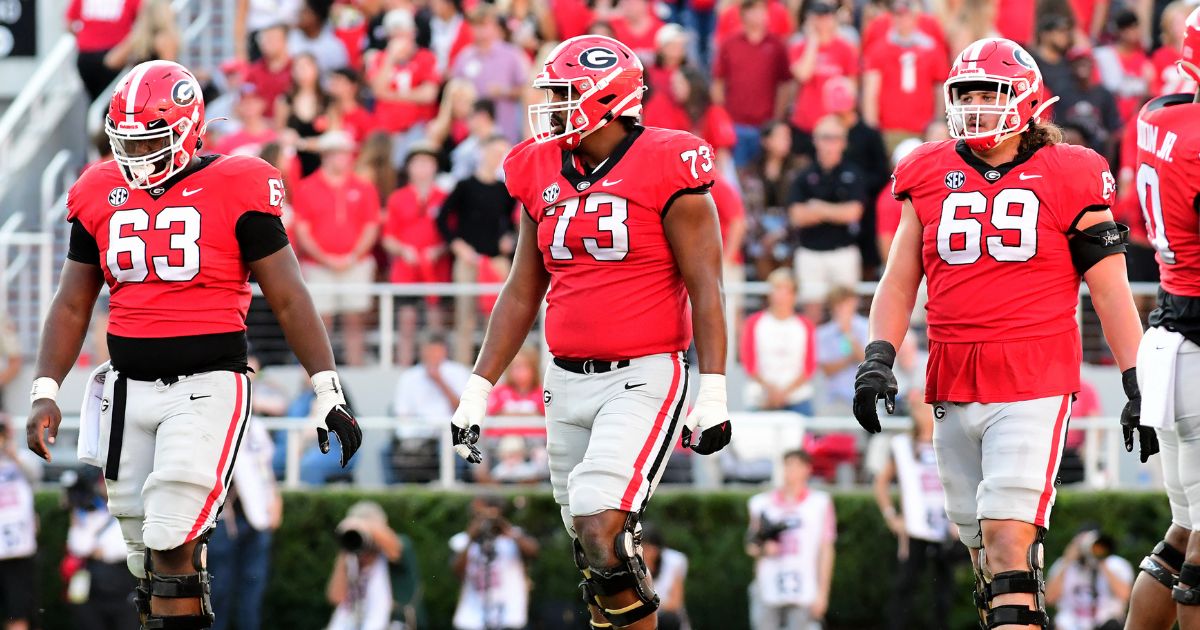 Looking around Georgia's offense, there are many things that change. The Bulldogs will have a new quarterback under center and a new offensive coordinator calling the plays. While there are several familiar faces at wide receiver and Brock Bowers is still there in the tight end room, two pickups from the transfer portal are expected to be impact pass catchers this season. However, with all that's new, Georgia has an old, experienced trio in the middle of its offensive line to rely on: Sedrick Van Pran, Tate Ratledge and Xavier Truss.
"They bring the embodiment of what this program stands for. Tough as hell, physical, we're going to come at you and win the line of scrimmage. That starts with those two dudes," Smart said on Wednesday morning when asked about Van Pran and Ratledge during an interview on 92.9 The Game. "There's times you get frustrated as a defensive coach because you can't really run anything at those two guys. You throw Truss in there at guard, and all of a sudden you've got this triangle there in the middle that there's nothing they haven't seen."
"There's no stunt they haven't seen. You don't trick them," he continued. "They come off the ball, they're really physical. In College Football you're always trying to get negative plays, and when the heart of your offense you can't penetrate, it's frustrating. Those guys almost create an identity for the offense that we're going to be more physical than you. We're going to be tough, we're not going to give up sacks up the middle. They do a great job. They are the embodiment of leadership and have earned it. They've been here for a while."
Van Pran has started all 15 games for Georgia in the middle of it all at center each of the last two seasons. A native of New Orleans, La., the nation's No. 1 interior offensive lineman in the Class of 2020 has turned out to be just that. Not only has he been a force on the field, but he's been a reliable leader off of it, serving as one of the team's four permanent team captain this past season.
"The players view Sed as that guy. Sed's been driven to be that guy ever since he stepped on campus, and I truly and solely believe that because he's that voice that you want at the center position of your offense," Georgia defensive lineman Zion Logue said about Van Pran this spring. "He's the second quarterback. He tells Carson, he tells Stetson what we're going to do. I think he really drives this team, and he really is the piece that we need. For him to come back for us, I think it can only help him and that it won't hurt him. I think this year him coming back, he maximizes everything he puts on the field."
As for Ratledge and Truss, both were recruited to Georgia as offensive tackles. Standing at 6-foot-6 and 6-foot-7 respectively, both individuals made the transition inside to guard at one point or another during their collegiate careers, and it's a move that's paid off, both for them and the team.
Ratledge earned a starting spot for Georgia in 2021 out of fall camp, but a foot injury suffered in the season-opener against Clemson ended his redshirt freshman campaign. Meanwhile, Truss wasn't a permanent starter until his fourth year on campus but stepped in and started 14 of 15 games for the Bulldogs in 2022.
"Man, it's been a long journey, a real long journey these past almost five years now. It's just been a crazy and incredible ride," Truss said this spring, reflecting on how far he's come since his arrival in 2019. "I've made so many different relationships over the past five years and have learned so much even at my position — like, a lot of different position coaches. I feel like these last five years have just been a blessing to my own personal growth."
"I think it's big," Ratledge added about the experience Georgia has on the interior. "I think we have a couple guys that have been through it and know what to do, can really help the young guys come along and kind of take people under their wing and kind of show them the way."
Georgia suits up on Saturday for the final time this spring in the annual G-Day intrasquad scrimmage. Kickoff time at Sanford Stadium is set for 4:00 p.m., airing on ESPN2 for those that can't make it. Gates open at 1:00 with the alumni flag football game starting at 1:15 before the 2023 squad makes their way through the Dawg Walk at 2:45. Remaining available tickets can be purchased on georgiadogs.com.
The post Kirby Smart sees embodiment of Georgia program in veteran interior offensive linemen appeared first on On3.