Kyle McCord says Ohio State quarterback battle has been 'great'
3 min read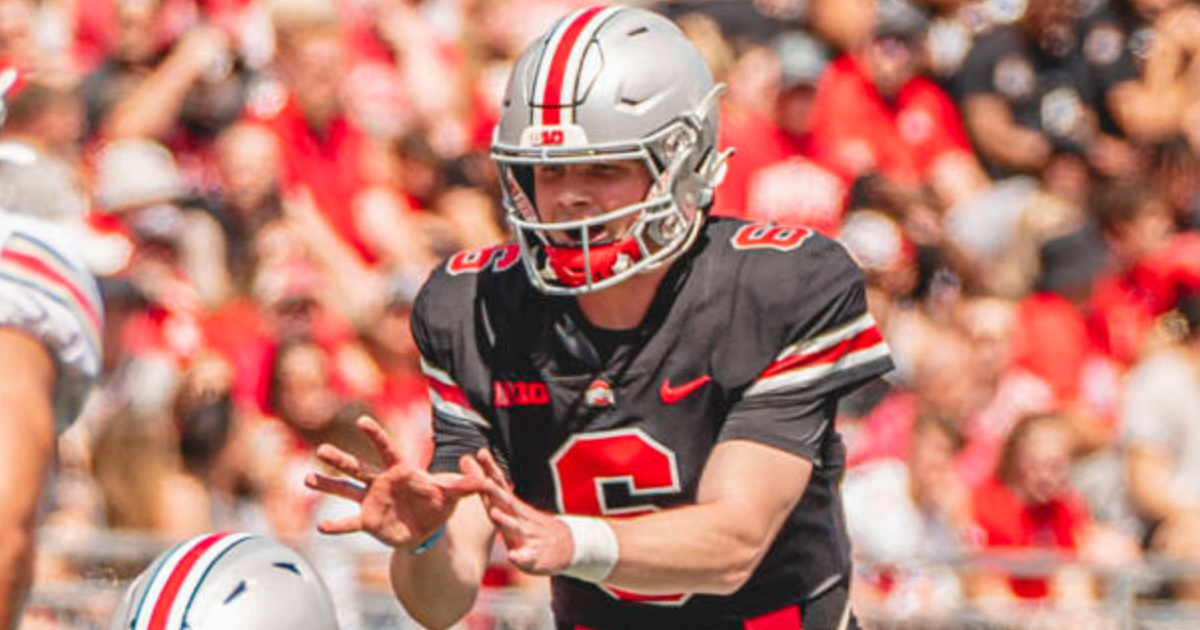 CJ Stroud left some pretty big shoes to fill in Columbus ahead of next season. Even so, the Buckeyes have decent options to replace the two-time Heisman finalist, specifically in Kyle McCord and Devin Brown.
However, McCord doesn't want the Ohio State quarterback battle to be anything but amicable. After their spring game this weekend, he says it's still going to be a competition throughout between the pair of five-star quarterbacks. With that said, he wants it to be a motivating factor for both him and Brown at this point and going into the fall rather than something that separates them.
"The competition has been great. We both know what it is," admitted McCord. "But I think, at the end of the day, Devin's definitely making me better. And I think vice versa as well."
"Even though there's not a winner of the job yet, I think that benefits both of us honestly. It's gonna push both of us going into fall camp and there's still a lot of time until the season. So I think it'll keep (us) hungry. I think he'd say the same thing," McCord said. "That's definitely the wise thing to do at this point. Just keeping each other in check, keeping each other going."
Ohio State took the field this weekend in the Horseshoe. The contest had already lost a bit of shine, though, after the program ruled out Brown after a finger procedure. Still, it was a good opportunity for everyone to center their eyes on McCord. The junior went out on Saturday and finished 18/34 for 184 yards plus a touchdown.
Now, as the Buckeyes end this portion of their year, who their QB1 will be next season still remains up in the air. That doesn't mean it has to be a point of contention, though, as McCord wants him and Brown to continue to battle for the job in a constructive way for both them and the program.
Ohio State releases statement following Hartline's hospitalization
Ohio State offensive coordinator Brian Hartline was hospitalized with injuries on Sunday, according to a statement from the school. Hartline was involved in an ATV accident with a friend. Medical personnel took the pair to the hospital for 'non-life threatening injuries'.
He shared an update via his own Twitter account earlier in the day. It indicated that he was fine and that he appreciated everyone's support.
Hartline was promoted this year to the offensive coordinator role for the Buckeyes after serving as the wide receivers coach and passing game coordinator previously. He replaced the former offensive coordinator, Kevin Wilson, who left to take over the head coaching position at Tulsa.
"Ohio State assistant football coach Brian Hartline and a friend, unaffiliated with Ohio State, were transported to Riverside Hospital early this morning with non-life threatening injuries sustained in an ATV accident on his property. According to Hartline, he is hoping to be released from the hospital later this evening," said an official statement from Ohio State via Adam Rittenberg.
The post Kyle McCord says Ohio State quarterback battle has been 'great' appeared first on On3.