Lane Kiffin honors Mike Leach with picture from infamous Key West saloon
2 min read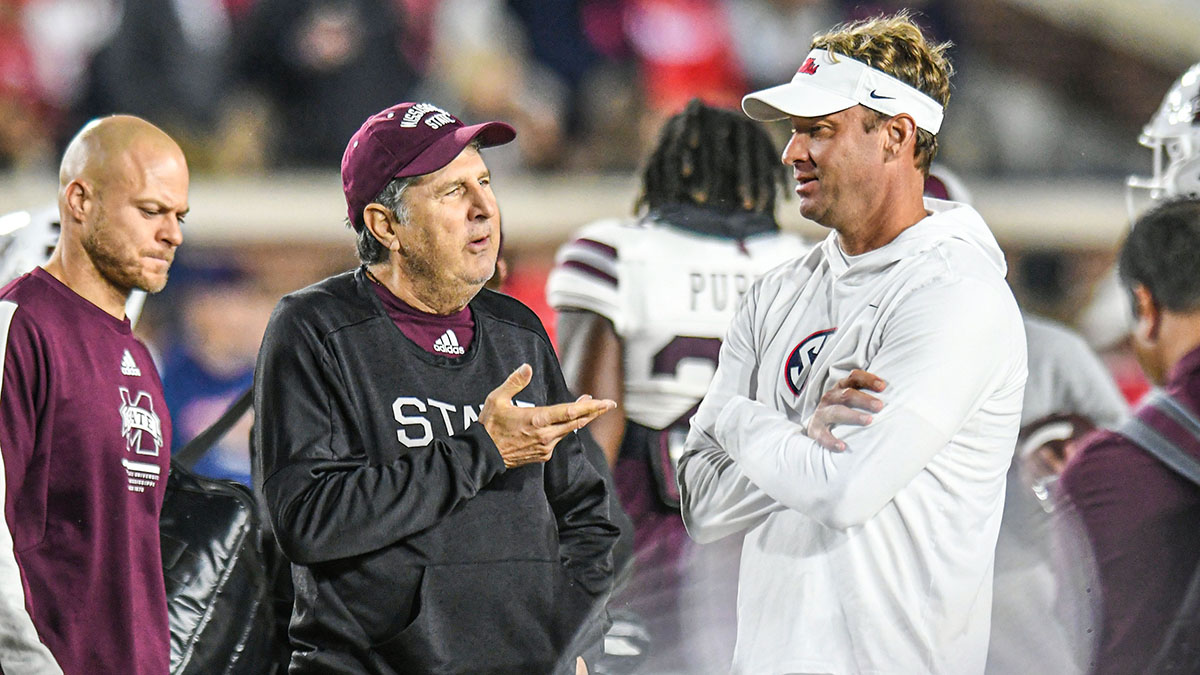 Shortly after the death of former Mississippi State head coach Mike Leach, his favorite hangout in Key West, Florida, Capt. Tony's Saloon, honored him with his own barstool that is now hanging from the ceiling in his honor.
Ole Miss head coach Lane Kiffin shared a photo on Sunday showing that Leach's barstool had been placed in between Ernest Hemingway's and John F. Kennedy's. Imagine sitting down for a meal with those three icons.
Kiffin and Leach were good buddies with their relationship dating back to their days in the Pac-12. They've even visited Capt. Tony's together in the past and Kiffin can rest assured knowing Leach will forever be enshrined at a spot where they've made great memories. Even more, Kiffin was Leach's final opponent on Thanksgiving Day last year — something that will always be significant to him.
Only a few weeks after Leach's Bulldogs took down Kiffin's Rebels 24-22, Leach would suffer a massive heart attack which led to him taking an ambulance to the University of Mississippi Medical Center in Jackson. Upon arrival at the home, EMTs used a defibrillator machine and delivered multiple shocks to restore his normal heart rhythm. Leach was airlifted by helicopter to UMMC after stabilization and was in critical condition before his passing.
"I'm glad that he won his last game and I had that last hug with him [at the Egg Bowl]. I will really miss his stories," Kiffin said on SportsCenter shortly after Leach's passing. "You go out pregame, and a lot of coaches don't really want to go talk to you; everyone just says, 'Good luck.' I looked forward to his every year. He would never stop talking. I would finally have to say, 'Hey, coach, you know, we gotta, like, go and play the game.' And he's like, 'Well, are we going to meet in Key West, right? Whoever wins the game has to buy the flight down.'
"That was what he would say every year. I will miss him. He was a wonderful person. For those of you that didn't get to know him, he was really unique, had a big heart and was a wonderful person. He will really be missed."
Now, Leach's memory is forever enshrined in Key West for everyone to see for as long as the saloon stands. If you're even in town, head to Capt. Tony's and order Leach's signature drink — a grape vodka and water. The saloon's owner, Joey Faber, will appreciate the honor.
The post Lane Kiffin honors Mike Leach with picture from infamous Key West saloon appeared first on On3.