Lessons Learned as Buckeyes offense wins first spring scrimmage
5 min read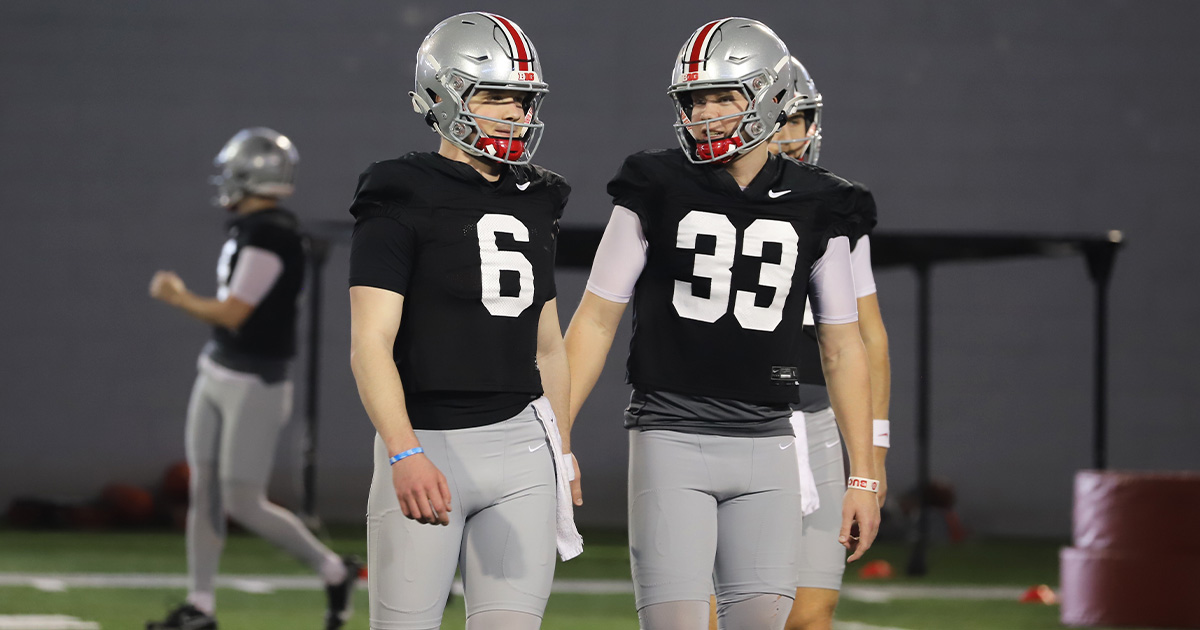 COLUMBUS — First it was Ohio State quarterback Kyle McCord finding freshman tight end Jelani Thurman for a clear touchdown, only to be called down at the 1-yard line so the Buckeyes could practice goal line offense one more time.
Then it was McCord racing past a defender to find his way into the end zone. He was called short, too, and the ball was spotted at the 2-yard line despite clearly crossing the goal line.
And finally, McCord turned and handed off the ball to Dallan Hayden, who barreled his way into the end zone to give the Ohio State offense a walk-off winning touchdown to end the first scrimmage of spring football inside the Woody Hayes Athletic Center. Every offensive player on the roster burst into celebration as Ryan Day corralled the entire team for a end-of-practice meeting.
Yes, the offense won on a day where the Buckeyes charted nearly every rep of every drill between offense and defense, keeping a running tally of winners and losers and staying competitive throughout the full two hours of practice.
That's what's on the menu for the Buckeyes program all spring, and it was on full display Saturday in front of a packed practice facility, loaded with recruits, parents, former players and media.
Lettermen Row is breaking down what it learned from the offensive side of the ball as Ohio State opened its doors and allowed the media to watch the first full scrimmage of the spring.
Kyle McCord progressively got better throughout competitive situations
Ohio State isn't going to make any sweeping judgments about its starting quarterback battle based on one scrimmage in March. Luckily for both Kyle McCord and Devin Brown, the Buckeyes have time to figure out the signal-caller battle that is ongoing, because neither one began the open practice with their best stuff. But as the day went on, the third-year quarterback McCord found his footing, settled in and began to show why he is believed to be leading the battle.
McCord hit Jayden Ballard on an open deep ball for a touchdown during the full team period. He found open targets has he progressed through reads and made good decisions with the ball. And he showed his competitive streak after rushing for a touchdown, hurling the ball straight up toward the rafters and celebrating with teammates as the offense took the lead in the running-total style practice. McCord saved his best for last on Saturday, guiding the Ohio State offense when it needed to beat the defense. It didn't go unnoticed.
Buckeyes still have work to do at right tackle
One of the names that came up the most during the Buckeyes open practice was defensive end Kenyatta Jackson, who is aiming to take a huge leap forward in his development as a second-year player. And while that's good news for a defensive line that is trying to add depth, his production Saturday came at the expense of the two offensive tackles gunning for the starting right tackle job. Both second-year tackle Tegra Tshabola and third-year offensive lineman Zen Michalski had their problems handing the entire defensive line during the scrimmage.
RELATED: Zen Michalski learning from mistakes, making 'hard' transition to right tackle
As Ohio State hopes to find a quality replacement for Dawand Jones this spring, both Michalski and Tshabola will have their chances to make up for lost reps on Saturday. But it wasn't their best day, even as Josh Fryar locked down the left side with a strong scrimmage showing. Michalski and Tshabola both have plenty of room to grow. Saturday should serve as a good learning experience for both of them, especially as both guard spots are already accounted for and Carson Hinzman is in the process of locking himself in as the top option at center.
Young weapons emerging at every skill position
It wasn't just Carnell Tate, who was impressive enough Saturday to shed his black stripe following a big day running with the second-team offense. But he was the headliner of a young group of talented skill players who are looking to have an impact early in their careers — and making moves toward doing so. Tate caught plenty of passes and found ways to get open. Former five-star recruit Noah Rogers had good moments in his first scrimmage. As did Bryson Rodgers, who caught passes from multiple quarterbacks throughout the day.
And then there's freshman tight end Jelani Thurman, who stands out as an impressive, physical player despite being so young. Ohio State hasn't had a tight end with the size and unique traits Thurman possesses in a long time. The Buckeyes might need to find ways to utilize what he does well.
It's too early to make any definitive statements. But there are young, up-and-coming Buckeyes who are going to begin pushing for playing time sooner rather than later.
Jayden Ballard begins flashing elite potential
It's always been a matter of when Jayden Ballard would find a role in the Ohio State offense, not if. And that time could be now. As Julian Fleming and Emeka Egbuka sit out for the spring due to offseason procedures, Ballard is getting his crack as a first-team wide receiver. Yes, it was just one open scrimmage, but he appears to be making the most of it.
Ballard caught a handful of passes from both Kyle McCord and Devin Brown on Saturday. He burned talented cornerback Jordan Hancock for a long, streaking touchdown grab in full team period and celebrated accordingly. And he flashed all the skills that have made him a breakout candidate since he arrived at Ohio State with all of that speed.
It's now or never for Ballard as he enters Year Three at Ohio State. He is choosing the former, and it's working out well for him. Jayden Ballard is beginning to showcase what makes him an interesting aspect of the Buckeyes offense.
The post Lessons Learned as Buckeyes offense wins first spring scrimmage appeared first on On3.