Liam Coen is Rebuilding Trust with the Kentucky Football Team
4 min read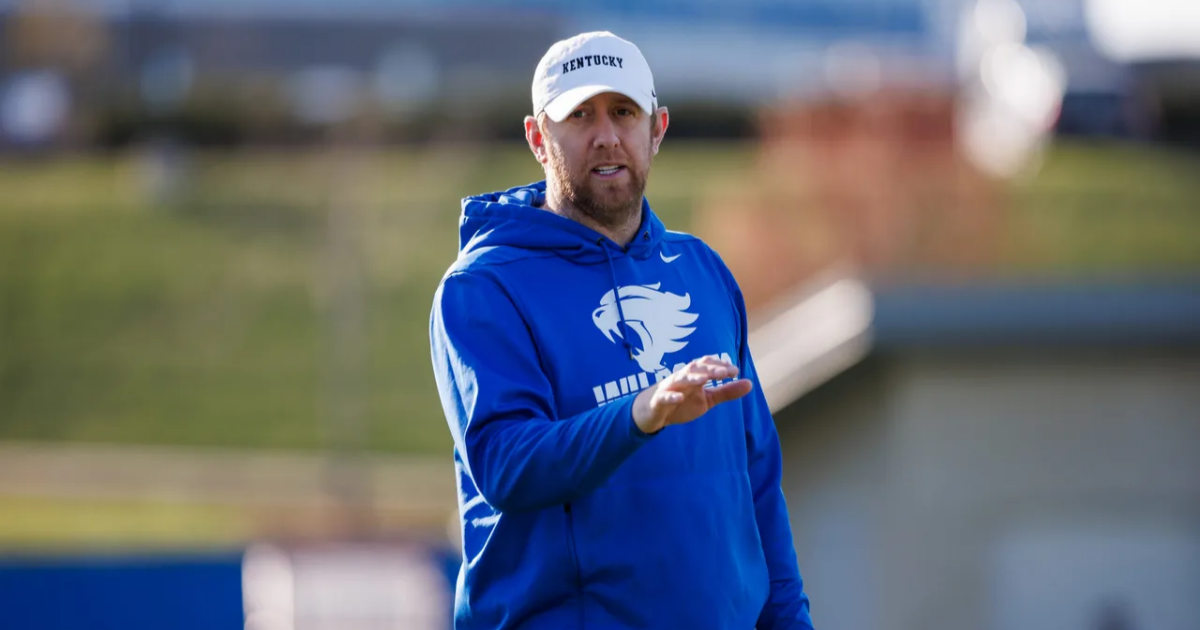 The Big Blue Nation rejoiced when Liam Coen decided to return to Lexington after only one year with the LA Rams. The offensive coordinator has the pedigree to fix the offense that became anemic during his absence. However, there are two sides to every coin.
Chris Rodriguez was only halfway-joking when he shared with KSR that he's mad Liam did not stick around for one more season. Plenty of players are excited that he's back, but there are certainly some that wonder, "Are we one phone call away from another offensive coordinator coaching search?"
"I'm earning their trust back. I left them, so it's on me in a lot of ways to earn their trust in that building and build that relationship back up," Coen said Tuesday. "Not that they're holding it over my head, but that's the way I feel. I feel it's my job to really get in with them so they know I'm not going anywhere and I will do whatever it takes to get this thing right."
The players are recreating that relationship with Liam Coen simply by spending time together. When they aren't on the field together, the guys are hanging around the football facility. They're putting it work and busting each other's chops.
"If the kids want to be here and they want to be up in the offices and they want to hang out with the coaches; they got a lot of other people they can hang out with and they choose to be up there and hang out in the offices and be around the coaches and players. That's a good sign. That's a good sign that we're building it the right way," said Kentucky's offensive coordinator.
There's only one more week of spring practice. Liam Coen is confident the progress will not be lost when they go their separate ways in the month of May.
"I do feel good about once we go and we go out on the road recruiting, I know that these guys will be on the screws in terms of being up here and doing what they're asked to do and doing a little bit more."
"Deflating" Scrimmage for the Offense
The Kentucky defense had the upper hand over the offense on Saturday. Upon further examination, offensive coordinator Liam Coen did not think the Cats looked so bad on film, yet it was frustrating to not see his group finish drives with scores.
"We moved it and moved it, we just didn't capitalize on drives. The first drive of the whole scrimmage we go down, bang bang in four plays, get down in the red zone and they stuck it to us a little bit. We didn't finish that drive in the end zone. We're not kicking field goals, you take three and move on," said Coen.
"It just felt like it was two steps forward, one step back. We'd have a couple big plays, then we'd go minus three. There was just too many opportunities that when you go back and look at film, you had this and you had that. There's too many times right now that all 11 aren't truly doing exactly what they're supposed to do. It's eight or nine guys, and then those two or three that might make a mistake. That's really important."
It's not all on the players. While cultivating chemistry, the Wildcats' offensive coordinator does not hesitate to share his shortcomings.
"There were some bad calls too. It's not all on them. It's on me too in terms of putting them on great position on third downs. It was good to see us move the ball. It was deflating to not see us finish."
Liam Coen can Rely on Two Running Backs
Kentucky's running game has struggled at various points throughout spring practice. Offensive tackle Jeremy Flax admitted the Big Blue Wall has not consistently moved bodies in the run game this spring. Additionally, Liam Coen only has a few he trusts with the rock in their hands right now. Dee Beckwith logged a bunch of snaps Saturday, but he's still learning. Ramon Jefferson is still recovering from last year's season-ending knee injury.
"I really like Ray (Davis). He's consistent, dependable, a really good solid runner. He missed a few one Saturday, but he'll learn from those," said Coen. "I've always trusted JuTahn (McClain). He's a guy that can come in and be steady, be on it and be good in the pass-pro game. La'Vell (Wright) just hasn't stayed healthy yet. He just hasn't been able to stay healthy. He'll practice and be out for 5-6 days, so it's hard to truly evaluate that room without consistent participation everyday."
Hear from Liam Coen and the Kentucky Offense
Subscribe to the KSR YouTube Channel for press conferences, interviews, original shows, fan features, and exclusive content.
The post Liam Coen is Rebuilding Trust with the Kentucky Football Team appeared first on On3.