Live Updates: No. 11 Tennessee vs. No. 3 Florida in series finale
2 min read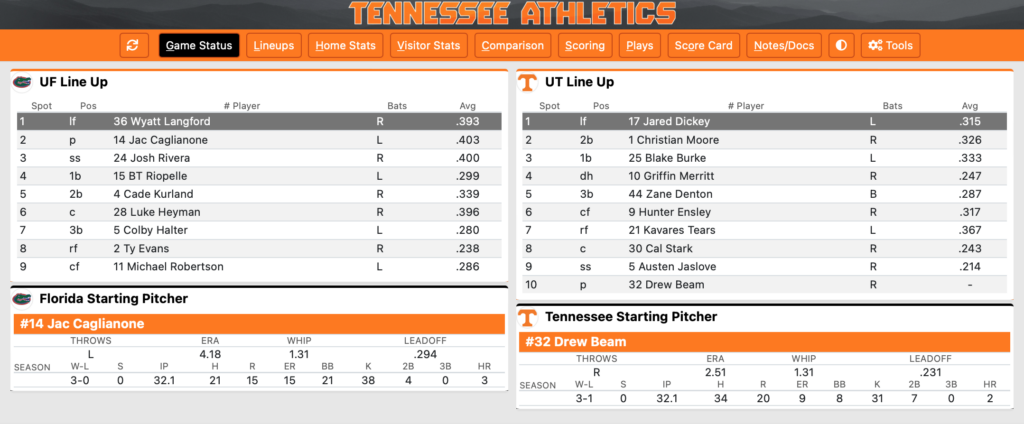 Tennessee and Florida wrap up their three-game series Saturday afternoon at 2 p.m. Eastern Time at Lindsey Nelson Stadium, with the Vols looking to avoid being swept after losing 6-1 on Friday night and 9-3 on Saturday. 
Tennessee (21-10, 4-7 SEC) has now lost three of its first four SEC series on the season, getting swept at Missouri, losing two of three at LSU last week and dropping the first two against Florida (27-5, 9-2). The Vols swept Texas A&M in their SEC home-opening series. 
Tennessee will start right-hander Drew Beam (3-1) with his 2.51 ERA over 32 1/3 innings this season. Florida starts lefty Jam Caglianone (3-0).
The Vols gave up three runs in the first on Friday night and two more in the second, digging a five-run hole before scoring twice in the bottom of the second. The Gators added two more in the fourth and two more in the fifth to add more cushion to their lead. Chase Burns dropped to 2-3 with the loss, going 3 1/3 innings, giving up seven earned runs on six hits while walking four.
Game Thread: Follow along with hundreds of Tennessee fans as the Vols look to bounce back against the Gators in game three.
The Starting Lineups
How To Watch, Stream, Listen
First Pitch: 2 p.m. ET
TV: ESPN2
Radio: The Vol Network
Live Stats: UTSports.com
Tennessee's weekly game schedule
Thursday: Florida 6, Tennessee 1 | Box Score | How it Happened | Four Takes | Vitello Transcript
Friday: Florida 9, Tennessee 3 | Box Score | How it Happened | Four Takes | Vitello Transcript
Saturday: No. 3 Florida at No. 11 Tennessee | 2 pm ET | ESPN 2
Tennessee in the polls this week
USA Today – No. 8
NCBWA – No. 9
Perfect Game – No. 10
D1 Baseball – No. 11
Baseball America – No. 12
Collegiate Baseball – No. 17
The post Live Updates: No. 11 Tennessee vs. No. 3 Florida in series finale appeared first on On3.