Louis Riddick chimes in on CJ Stroud vs. Bryce Young for first quarterback selected
3 min read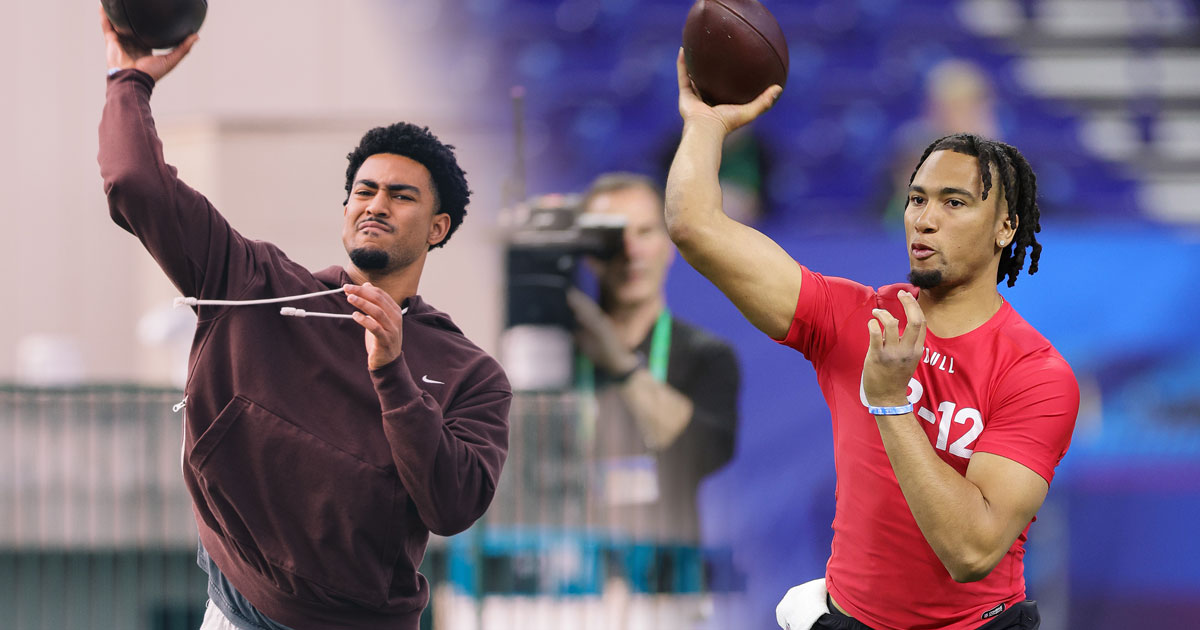 As Pro Days around the country go off and prospects put their skills on display for NFL scouts for one of the last times prior to the 2023 NFL Draft, conversations are reaching fever pitch about what might happen at the top of the first round. Will CJ Stroud or Bryce Young be the first quarterback selected.
ESPN analyst Louis Riddick summed up his impression: Stroud should be the guy taken first. He gave a lengthy explanation of why
"I think quarterback play comes down to a number of different things," Riddick said on ESPN during the Paul Finebaum Show. "Let's just talk about on the field first. It comes down to decision-making and accuracy and CJ Stroud, there's been no one really better at doing that since his time being on the field at Ohio State.
"When you're talking about his availability, his durability, his frame, and whether or not he can withstand a 17-game season not for one, two or three years, but for 10 or 15 years, I don't think there's any question that he will be able to handle the rigors of the NFL and playing the quarterback position."
There's little doubt that Stroud has the better frame than Young, who's significantly smaller as a 5-foot-10, 204-pound quarterback.
Both have considerable playing experience, but Riddick likes the way Stroud can finish games.
"As far as being able to play in the pocket, out of the pocket, being able to handle the crucial situations that come up in the NFL, as a quarterbacks coach just told me today, 'Look, I'll boil it down to this, it's a third-down and two-minute league,'" Riddick said. "That's where he lives, that's where he's most comfortable. Those are the kinds of things that he can do."
CJ Stroud or Bryce Young as first quarterback drafted?
Riddick basically came out on the side that Stroud offers the best long-term potential for an NFL franchise, though he admits it may come down to simply picking the flavor you prefer best.
How NFL teams make that call remains to be seen. Still, Riddick likes Stroud.
"As far as his mental makeup, his ability to learn, his ability to retain, his ability to lead, his ability to be accountable on and off the football field, he checks all those boxes, Paul," Riddick told Finebaum. "I know there will be some people who say, 'Well, look, Bryce checks all boxes too, he just comes in a smaller package. And Bryce can do many things outside of the pocket and out of structure that maybe a guy like CJ Stroud hasn't shown he can do on a regular basis.'
"Well I guess then it's going to be about whether you like vanilla or chocolate or whatever your preference is. I'm just saying the entire package as it's presented in terms of CJ Stroud is what I would be looking for in a franchise quarterback that I'd want in my organization from Day 1 until hopefully he retires. That's all I'm saying.
"And there may be others who may come to a different conclusion, but I can tell you this, there are many who are kind of starting to come around to the fact that as great as Bryce Young is — and we will see that tomorrow, and you can turn on any game and you've seen them all down there in Alabama — as great as he is, there is starting to become a lot of conversation about is CJ that guy when you look at the entire package and how it fits into the NFL."
The post Louis Riddick chimes in on CJ Stroud vs. Bryce Young for first quarterback selected appeared first on On3.