LSU gets a top target back on campus
2 min read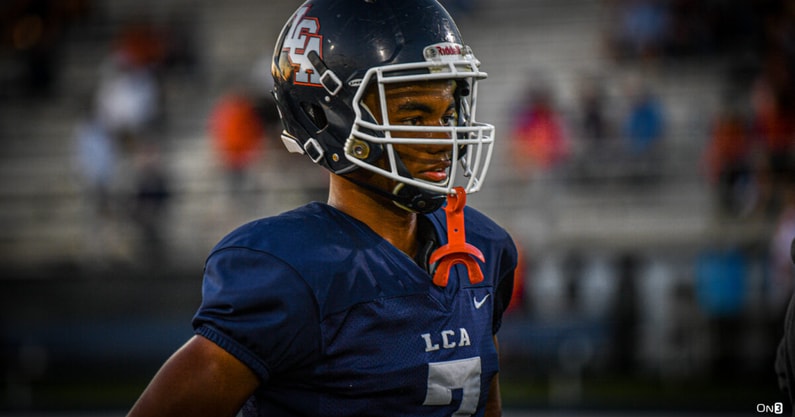 LSU is honing in on one of Louisiana's top prospects in Lafayette Christian Academy standout Ju'Juan Johnson, and now the Tigers will get the local four-star prospect back to campus.
Johnson, as well as some of his family, are set to visit LSU on Monday, sources tell The Bengal Tiger staff.
Johnson reopened his recruitment after committing to Colorado this offseason, and the LSU staff has worked hard behind the scenes to get him into the 2024 recruiting class.
"Every school that was in my top schools was still talking to me, but they were respecting my commitment," Johnson told On3.
Johnson presses the reset button (again)
Johnson had already hit the reset button on his recruitment when he backed off his verbal pledge to Colorado.
"Everything was great with Colorado, but i just felt like i made my decision too soon and didn't base it on things that really matter to me," Johnson told On3. "Colorado is a great place. It was definitely more about my heart and a few other things that confirmed I made a decision too fast."
From there, he scheduled official visits in June to Florida, Ole Miss and LSU.
Now, Johnson said he doesn't plan to take any official visits this summer. Sources close to Johnson's recruitment point to the most recent turn of events as another positive for the in-state Tigers, who are trending as the lead team on the On3 RPM.
LSU assistant Frank Wilson and cornerbacks coach Robert Steeples have been the main points of contact with Johnson, and On3 RPM picks are in for the Tigers from The Bengal Tiger's Shea Dixon and Billy Embody, as well as On3 National Recruiting Analyst Sam Spiegelman.
LSU pushing to make Johnson the next domino to drop in Louisiana
When Johnson backed off his commitment to the Buffaloes, he told On3 that he's approaching this next phase of his recruitment with a clear head.
"Honestly, I'm giving a few schools a chance to prove I'm the right fit for them and them for me, and I'll make a decision as soon as identify that," he said.
"I know what I'm looking for now. They have to provide me with a plan to achieve my degree and accountability to help keep me on track. Based off my skills, there's a few way I'd like to contribute — at corner, in the return game, and still touch the ball on offense. And then don't tell me one thing and then do another. Just be up-front with me from the beginning."
The post LSU gets a top target back on campus appeared first on On3.