LSU MBB's offseason rundown + what's to come
4 min read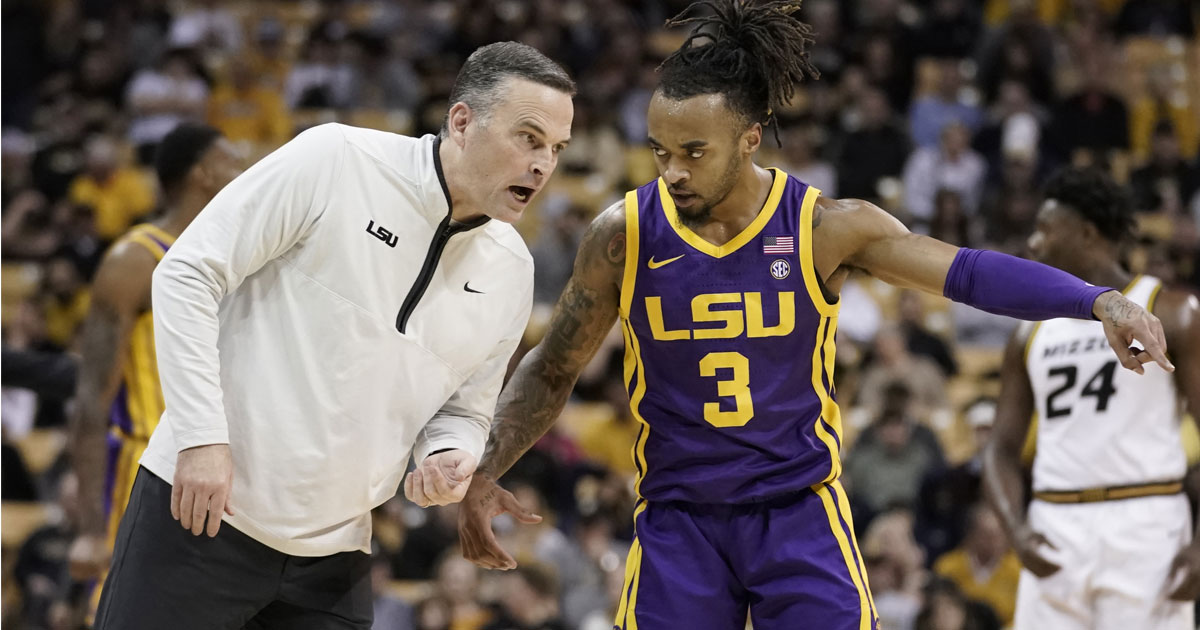 LSU men's basketball's season ended 20 days ago, and in that time, we've seen the beginning of a crucial offseason for head coach Matt McMahon and his staff. A team that went 2-16 in SEC play was in crucial need of significant changes before heading into the 2023-24 season. We'll get into the specifics below, but it seems like the dominos have started to fall, and the reconstruction has begun.
Following the portal and all of the movement can be challenging, so we put together an early update on where this team stands through three weeks and where the Tigers go from here.
Players returning (8)
G Cam Hayes
G Adam Miller
G Tyrell Ward
G Trae Hannibal
G Mwani Wilkinson
F Jalen Reed
F Derek Fountain
C Shawn Phillips
The only graduating senior was KJ Williams and we'll get to the transfer departures below, but above is the list of returners at this moment. We know LSU had its "end of season" meetings last week, which resulted in four players entering the transfer portal, but the rest appear to be locked in.
It wouldn't surprise me if another name or two entered, but as we enter April, it seems like this is the core group of returners LSU wants back. We heard from a source after the season that three or four transfer portal additions could be expected and right now, the Tigers have eight returners and two incoming freshmen in Corey Chest and Mike Williams, putting them at ten players out of their 13 scholarships.
LSU players entering the portal (4)
PG Justice Hill
G Justice Williams
C Kendal Coleman
F Corneilous Williams
Perhaps the most predictable part of this offseason was the departure of these four players. Hill really struggled with the jump to the SEC, Justice Williams was receiving DNPs late in the season, Kendal Coleman was out of place and undersized in the SEC, and Corneilous Williams was injured all season and not projected to be a contributor in the future.
Justice Williams is likely the only one with upside high enough to play in the SEC, but the pairing never really felt right. As mentioned above, I wouldn't be shocked if one or two more ultimately entered the portal, but these four were the most obvious candidates.
Transfer portal approach so far
We wrote a story including all of the players LSU had reached out to last week and since then, not much has changed. LSU continues to make contact, hop on Zooms, and throw their hat in the ring, but ultimately, they'll need something to sell coming off of a 2-16 season.
So far, the Tigers have done in-home or Zoom visits with Joe Girard from Syracuse, Nick Timberlake from Towson, and BJ Mack from Wofford. 
There are three other names that intrigue me as the calendar flips to April, though.
Vanderbilt wing Jordan Wright entered the portal earlier this week and LSU is expected to make a significant push for the Baton Rouge native. Wright averaged 10.6 points and 5.1 rebounds per game on 39.8 percent shooting and 24.6 minutes per game. At 6-foot-6, he would add much needed size and skill on the wing.
The second name is Amaree Abram, a transfer from Ole Miss who played only one year with the Rebele before entering the portal. Abram averaged eight points, two rebounds and two assists, while shooting 36.4 percent from 3-point range. Abram played in all 33 games, starting in 22 and playing 21 minutes per game. A 6-foot-4 guard with SEC experience and plenty of years ahead of him is exactly what LSU needs and the hope is his relationship with LSU assistant coach Ronnie Hamilton can seal the deal.
The new name is Jalen Cook who just entered the portal on Wednesday afternoon but is someone LSU is expected to be pursuing. Cook averaged 19.9 points on 45.2 percent shooting to go with 4.9 assists and nearly two steals per contest. The 6-foot guard spent two years at Tulane after one year at LSU.
Even if LSU can land those three players there's still a glaring need at center. Shawn Phillips is the only center on this roster right now and I'd be hesitant with relying on him to play 25+ minutes per game in year two. For this reason, there's a feeling that at least one more player could enter the portal this offseason.
Point guard, scoring guard, wing, and center were the four needs coming into the offseason, and it's now or never for LSU to start making moves in the portal to bolster its roster.
The post LSU MBB's offseason rundown + what's to come appeared first on On3.