LSU pitcher Paul Skenes shines against Tennessee using four-pitch arsenal
3 min read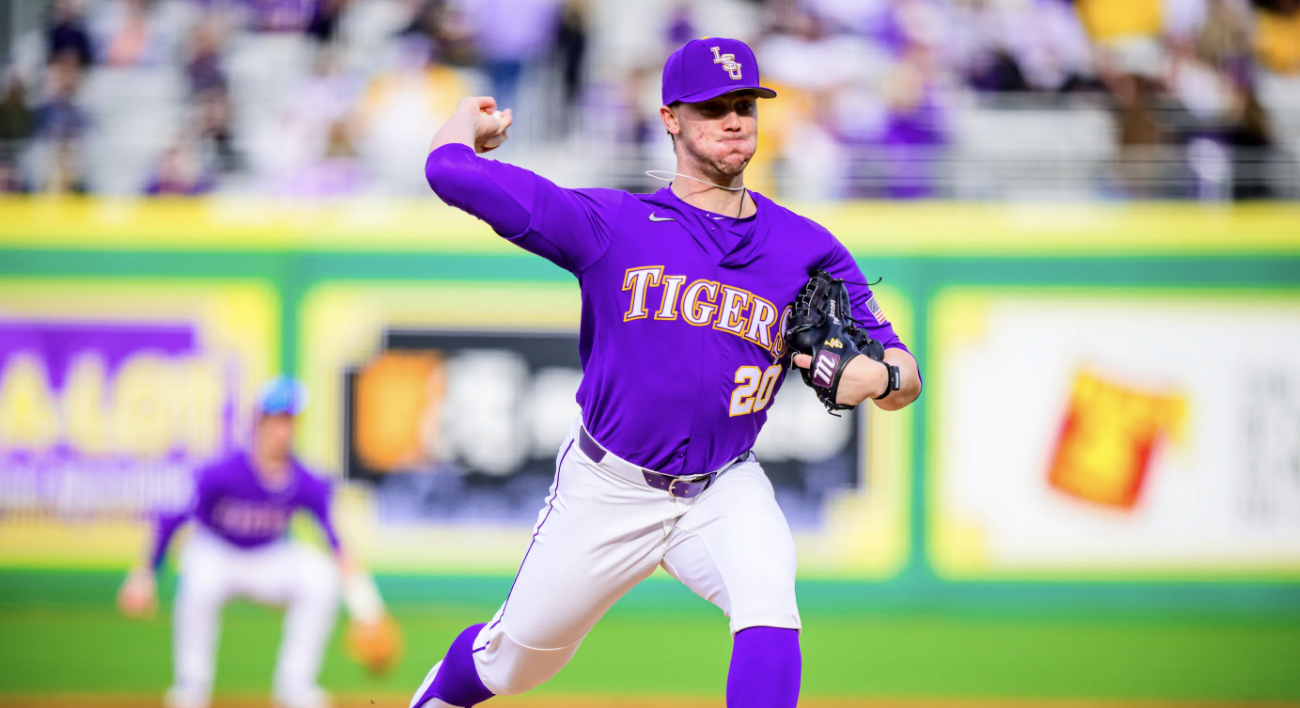 The college baseball pitching matchup of the year took place in Baton Rouge on Thursday, with Paul Skenes winning out. While he did not factor into the decision, Skenes shined against Tennessee while Chase Dollander was always playing from behind. An unreal performance from the LSU product, doing so with four different pitches.
Changeup, curveball, fastball, and slider is what Skenes threw on Thursday. For the first time this season, he felt as if all four were working in his favor. The result? Seven innings pitched, five hits, one earned run, and 12 strikeouts.
"I think more than any other week this year, it's been all four pitches," Skenes said during a postgame interview on ESPNU. "Throwing it to both sides. It was really cool to do."
At the beginning of the season, Skenes was only throwing three pitches. He revealed the curveball was added just a few weeks ago after working on it during a bullpen session. With how effectively Skenes threw the pitch against Tennessee, the quick success is incredible to see.
"I started it throwing it, I want to say, three weeks ago," Skenes said. "Just started playing around with it in catch play. Threw it in a bullpen, started adding it. This week, it's the best it's been. So, I'm really happy with how it was today."
When mentioned it's only been three weeks of throwing the curveball, even the ESPN broadcast crew was surprised.
While Skenes' fastball has been known since his time at Air Force, the velocity has gone a tick up. He is able to reach triple digits and hit 99 miles per hour in a stressful seventh inning. Pitching coach Wes Johnson has worked magic with the 6'6, 247-pounder from California.
"I think I figured out a lot of stuff mechanically the last six months," Skenes said. "That's allowed me to be more efficient and keep my velo deeper in outings. Just being able to not try to throw it quite as hard and just rely on my sequencing and mechanics to keep the velo."
The fastball velocity and an added curveball might be elite but MLB scouts are more impressed with the slider. Described as "plus-plus" since adding the pitch this offseason, Skenes has jumped to the top pitching prospect in the 2023 Draft because of his slider.
"As recently as this summer, Paul Skenes was seen as a second or third-round prospect as a pitcher," ESPN draft expert Kiley McDaniel said. "Once he transferred to LSU, Skenes learned a new plus-plus slider that is one of the best pitches in college baseball.
"His velocity spiked to the upper 90s and regularly in triple digits… If the draft was today, I believe Skenes would go in the first five picks and be the top pitcher off the board."
MLB Draft talk will come this summer but for now, Skenes is enjoying life at LSU. The series-opening win against Tennessee was in front of the Box's all-time record attendance. More challenging SEC opponents will be on the schedule and Skenes will have the opportunity to continue to flash his four-pitch arsenal.
The post LSU pitcher Paul Skenes shines against Tennessee using four-pitch arsenal appeared first on On3.