Mailbag: Kansas State spring ball intel
5 min read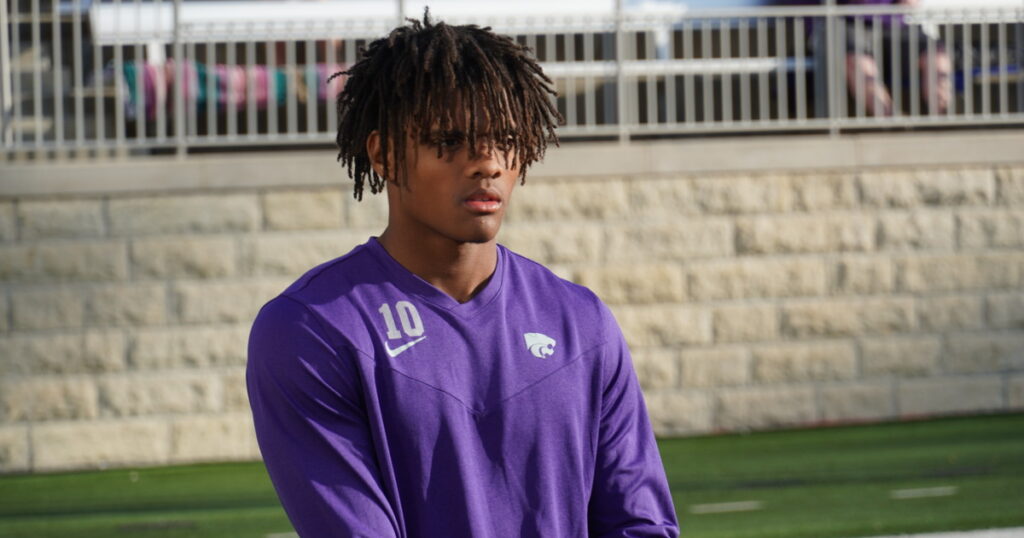 1. ANY BASKETBALL TRANSFERS THAT KANSAS STATE SHOULD BE LOOKING AT?
DY: Most would point to Hunter Dickinson of Michigan now that he has entered the portal, but I would doubt that Kansas State becomes much of a factor. Furthermore, the Wildcats likely need to address the perimeter first and foremost.
A few names that would have my attention are Quincy Olivari of Rice, Kentucky's Sahvir Wheeler, guard Jalen Cook from Tulane or VCU's Ace Baldwin. Those are the ones that really hop out to me at this point. With that being said, I don't think the portal has become as talented as last year's crop just yet.
I would have a bit more patience if I'm K-State, and I think that is the approach at this point. With only three spots to fill, nobody wants to fill up with options that they like and not have the opportunity to chase guys later that they ultimately love.
Remember, the portal is open until May 11.
2. WHAT ARE YOUR BEST AND WORST EXPERIENCES FROM THE PAST TWO TOURNAMENT WEEKENDS?
DY: To be honest, we were treated incredibly well while Kansas State was in Greensboro, North Carolina. Of course, that is a town that knows how to host. They are the home of the ACC Tournament very often and call themselves "Tournament Town".
Not to mention, the Kentucky game was magnificent.
However, despite the nostalgia and mystique of Madison Square Garden, it was not a well-hosted Sweet 16 or Elite Eight. They often did not have food or drinks for the media at all and didn't even reserve seats for all the media that they approved for the contests. It was shocking to say the least.
But I did enjoy sight-seeing New York City.
3. ANY UPDATES ON HOW AVERY JOHNSON HAS LOOKED?
DY: We have only seen 15 minutes of practice the entire spring ball, so any personal observations on my part are an incredibly small sample size and an unfair one. However, he looks bigger. Avery Johnson was as fast I can remember and the ball popped out of his hand like I remember seeing in high school as well.
Inside information from those behind the scenes that have seen a lot more of him have been glowing, too, and we have already wrote about it.
4. FOR K-STATE BASKETBALL, WHO STAYS, WHO GOES AND HOW MANY SCHOLARSHIPS ARE LEFT TO BE FILLED?
DY: Ish Massoud is the lone K-State player that has entered the transfer portal at this time. And as of now, we do not anticipate anyone else following. There are zero rumblings about any other Kansas State players exiting.
That doesn't mean it won't happen, but there's no noise that would suggest any other departures are imminent. That means three spots will need to be filled between now and next season.
5. WHO STARTS OPPOSITE OF WILL LEE AT CORNERBACK?
DY: In my opinion, it would be an overreaction to pencil in Will Lee as one of the starting cornerbacks at the moment. It's going to be a position battle for both spots and he has practiced a heck of a lot less than the others because of his late arrival to Manhattan.
Honestly, I probably would write in one name as a potential K-State starting cornerback. It just wouldn't be Lee. It would be Jacob Parrish.
Jacob Parrish/Drew Galloway
6. WOULD YOU RATHER ONE MORE SEASON OF DEUCE VAUGHN OR MARKQUIS NOWELL?
DY: That is a hell of a question. But honestly, it is probably a pretty easy answer at the end of the day. Not to take anything away from Markquis Nowell, but Deuce Vaughn is far more irreplaceable for Kansas State.
It is easier for a school like K-State to recruit in basketball than it is in football where seemingly all of the top end talent is reserved for five or six programs only. It is far more spread out on the basketball front.
Parity exists in college basketball, as seen by who has advanced to the Final Four for this weekend in Houston. The parity is also only increasing in that particular sport. It does not exist in football and hasn't for years.
While the Wildcats could land another three-star that becomes akin to Vaughn or Felix Anudike-Uzomah, those happen a lot less often than those that are of five-star caliber when exiting high school and entering into the college ranks.
7. SHOULD WE BE WORRIED THAT GENE TAYLOR LEAVES KANSAS STATE FOR A BIGGER SCHOOL?
DY: No. I understand the question, but Kansas State Athletics Director Gene Taylor is likely at his last job due to age. It would be very, very unlikely to see him start over somewhere else. He's closer to retirement than anything.
8. WHAT IS THE STATUS OF ASSISTANTS' PAY FOR FOOTBALL?
DY: I realize that everyone wants to know, but the status has obviously not changed. K-State will announce extensions and raises in the near future, and we're getting and getting closer to that point, but the time has yet to arrive.
Nobody is fleeing. And some of them are done, but they ultimately will want to announce them all at the same time. Some legal jargon and contract language between Kansas State and some of the agents involved in the process are still being sorted and negotiated.
9. HOW IS KEAGAN JOHNSON LOOKING?
DY: As we noted after the press conferences earlier in the week, K-State offensive coordinator Collin Klein isn't one for hyperbole and he raved about new wide receiver Keagan Johnson. He described him as elite at getting in and out of his breaks and creating separation.
Another source shared later in the week that Johnson was the real deal, and that they only expected more from him once he became a little more consistent, which is expected once he becomes just a little more comfortable with the offense.
10. WHAT IS YOUR BUEST GUESS AT A K-STATE RECEIVER DEPTH CHART?
DY: From what I understand, the Kansas State receivers the furthest along are Johnson, Jadon Jackson, Phillip Brooks and RJ Garcia. There is hope on Sterling Lockett, but he still might be a year away. The rest of the offseason will dictate that.
Others that could factor in for the upcoming season are Xavier Loyd, Erwin Nash and Seth Porter. It's still a bit of a work in progress. However, many like what the future holds for young guys like Lockett, Andre Davis and Jayce Brown.
The post Mailbag: Kansas State spring ball intel appeared first on On3.