Marvin Harrison Jr. excited to have one Pro Day under his belt but focused on the now
4 min read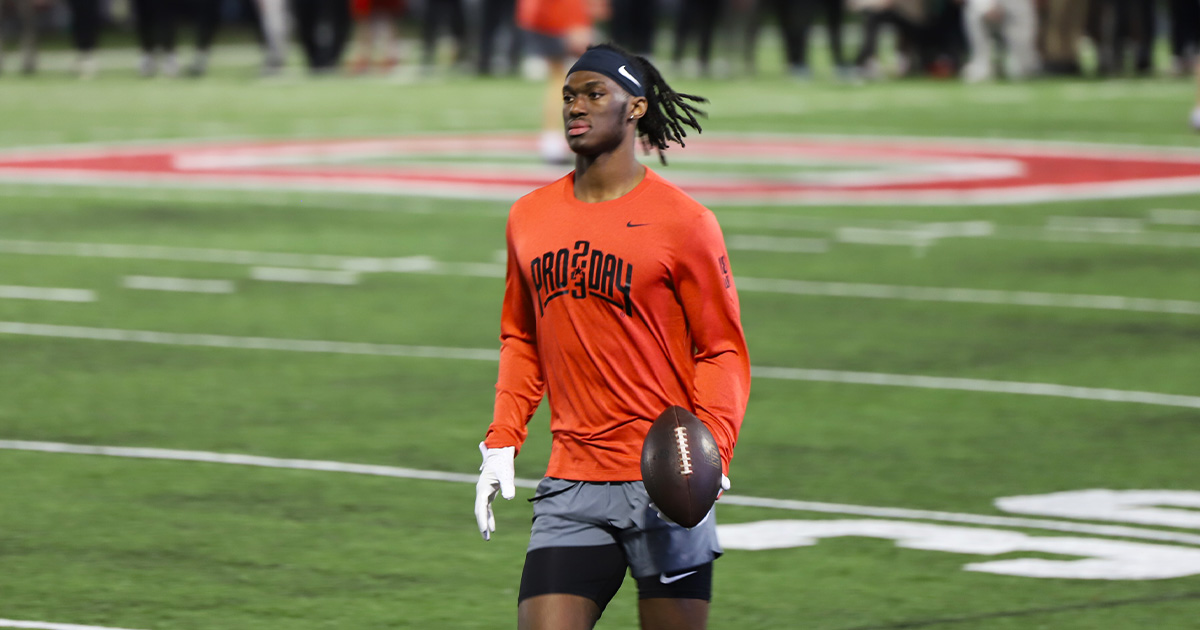 COLUMBUS — When Justin Fields had his Ohio State Pro Day, NFL front office personnel got a sneak peak at wide receivers Chris Olave and Garrett Wilson. When Olave and Wilson had their Pro Day, NFL scouts, general managers and coaches got a preview of quarterback C.J. Stroud.
And when Stroud took center stage Wednesday in the Woody Hayes Athletic Center for his Pro Day, NFL representatives in attendance got a glimpse of the next Buckeyes draft sensation: wide receiver Marvin Harrison Jr.
"That's really cool," Day said of Ohio State's pipeline of underclassmen helping out their draft-eligible teammates. "Plus, it also gives them the opportunity of what this feels like. Because sometimes this can be a little awkward. It gets quiet in here, there's a big crowd and a lot of powerful people in the building.
"So, a great experience for all of our guys."
Along with Harrison, fellow junior Jayden Ballard, graduate Xavier Johnson and senior tight end Cade Stover were the other current Buckeyes receivers helping Stroud glow in his throwing session.
Harrison mostly found himself in the slot, while projected first-round pick Jaxon Smith-Njigba was on the outside.
Even for Harrison, who practically lives in the Woody catching passes from the Monarc Seeker JUGS machine, the Pro Day environment was, as Day alluded to, awkward. Well, only at first.
"Then once I kind of went out there and did a couple of routes, I was like, 'OK, we basically do this every day. It's no big deal at all.' Just everybody's watching so — it wasn't really much of a difference."
To be more specific, everybody watching was 130 NFL representatives. All 32 NFL teams were accounted for, a handful of which brought general mangers and head coaches (that included Carolina's Frank Reich, Seattle's Pete Carroll, Pittsburgh's Mike Tomlin, Cincinnati's Zac Taylor, Tennessee's Mike Vrabel, New Orleans' Dennis Allen, Las Vegas' Josh McDaniels, New York Giants' Brian Daboll and Chicago's Matt Eberflus).
That doesn't even account for the media and families in attendance, or those watching the workout remotely on NFL+.
But Harrison is used to the eyeballs. His father knows that, too.
"Playing at this university, I think, year in and year out, you get to go and play in front quite a few fans, 100,000 fans," said Marvin Harrison Sr., an NFL Hall of Fame receiver.
"So to have all these upper executives here, I think it's a good thing. It gets to showcase what these guys can do. It's something that they can look forward to over the next year to come."
Albert Breer, a senior NFL reporter for Sports Illustrated's MMQB, reported some anonymous early reactions he got from NFL personnel about the younger Harrison: "Incredible," "He looked like a dude" and "Unfortunately not draft eligible" were among the takeaways.
Harrison was jokingly asked if any of the NFL teams are trying to steal him. He chuckled.
"I don't know," Harrison said. "I think they're focused on the guys who can come out this year. We'll leave it at that."
Like father, like son. Both Marvin Harrison Sr. and Marvin Harrison Jr. were happy to steer their respective interviews back to Stroud and Smith-Njigba, who are part of this year's draft class.
"Unfortunately, there's 31 teams who will have to play against C.J.," Harrison Sr. said of Stroud. And one team's going to be the lucky team to be able to draft him and play with him."
Harrison Jr. added: "He has all the skills you need at the quarterback position. Everybody knows that. But just the person he is, the leader he is for your team, that's somebody you can build your franchise around. And then Jaxon, you're getting the best playmaker that you could possibly get. Put him inside, put him outside, put him in the backfield. He makes so many plays. His ball skills are tremendous. He's super quick. He's fast."
Harrison will likely find himself in a similar position to Smith-Njigba at this time next year, except there probably won't be any questions about the Biletnikoff Award finalist. The 6-foot-4, 205-pound Ohio State wideout has all the makings of not just any first-round pick but a top-five pick, especially with his practically limitless catch radius.
But Harrison isn't getting ahead of himself.
"I try not to think about it too much," he said. "I'm just trying to focus on right now. So, just sticking with that, and I'll worry about that when the time comes."
Harrison did, however, shed some light about how Wednesday's experience could serve him down the road.
"If I come out next year, the nerves will be gone," he said. "I won't have to worry about it too much. I've got one Pro Day under my belt. So it was really exciting."
The post Marvin Harrison Jr. excited to have one Pro Day under his belt but focused on the now appeared first on On3.