Mel Kiper, Todd McShay project Georgia-heavy defense on West Coast
3 min read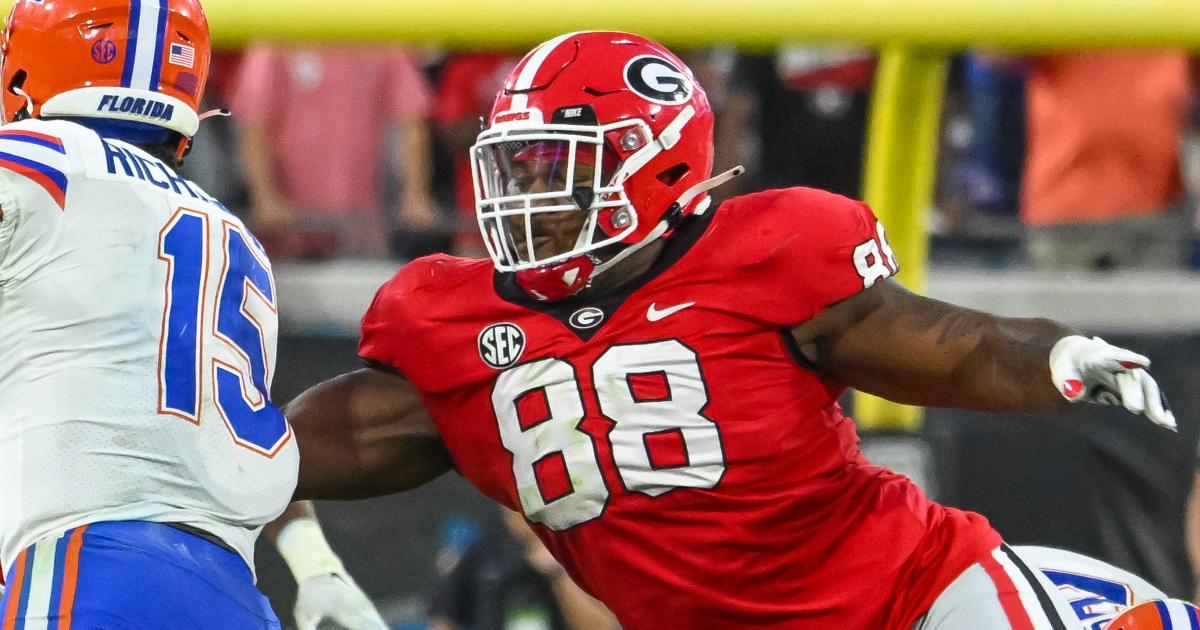 Mel Kiper and Todd McShay are two of the best when it comes to preparing to the NFL Draft in the game. While they won't be among the executives making the decisions during next week's draft, the ESPN experts put themselves in those shoes on Tuesday for a three-round mock draft, going back and forth making the picks. Together, they paired two Georgia players on the West Coast and found homes for others in the Big Apple, the nation's capital and even Music City USA.
Jalen Carter – No. 5 (Seattle Seahawks)
Mel Kiper's pick: If Carter falls to Seattle here, general manager John Schneider might rush the pick to the podium. Carter is a perfect fit in the middle of Seattle's defense. He will eat up blockers and make everyone around him better.
You can easily make the case for Carter as the top overall player in this draft. However, with teams wanting to go get quarterbacks, plus some off-field issues arising this offseason, Carter slips down to No. 5. No matter where he goes, his future team is getting a great football player as the former five-star was named an unanimous All-American this past season, his third in college, dominating for the Bulldogs down the stretch.
Broderick Jones – No. 13 (New York Jets)
Mel Kiper's pick: As we await the outcome of the Aaron Rodgers tug of war with the Packers, the Jets have to find a new starter at right tackle. Jones started every game at left tackle for the national champs last season, but he has the versatility to move to the right side.
Jones is an offensive line coach's dream. He's talented, having shown that at all levels throughout his development, but still young and able to be shaped like a piece of clay. Jones stepped in and replaced Jamaree Salyer at left tackle for Georgia this past season, and based on how he played, you never would have known the Bulldogs lost a starter there. He'll look to do exactly that at the next level using his athleticism.
Nolan Smith – No. 20 (Seattle Seahawks)
Todd McShay's pick: It's a slight slide for Smith, but Seattle won't be complaining. He showed off his explosion at the combine, and you see it on tape too, with his great takeoff speed and change-of-direction ability. The Seahawks have to focus on building up that defensive line, so even after you got them Jalen Carter at No. 5, I'm getting them a disruptive edge rusher here.
Smith was the No. 1 overall recruit in the Class of 2019 coming out of high school, and maybe a year later than expected, he goes in the first round of the NFL Draft. Smith had 56 tackles on Georgia's talented 2021 championship winning defense before getting off to a strong start his senior year in 2022 with 7.0 tackles for loss in eight games. He suffered a season-ending injury however, but showed folks that he's back to full strength at the NFL Combine.
Second Round
Darnell Washington – No. 41 (Tennessee Titans)
Mel Kiper's pick: I gave the Saints a defensive tackle in Round 1 when I thought hard about a tight end. Now, let's snag that tight end. Washington is a mismatch in the pass game and a really solid blocker in the run game. He could thrive in the NFL with more targets.
Kelee Ringo – No. 47 (Washington Commanders)
Mel Kiper's pick: Ringo is a boom-or-bust defender, and some scouts believe he'll eventually move to safety. He is worth a flier in Round 2 because of his traits, though. If he puts his tools together, the Commanders could get a steal.
Ringo and Washington are two of the more talented second round picks. Both projected as first rounders at some point during the process, they bring athleticism to the table. For Ringo, it's size and speed as a cornerback. He showed that at times throughout his college career like when he returned an interception for a touchdown in the National Championship Game win over Alabama. Meanwhile, with Washington it's freakish measureables for a tight end at 6-foot-7, 270+ pounds. He had the best season of his career this past year at Georgia.
The post Mel Kiper, Todd McShay project Georgia-heavy defense on West Coast appeared first on On3.