Miami Hurricanes freshman TE Jackson Carver has put on 10 pounds since arriving: "Whatever my role needs to be I'm going to fill it"
3 min read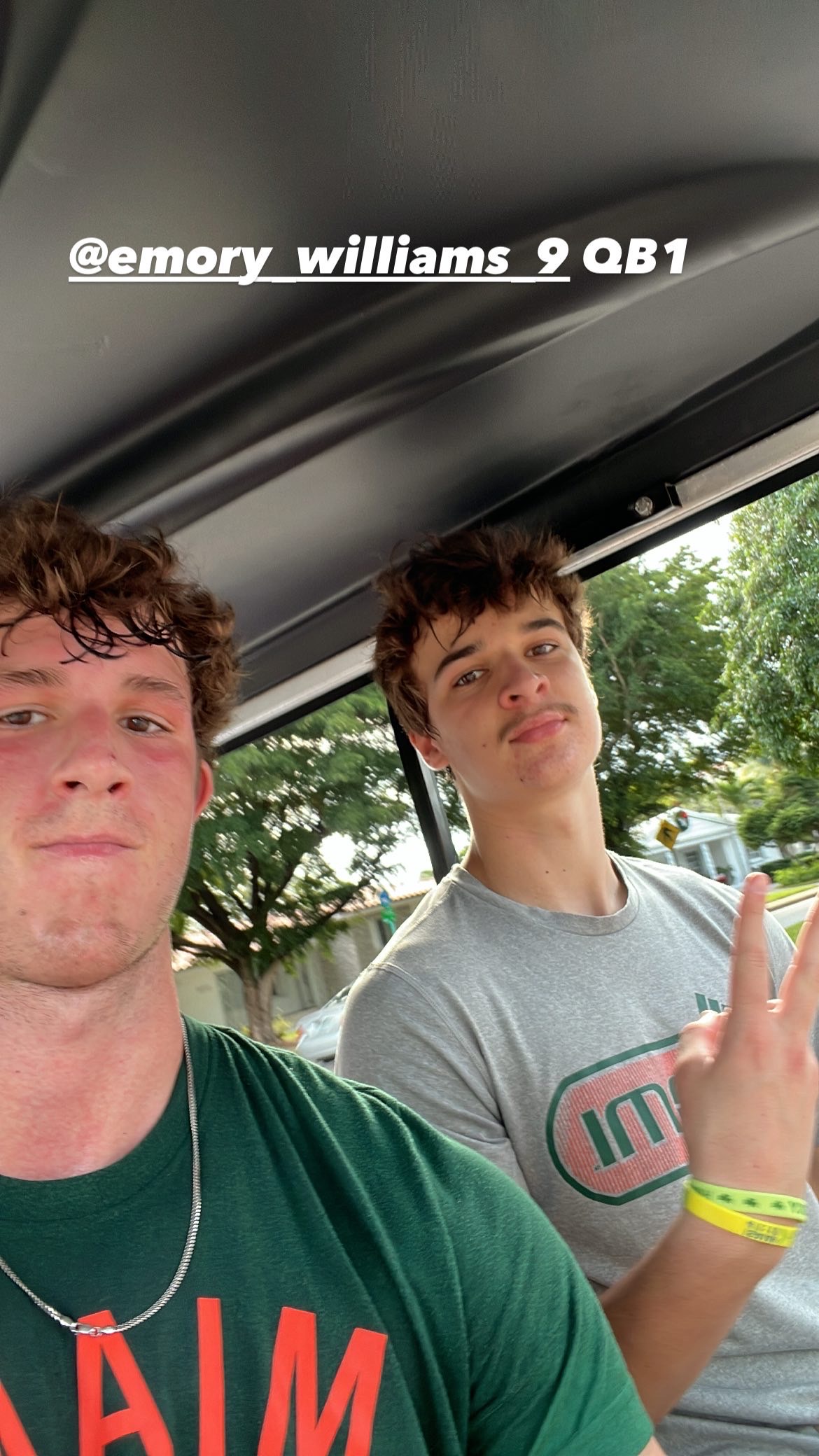 The Miami Hurricanes tight end room may have lost top threat Will Mallory, but the team returns experience with Elijah Arroyo (who is out this spring coming off injury), Jaleel Skinner and eighth-year Oregon transfer Cam McCormick.
Then there are the new guys: Jackson Carver and Riley Williams.
After the team's most recent practice, Carver shared his experience a few months into his Miami tenure. Carver's been getting mainly third team reps behind McCormick and Skinner and hopes to have an immediate role.
"Overall it's been great," said Carver, who rooms with freshman QB Emory Williams. "It hasn't been too bad to adjust to it all."
Carver was recruited out of high school by Stephen Field, and now the new tight ends coach is Cody Woodiel.
"He's insanely smart," Carver said of Woodiel. "He's teaching me everything I need to know and more. A real good person, he's always there for us."
With Shannon Dawson the new coordinator, the idea is there will be plenty of plays to go around in the passing game for tight ends and wideouts.
"We learn everything you can imagine in this offense," Carver said. "It's been really cool to see it all come together the past few months. Coach Dawson does a great job. … It's going to be awesome to see next fall."
The rangy tight end has an interesting background. He grew up playing hockey in Minnesota, then became a lacrosse star and transferred to a renowned lacrosse boarding school in Indiana for his junior year of high school. He wound up committing to Notre Dame for lacrosse. But then, because he wasn't playing hockey anymore, he took up football that fall and realized that was his future.
So you get an idea of his athleticism … and it's also worth noting that Nebraska offered him as a defensive end.
Because Carver grew up with hockey and lacrosse as his background, football is a newer sport for him.
"I'm always coming in extra, trying to get extra meetings in, learn as much as I can," Carver said. "It's beneficial to have such a great tight ends room around me so I can improve my game. It's been good to take everything in."
Carver landed over 30 scholarship offers during his recruiting process. Auburn, Iowa, South Carolina and LSU were others high in his picture prior to him shutting down his recruitment.
Since arriving he's put on 10 pounds of muscle.
"My numbers in the weight room have definitely gone up quite a bit," carver said. "We're all in great hands here."
His goals for himself looking to the future?
"I don't want to set any expectations, whatever my role needs to be I'm going to fill it," Carver said. "I'm on a couple of special teams, a great way to get on the field and have an impact there. Just look forward to the next practice, next day, I'm not trying to get too ahead of myself because there's a long way to go.
*Asked about Emory Williams' progress, Carver said, "I love rooming with him. He and I, very similar senses of humor. Always hanging out, making jokes. We're both adjusting well. We going over the plays together, draw them up. We've been really helping each other out in learning the offense, getting adjusted to a college offense. He's doing great and he can throw. He's good."
The post Miami Hurricanes freshman TE Jackson Carver has put on 10 pounds since arriving: "Whatever my role needs to be I'm going to fill it" appeared first on On3.