Miami Hurricanes holding Pro Day today, with Tyrique Stevenson expected to be most draftable and others looking to prove themselves
5 min read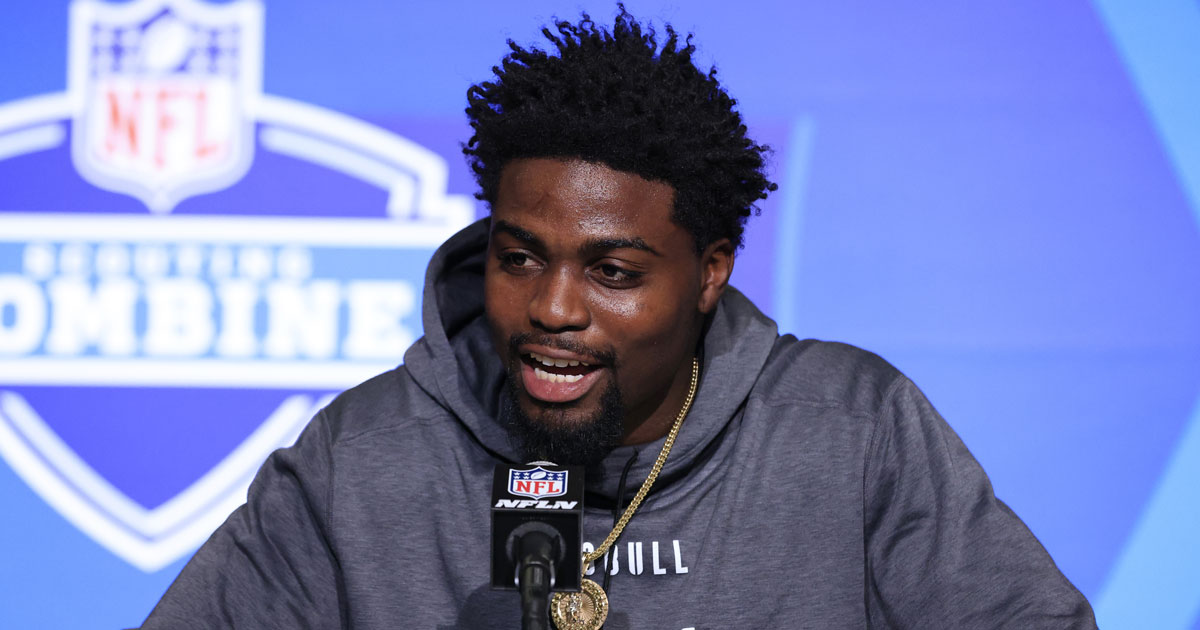 The Miami Hurricanes will hold their annual Pro Day today, with 12 former players (including two walkons) trying to either improve their draft stock or work their way onto draft boards.
The most likely highest draftee is CB Tyrique Stevenson, who Pro Football Focus lists as the No. 45 prospect in the draft regardless of position.
No other Hurricane is in that top 100.
PFF says of the 6-0, 198-pound Stevenson off the NFL Combine that "Stevenson got lost in the shuffle of an insane corner class, but he did what he needed to, posting a 4.45-second 40, 38.5-inch vert and 10-foot-5 broad jump."
NFL.com analyst Chad Reuter has a four-round mock draft, with Stevenson going No. 60 overall in the second round. He has no other Miami players going in the first four rounds.
Draft Wire, meanwhile, has Stevenson going in the third round.
Mel Kiper? He lists Will Mallory as the No. 9 tight end and doesn't list Stevenson among his top 10 corners. SI.com has Stevenson ranked as the No. 10 corner with DJ Ivey 37th and Mallory the No. 13 tight end with DJ Scaife the No. 17 offensive guard.
So while this year's draft will be better than the 2022 one that had just one player taken, Jon Ford in the seventh round, it probably won't look like the 2021 Miami draft that saw the Canes with two first rounders (Jaelan Phillips 18th overall, Gregory Rousseau 30th) with Brevin Jordan going in the fifth round and Quincy Roche in the sixth round.
Guys like Mallory, punter Lou Hedley, CB DJ Ivey, OL DJ Scaife and others could perhaps drum up some interest in the latter part of the draft.
Here's a closer look at each player that will participate in Pro Day today, with the NFL Draft starting April 27 and running through the 29th:
DE MITCHELL AGUDE: Agude played one season at Miami after playing for UCLA in 2020 and 2021. This past year he split time and ended with 39 tackles, seven for losses and four sacks. At UCLA  he was a second-team All-Pac 12 selection in his final campaign and had 54 tackles, 6.5 tackles for loss, two sacks and four forced fumbles in last year with Bruins. In the shortened 2020 season he led the team with nine tackles for loss and had three forced fumbles Agude spent his first two seasons (2018, 2019) at Riverside CC.
P LOU HEDLEY: A three-year starter at Miami, the Australian and former JUCO punter averaged 45.2 yards per attempt in his Canes career and showcased one of the strongest legs in college football. Punters are always hit or miss in the NFL Draft, but if a team needs a punter then chances are Hedley will get a long look and has a chance to be drafted.
CB DJ IVEY: Ivey had an up-and-down Miami career and this past season as a starter had 38 tackles with two interceptions and five pass breakups. As the year went on he played better, as early in the season he was beaten one on one several times. Ivey started four games in 2021, all 11 in 2020, had six starts in 2019 and played off the bench as a true freshman in 2018. For his career he ended with 127 tackles, 17 pass breakups and six INTs. Ivey is hoping a team will take a chance on him in the later rounds.
LB CALEB JOHNSON: Johnson arrived at Miami as a transfer this past season but wasn't able to beat out Corey Flagg for the starting MLB job. He ended with 48 tackles, 4.5 TFL and 1.5 sacks. At UCLA in 2020 and 2021 he had a total of 89 tackles, 5.5 sacks and two interceptions in his two seasons with Bruins. Prior to that he played at Fullerton College in 2019 after initially enrolling at Texas. He is not likely to be drafted.
TE WILL MALLORY: The veteran tight end started 37 games in his five-year career at Miami, with 115 total receptions for 1,544 yards and 14 TDs. This past season he started 11 games and had his most productive year with 42 catches for 538 yards. At the NFL Combine he tested at 4.54 seconds in the 40-yard dash, 1.59 seconds in the 10-yard split, had a 36.5 inch vertical and 10'1 broad jump along with 20 reps on the bench press.
DL ANTONIO MOULTRIE: Moultrie arrived at Miami as a graduate transfer but was buried down the depth chart at DT and ended with 14 tackles. He'd spent the previous four seasons at UAB (2018-2021), where he totaled more than 100 tackles in his career. Moultrie played LB in the 2021 season and ranked third on team with 62 tackles and added eight tackles for loss with two sacks. In 2020 as a DT he was a second-team All-Conference USA selection when he ranked fifth on team with 33 tackles in a nine-game season. Moultrie spent his freshman season (2017) at Northeast Mississippi Community College. He is not likely to be drafted.
OL JUSTICE OLUWASEUN: Oluwaseun arrived at Miami from UNLV in 2021 when his OL coach Garin Justice took a job at UM. But Justice only lasted one year, and while Oluwaseun started three games in 2021 he didn't make much of an impact last year and was hurt. It is not expected he will be drafted.
RB DEVON PERRY: Perry was a walkon RB at Miami who will work out at Pro Day. It's expected he will not be drafted.
OL DJ SCAIFE: Scaife started seven or more games in each of his five seasons at Miami, working at both the guard and tackle positions. While his versatility is notable, it's unclear if a team will take a chance on him in the latter part of the draft. He was not invited to the NFL Combine.
RB LUCIOUS STANLEY: Stanley was a scholarship RB at UAB who walked on at Miami last season and never got much action despite injuries to players above him on the depth chart. He ended with 19 carries for 94 yards and it's expected he will not be drafted.
LB WAYNMON STEED: After missing two seasons with different torn ACL injuries, Steed emerged in 2021 with eight starts and ended with 54 tackles, 3.5 for losses. This past season he played in just five games due to injury and had 11 tackles. He is not likely to be drafted.
CB TYRIQUE STEVENSON: Miami's most draftable prospect in this class, he spent his first two years at Georgia as a backup before transferring to Miami in 2021 and immediately emerging as a starter. In 2021 he earned All-ACC Honorable Mention recognition, finishing with 43 total tackles and 2.5 tackles for loss. He added an interception. This past season he continued his strong play with a pair of interceptions and seven pass breakups. He opted to leave early for the NFL and is a likely second or third round pick. At the NFL Combine he ran a 4.45-second 40 time with a 1.51-second 10-yard split, had a 38.5" vertical, 10'5 broad jump, 7.09 second in the 3-cone drill and 4.41 20-yard shuttle.
The post Miami Hurricanes holding Pro Day today, with Tyrique Stevenson expected to be most draftable and others looking to prove themselves appeared first on On3.