Miami staff sees 4-star Eddy Pierre-Louis as fast, athletic lineman: 'They know I like to run'
2 min read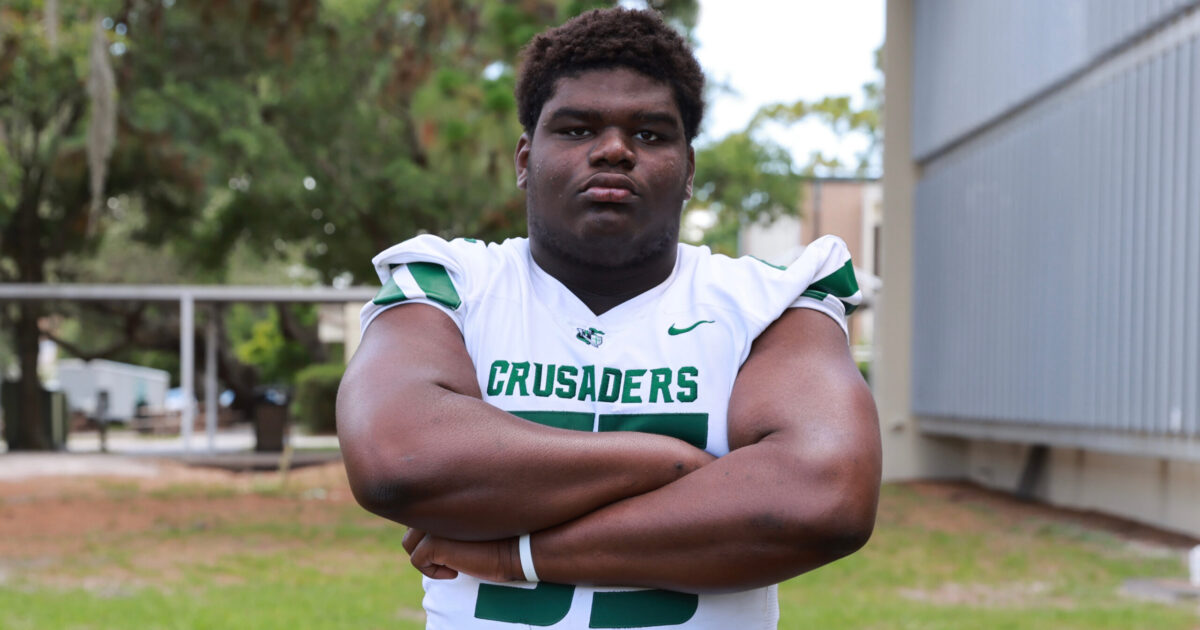 Tampa (Fla.) Catholic 2024 four-star offensive lineman Eddy Pierre-Louis was all ears when Miami head coach Mario Cristobal and associate head coach Alex Mirabal made their pitch to the On3 Industry Ranking top-300 prospect last weekend.
Pierre-Louis may be 6-foot-3 and 335 pounds, but his speed and athleticism has made him a popular target in this year's recruiting class — including for Miami. And Cristobal, Mirabal and a plethora of off-field assistants told the four-star prospect what he wanted to hear on last weekend's visit.
"They're trying to use my athleticism to my advantage," Pierre-Louis said. "Making me pull a lot, on screen plays as well. They know I like to run. They've seen me run track, so they just want to utilize that and make me improve on that as well."
Miami is high on Pierre-Louis' list thanks to consistent, weekly communication and a relationship he's been building with the program since his freshman year of high school. Pierre-Louis felt last week's visit was important to watch a Hurricanes practice, see Miami's revamped offensive staff interact with players and see how the team has developed from last season.
"They're showing me how they've improved on the offensive line," Pierre-Louis said. "Because last year they struggled a little bit, but this year they have a new group of offensive linemen and they're trying to develop it even more to have a better season. The offensive line was doing way better than last year in my opinion. I like the chemistry they have. They talk, they laugh, but they're also serious at times. I like that coach Cristobal, he watched the offensive line a lot, and plus he played offensive line so he knows how important it is in the trenches."
He said he also holds the Canes in high regard because of the University's academic reputation and said he wants to commit to a program that values academics as well.
The Canes want Pierre-Louis to play guard but isn't rushing him to think about official visits. They emphasized they wanted Pierre-Louis to enjoy the moment and not feel pressured into locking in official visits, and he said he isn't worrying about his OV list yet. He knows he wants to take unofficial visits Oregon, Oklahoma and Tennessee this spring as well.
CaneSport's Take
Miami's pitch of using Pierre-Louis as an athletic guard pulling on power, counter and other man-scheme run-blocking plays is curious given Cristobal's teams have largely focused on zone runs, as have offensive coordinator Shannon Dawson's offenses. Could this be a hint at a schematic change in Miami's offense next season?
The post Miami staff sees 4-star Eddy Pierre-Louis as fast, athletic lineman: 'They know I like to run' appeared first on On3.