Michigan basketball: 5 roster thoughts after a busy transfer week
7 min read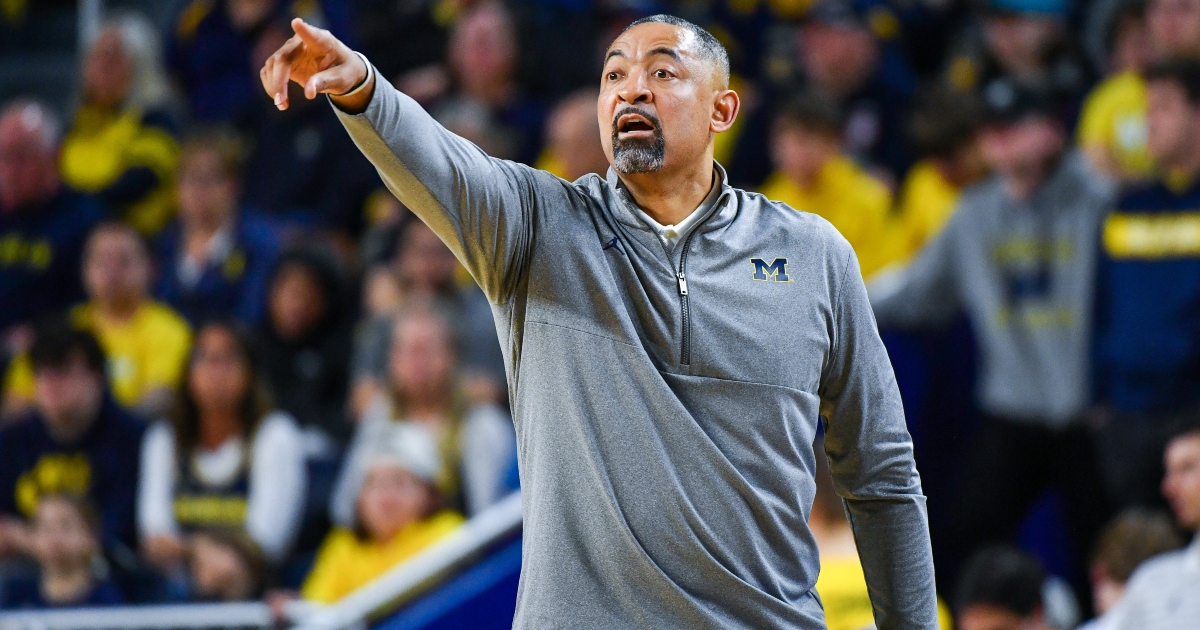 Michigan basketball and head coach Juwan Howard had a busy week in the transfer portal, adding a pair of pieces in North Carolina guard Caleb Love and Seton Hall forward Tray Jackson on Friday. This came a little over a week after the surprise addition of former Texas Tech and Alabama guard Nimari Burnett.
All of the sudden, the pieces are coming together more quickly than they did last offseason for the Wolverines. As of now, its three best players from last year – center Hunter Dickinson, wing Jett Howard and guard Kobe Bufkin – are moving on from the program. Dickinson remains in the transfer portal, while his teammates are heading to the 2023 NBA Draft.
Facing a make-or-break season, Juwan Howard has put in the work to build a competitive roster. Here are some thoughts about how it looks as of April 9.
Caleb Love gives Michigan a different type of star
Landing Love is the haul of the offseason for almost any team in college basketball. He was a featured player at a blue blood program and a major reason UNC slayed the Duke monster last year during Coach K's farewell tour. Love is also the player that could shoot you out of a game.
You take the good with the bad because he is an adept scorer. Love started 95 of 101 games played with the Tar Heels, averaging 14.6 points per game. He is a career 36% shooter (31.7% from three-point range) in 32.8 minutes per night.
Michigan had a laundry list of issues last season that Love alone does not fix. But what the team lacked in critical moments was someone who wanted the ball and wanted the spotlight. Love, for better or worse at times, is that guy. There was a problem with the fit and cohesiveness with former UNC teammate R.J. Davis – for, uh, a number of reasons – but Michigan point guard Dug McDaniel might be a nice fit next to Love. McDaniel is at his best when taking what a defense is giving him.
Michigan's task with Love is to improve his efficiency and playmaking ability. It also needs him to get downhill more and not force his shot from the perimeter. He is a volume shooter and will have the green light to let it rip. It will make him polarizing, but there is no question he is U-M's most talented scorer in the here and now.
Nimari Burnett could be a tone-setter for Michigan
With the offensive production Michigan loses heading into next year, it needed to find a scorer somewhere. But when parsing through what went awry for the Wolverines this past season, it did not have enough leadership or tone-setters, especially at the defensive end of the floor. Burnett could go a long way in being that if he stays healthy.
He brings a 6-foot-9 wingspan to the roster and shows the effort needed to be a tone-setter on that end of the floor. Michigan desperately needs that. He was part of Texas Tech's 18th-most efficient defense (KenPom) in 2020-21 under Chris Beard and played a key role with Alabama, who finished third this past season. Burnett has the chops and defensive aptitude to lead on that end.
Burnett is a high-character guy that has had some bad luck with injuries but could finally find a home with Howard at Michigan. Both are Chicago natives and have a relationship going back to the 2020 recruiting cycle. Burnett has averaged 15.6 minutes per game during his two collegiate seasons but will be up for a big uptick in playing time in Ann Arbor. Depending on who develops this year, he is probably looking at a role anywhere ranging from the starting lineup to the 6th or 7th man on the roster.
Burnett needs a stable role and good health, but he can be a quality piece. And with his medical redshirt and the COVID year of eligibility, he could have as many as three seasons left. For a program in need of a culture reset, there is plenty of belief Burnett can help provide that.
Tray Jackson is a sneaky good addition
The former Seton Hall forward has not generated the same buzz as his other two transfer counterparts but might go a long way in helping solidify a power forward spot that has been a black hole since Isaiah Livers graduated.
Jackson's best campaign came in 2021-22, starting 18 games and averaging 6.8 points and 3.5 rebounds in 18.1 minutes per game. One of the better performances of his career came that season at Crisler Center, scoring 13 points on 5-of-6 shooting in a win over Michigan.
The former top-100 recruit out of Detroit has also shown an ability to stretch the floor a bit, shooting 35.5% from three in his career. Standing at 6-10, 215 pounds, he looks like a natural fit at the four and could also play the five in small-ball lineups. This could be critical for Michigan without a proven backup center on the roster behind Tarris Reed. Players with positional versatility give them options.
Jackson will compete with Terrance Williams II and Will Tschetter for playing time, which is great for all of them. Each guy has his own share of flaws and needs to prove they can handle bigger minutes. Neither Williams nor Tschetter was the answer in the starting lineup this year. There is plenty of upside in Jackson pushing both for playing time.
U-M's ceiling still determined by internal options
Howard's work in the portal this spring has helped raise Michigan's floor, but its ceiling will be decided by players that were already on the roster. McDaniel and Reed's development specifically will go a long way in positioning U-M inside the Big Ten and national picture. The two played as well as could be expected as freshmen, but looked the part of young, unseasoned players at times this year. If they can add just a bit more consistency, both are poised for a leap.
That said, neither is the biggest wild card on the roster. That designation belongs to wing Youssef Khayat, who did not play a ton this year but could benefit most from the playing time available. We only saw him in 9 games this season, and when we did it often looked like he was still drinking from the firehose. American college basketball took some time to get used to.
Khayat started the team's final game, an NIT loss to Vanderbilt, with both Jett Howard and Bufkin sidelined. He looked a little more comfortable and hit a three in the contest while also grabbing three rebounds and an assist. Some evaluators last offseason said the 6-9, 195 wing has a bit of Franz Wagner-type flair to his game, but that it would take time to unlock.
Bufkin played far more during his freshman season than Khayat did, but their situations remain the same. Could more minutes and a more consistent role accelerate Khayat's development? If he has a good offseason – namely with strength coach Jon Sanderson – a leap is very much on the table. He might be Miichigan's most fascinating player to watch this off-season.
Could Hunter Dickinson re-engage with Michigan?
Dickinson slipped out the door without much notice to weigh his options in the transfer portal. Plenty of suitors have been named, whether it be Georgetown, Maryland, Duke, Kentucky, Gonzaga and others. He is the most high-profile college star to ever enter the portal, so this is a national recruitment. And yet, there has never been an official goodbye to Michigan or much pointing in a particular direction.
To address one of the factors in the quiet first, Dickinson told the media after Michigan's overtime win against Wisconsin on Feb. 26 that he was giving up social media for Lent, so he has been quiet publicly other than appearances on his podcast, Roundball, with Barstool Sports. Even in recent appearances on there, he has not addressed what is going on with his recruitment. Given the whirlwind nature, it is understandable that time is being taken.
And yet, could Michigan's transfer portal hauls interest him in a return? Michigan is currently full on scholarships pending more attrition. But it does not seem like bridges have been burned if there is a way to make it happen. The Wolverine coaching staff might be open to it. And it seems unlikely they would be deterred by the opinions of current members of the team. There would likely have to be some fences mended, though.
It still feels like Dickinson will wind up elsewhere. His window to make money playing basketball might not be as wide open as once thought. In the day and age of NIL and more basketball-happy boosters around the country, there is plenty of interest. And a lot of factors at play, too. His former high school coach, Mike Jones, was just hired as an assistant at Maryland and some believe they are the biggest threat. It would be fascinating to see him wind up there after his history with the program.
On paper, the door looks closed at Michigan. But we will see what happens. Dickinson or not, Michigan likes the pieces it has to compete for next season. Now it has to develop them and a team identity.
The post Michigan basketball: 5 roster thoughts after a busy transfer week appeared first on On3.