Michigan football: Olu Oluwatimi reveals message to current transfers
3 min read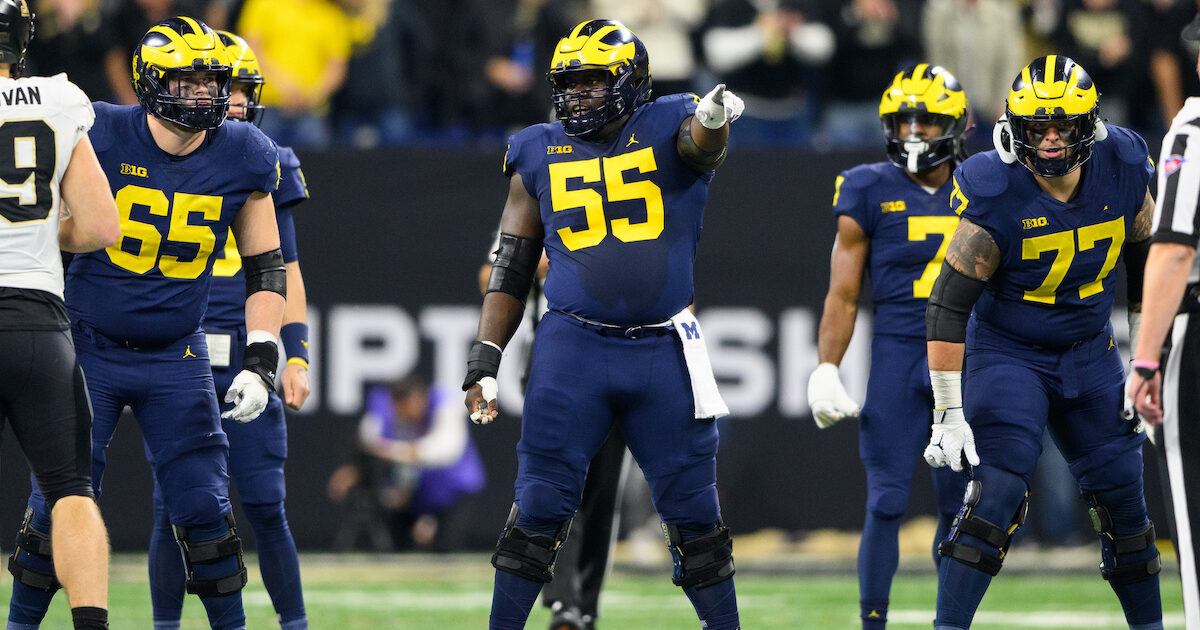 Michigan football center Olu Oluwatimi was a godsend for the program last year in anchoring the offensive line. The Virginia transfer came in and not only replaced Andrew Vastardis in the middle of the line, but was an upgrade and arguably the heartbeat of the trench attack.
Oluwatimi was a player that likely could have made the leap to the NFL after his senior season at Virginia, but chose Michigan to take his game to the next level.
Now that he is going to the 2023 NFL Draft process, it seems his gamble paid off. Most analysts have him as a potential mid-round selection.
RELATED:
• Each player's results from Michigan Football's Pro Day
"I definitely feel like I could have made the jump last year," Oluwatimi said at Michigan football's pro day on March 17. "Probably don't know if I would've got drafted. That's probably the only thing. But at the end of the day, it's not where you start, it is where you finish for the NFL.
"I feel like could have made the jump last year, but I feel like I positioned myself coming here and I'm pretty sure I'll get drafted, hopefully. I'm happy right where I am at."
Oluwatimi was arguably Michigan's biggest impact land via the transfer portal in the Jim Harbaugh era. Not only did he take his game to new heights, but he won the Rimington and Outland Awards individually. The offensive line won its second consecutive Joe Moore Award. The standard has been set for whoever follows.
But Oluwatimi was happy to be a resource to those considering Michigan this last go-round. The Wolverines landed a trio offensive linemen through the portal in Stanford center Drake Nugent and tackles LaDarius Henderson (Arizona State) and Myles Hinton (Stanford). Nugent projects to potentially start at center and the two did speak during his recruitment.
"I had some conversations with a couple of guys that coach [Sherrone Moore] was looking at and just being honest," Oluwatimi said. "I'm on my own and on my way out, so there's no reason for me to lie to them and I didn't. I just tell him exactly what to expect.
[I spoke to Nugent] on his official visit," Oluwatimi said. "I think that was the day they unveiled the Joe Moore Award [and I] spoke to him during practice and then at nighttime. I was just telling him what to expect. Saying that just because they bring in a grad transfer doesn't mean that you're going to be be starting. You have to really go earn it and things of that nature. Coach Harbaugh really believes whoever's on the field is the best player. So if you show him that you're the best player, then you're going to be out there.
The future NFL players on Michigan's 2022 roster helped Oluwatimi unlock another step in his development, but it was ultimately the coaches that threw the kitchen sink at him. He expects to be all the better for it.
"The defense that [Jesse Minter] throws at us at a daily basis, all of that prepared me," Oluwatimi said. "I feel like going against that sharpened my tools each day and made game day easier, and then be able to go out on game day, put good things on tape, it definitely positioned me to be in a better spot now.
"[Jim Harbaugh] knows what the NFL game is like. So him telling you and giving you instant feedback and true feedback of whether he thinks you can make transition and be a successful starter in the NFL, it's proven. If he gives you that blessing, you still gotta go earn it, but then that gives you that confidence that you can go do it."
The post Michigan football: Olu Oluwatimi reveals message to current transfers appeared first on On3.