Michigan State men's golf team tied for second after one day at NCAA regional golf tourney
3 min read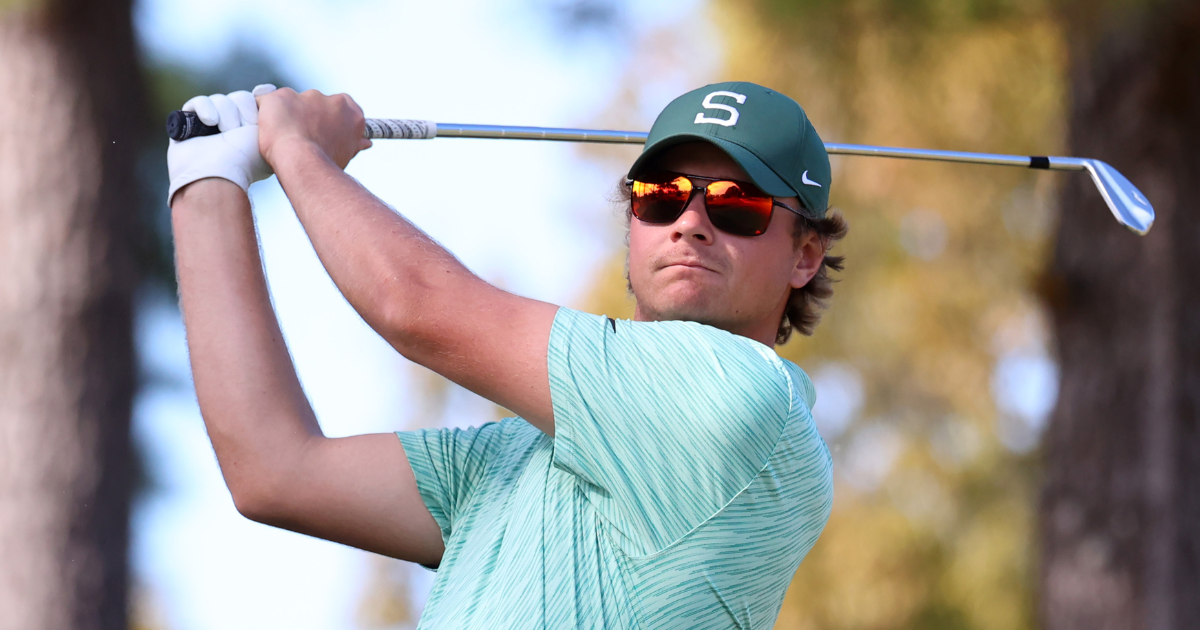 The Michigan State men's golf team is sitting in a strong position to earn one of five qualifying spots at the NCAA golf championship after a strong opening-round performance in the NCAA Regional Golf tournament.
Michigan State, which is the host team for the regional, is tied for second place with Big Ten Champion Illinois at 12-under at the NCAA Regional at the Par-71, 9,070-yard Eagle Eye Golf Club in Bath, Mich. Georgia leads the event at 18-under par.
Second-round action begins on Tuesday morning at 8:00 a.m. and can be followed at Golfstat.com. The third round will be played on Wednesday.
Michigan State is the only unranked program in the Top 10 at the Eagle Eye Regional. Day 1 leader Georgia is ranked No. 34 overall and Illinois is the highest ranked team at the regional a No. 3 overall.
"It was a really good start," Spartan golf coach Casey Lubahn said  "It was one day, but you can lose it on the first day and we put ourselves in an awesome position."
Sitting behind Georgia, Michigan State and Illinois, Texas (-9), Oregon (-5), and Little Rock (-5) round out the Top 5. Florida (-4), Kansas State (-3), Liberty (-1), and Wisconsin (E) are within striking distance of the Top 5 after one day of competition. San Diego (+2), Illinois State (+4), and Purdue Fort Wayne (+12) have some catching up to do with two rounds remaining.
All five Michigan State players competing at the Eagle Eye regional played under par on Monday.
Troy Taylor, who is tied for second overall after one round, carded a 5-under par 66. Taylor, a senior from Westerville, OH, had just one bogey during Monday's round. Taylor's lone misstep came at the 589-yard Par 5 18th hole. His bogey six at the 18th, however, was better than the score at the 18th carded by two of his teammates, who had double bogeys. As a team Michigan State was five over on the 18th.
Sophomore Ashton McCulloch finished two shots behind Taylor at 3-under. McCulloch, who started Monday's round on the back nine was 1-over par going into his final nine holes. He birdied holes two, three, six, and seven to card 68.
McCulloch is in 12th place going into the second-round action, one shot ahead of teammates Drew Hackett and Bradley Smithson who are tied for 20th at 2-under. Austin Meekhof is tied for 30th at 1-under, thanks to run of three straight birdies before bogeying his final hole.
Aside from the 18th hole, Michigan State largely avoided bogeys or worse. Collectively, the Spartans carded just six bogeys and two double bogeys on Monday. Led by Taylor, Michigan State golfers totaled 24 birdies in opening-round action.
Michigan State is one of three Big Ten teams playing in Bath this week along with Illinois and Wisconsin. Michigan Sate is one of seven Big Ten teams to qualify for an NCAA Regional Tournament berth along with Illinois, Wisconsin, Indiana, Northwestern, Purdue, and Ohio State.
Michigan State is among 81 teams participating in NCAA regional competition this week. Michigan State earned an NCAA Regional invitation as an at-large bid. Michigan State is the No. 10 seed in the regional field.
The post Michigan State men's golf team tied for second after one day at NCAA regional golf tourney appeared first on On3.