Michigan State's Tom Izzo Reaction: "They made some plays; never been prouder of a team"
4 min read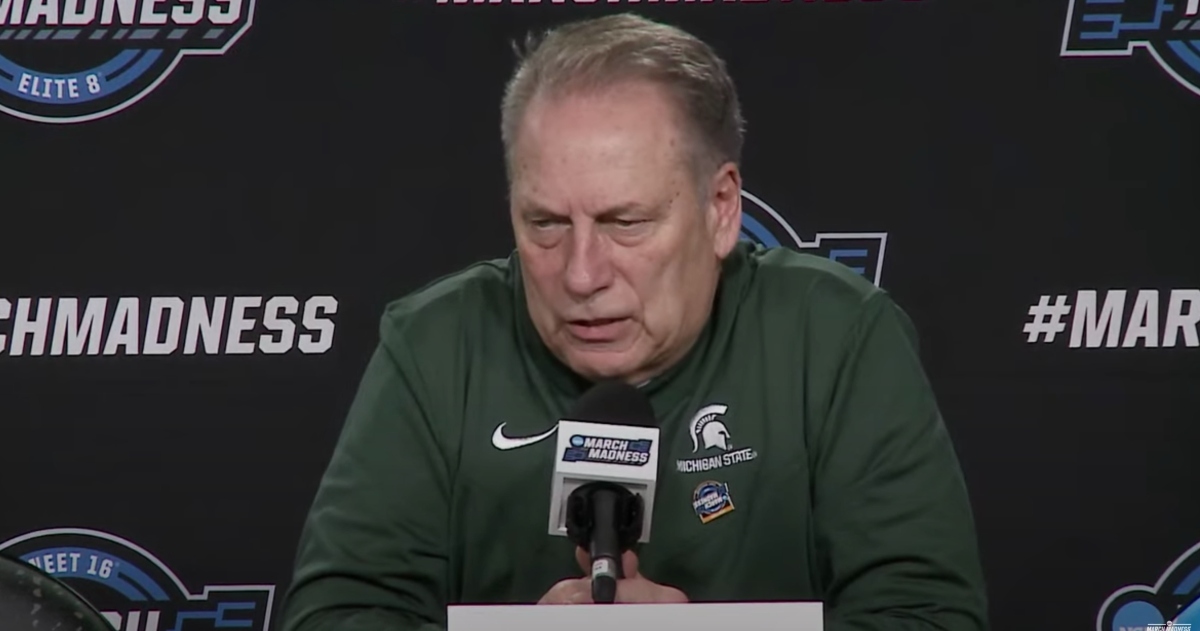 New York – There was no blame, and not many regrets, in the Michigan State locker room after Friday night's classic overtime 98-93 loss to No. 3 seed Kansas State in the NCAA Tournament East Region Semifinals at Madison Square Garden.
"(I've) been part of a lot of big wins, and I've been part of a lot of tough losses," said Michigan State head coach Tom Izzo. "Never been prouder of a team because we didn't have our game tonight. We did not play like we have been in the first half. We were ham-and-egging it and just kind of fighting through it. We just kept fighting."
Like they have all year. That's what Izzo was proudest of. 
The Spartans fought back from a 7-point, 45-38, deficit with 18:52 remaining to tie the game at 50-50 on a Malik Hall put-back with 14:34 left. 
Kansas State rebuilt the lead to seven at 77-70 with 4:45 left. 
But a 3-pointer by Jaden Akins (80-78 with 1:35 left) and then a game-tying drive by Tyson Walker with :05 seconds left sent it into overtime. 
A Walker 3-pointer from the top of the key, when Izzo ordered a clear-out for him, gave Michigan State an 87-84 lead with 3:28 left. Izzo looked to the ground and cracked his first and only smile of the game.
"I really believed when we were three up that we were going to win that game and this team was destined," Izzo said. "That's what I believed all year.
"Yet credit goes to Kansas State, so I don't want to take any credit away from them. They made bigger shots, tougher shots, big plays, and I don't know how many turnovers they had, but that was the difference.
"They've been turning it over 15 times and had five, we've been turning it over 10 times and had 13. But it's those points off turnovers. We had too many of those, and that's why their shooting percentage was so high."
After the game, Walker collapsed to the floor, staring down at the hardwood at Madison Square Garden. After a half-minute, he was helped to his feet by teammates.
There was a lot of sadness in the locker room – the type of despair that only this tournament seems to produce time after time in comparison to other major American sport spectacles.
"I told them I was proud as hell of them and I love every one of them," Izzo said. "I can look at a million things that we did wrong. I can look at some things that I did wrong. Ball screen coverage, strung us out, then we went with some lineups that wasn't the norm when we had those two smalls in there. I mean, that (Ismael) Massoud kid really hurt us and maybe we didn't prepare for him enough.
"There's always blame that can go for everybody, but to fight back like we did over and over, as you say, get off the mat as many times as we did, go through the things we went through, you feel good about them." 
Five Spartans scored in double figures as Michigan State shot 13-of-25 from 3-point range.
AJ Hoggard finished with 25 points on 7-of-14 shooting. He was strong and productive with drives to the rim late in the game.
Joey Hauser scored 18 points and was 4-of-9 from 3-point range in what is almost certainly his last game as a Spartan. The sixth-year senior has said recently that he doesn't plan to petition the NCAA for an extra year. 
Tyson Walker and Jaden Akins scored 16 apiece. Akins was 4-of-5 from 3-point range and played good defense on Kansas State's Markquis Nowell in the final nine minutes of the game because Walker was wearing down.
"These guys battled back," Izzo said. "Ty was struggling early. Joey was hot. AJ really came along late, then Ty did, then Joey did. 
"I'm proud of them. I'm really proud of them. I don't say that about a lot of teams. But what they've done in the last couple weeks, how they've grown.
"I give a lot of credit to Kansas State, but boy, it was their night with some of those shots that went in. Those two shot clock threes they hit, one was a bank in from almost on the ground, and then we missed some free throws, some of our better guys.
"They made some plays, and we did some strange things."
The post Michigan State's Tom Izzo Reaction: "They made some plays; never been prouder of a team" appeared first on On3.