Michigan WR Semaj Morgan giving a voice to the voiceless
5 min read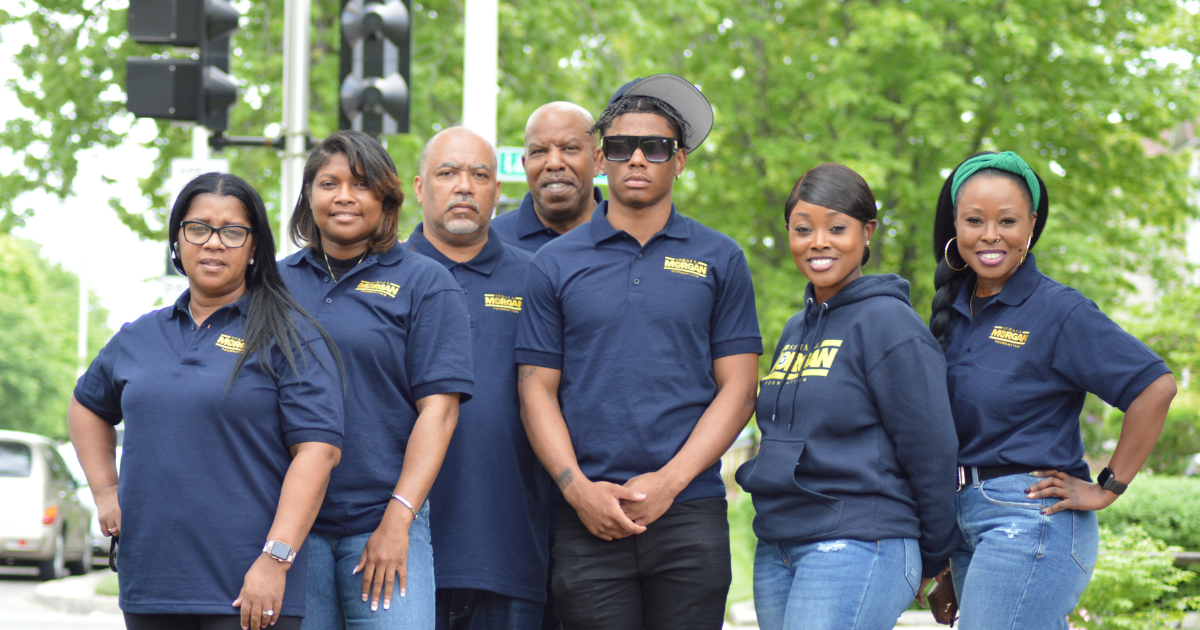 Michigan wide receiver Semaj Morgan stood at the podium on Saturday and delivered a two-minute, tear-jerking speech that ran emotions from the dozens of mothers who sat down and listened intently.
There were pauses in Morgan's speech which could have been a result of how powerful the moment was for him. It also could have been the realization of what he set out to do that day was happening in real-time.
"It was a little nerve racking but you know that I'll attack anything," Morgan told The Wolverine.
Those two minutes, along with speeches made by parents Semaj Morgan Sr. and Erika Morgan, were reminders that gentle acts of kindness can be so moving that those who are either receiving or presenting it are equally as overcome with euphoria.
Morgan, who enrolled at Michigan this past January and wrapped up spring camp in April, has set out to achieve what NIL has allowed college student-athletes to strive for when using their name, image and likeness.
Opportunities such as partnering with various non-profit organizations, both locally and nationally, as well as distributing NIL earnings to philanthropies that impact small and large assemblies, are ways that current student-athletes spread awareness to causes that matter to them. Student-athletes are also able to create their own foundations to work towards goals made away from the sport that they play, an avenue long prohibited for decades.
Earlier this year, Morgan, immediate family, relatives and close friends created the Semaj J. Morgan Foundation, a grassroots humanitarian group that prioritizes children, families and adults of need in Detroit, its suburbs and throughout Southeast Michigan. The organization operates on a "12 Month Giveback" system where services, events, social gatherings, donation drives and football related activities are done monthly, weekly and even daily.
"It was always in me to build this foundation," Morgan said. "It's therapy for me. I like doing it, I like giving back, I like providing support to others and I want to continue doing it."
For someone who just turned 18 years old less than two weeks ago, the mental maturity required from Morgan to step out and give a voice to the voiceless, a shoulder to cry on, a powerful shake hand, a reason for others to hold their heads up and a reason for others to know that life won't be challenged without assistance is something that can't be asked from most teenagers.
But that's why he does it.
Like on Saturday when the Semaj J. Morgan Foundation co-hosted a Mother's Day convocation with Mothers Making Audacious Differences (M.M.A.D.) at the Church of the Messiah on Grand Boulevard in the lower Eastside.
Mothers, their surviving children, their signifiant others, their elder family members and friends gathered in the 100-plus seat Episcopal church to hear from state senators, lawmakers, judges and peer leaders about how to tackle senseless acts of violence. According to the M.M.A.D website, the non-profit is geared towards helping families deal with healing and grief relating to senseless violence.
When it was Morgan's turn on the podium, the freshman had a welcoming crowd ready to hear what he wanted to bestow onto them. Each passing word from Morgan gave way to one more tissue being pulled out of the boxes seated adjacent to them. Each statement that Morgan echoed through the chambers of the congregation brought forward a smile.
A smile of relief for individuals who've endured sleepless nights and wandering thoughts of "what if" from the loss of their own child because Morgan's message was simple: "You are not alone."
"It meant a lot to me because there have been a lot of deaths in my life, personally," Morgan said. "With Mother's Day here, the people who've passed away all had mothers. Those mothers always need to feel special. I just wanted to show them that they weren't forgotten."
Rows upon rows of mothers watched Morgan speak and then stood up, waiting for their turn to share their thank you's to him and the other foundation's organizers. Every woman, who had the courage and willpower to be there, had a moment to embrace Morgan.
Those 10 or so seconds that each one got with Morgan all had stories to tell that day. Stories of anger, frustration, sorrow and loneliness. Stories from people who have affected Morgan personally as well.
Dressed in all-black, one woman got up to say her appreciation to Morgan, who before locking arms, made sure to give his own valued acknowledgement to her.
Her name is "Ms. Terry," a high school teacher that devoted her time while Morgan attended West Bloomfield High to help the former MHSAA Division I State Champion with homework and test studying. They began working together when Morgan was in the ninth grade and it didn't stop until he received his diploma five months ago.
Saturday was another chance for Morgan to present his teacher with treasured admiration. Same goes for all of the mothers who saw not only a compassionate and caring young man, but an ally in their efforts to stop senseless violence and to prevent one less woman from having to say goodbye to their baby girl or boy.
"That's the best thing that I've ever done in my entire life," Morgan said. "I've done some great things in my life but that's the most important thing that I've ever done. I feel so accomplished about that. This journey is way more than football. I just want to touch people's lives and I'm proud of that."
Morgan's said journey will carry on at Michigan for at least the next three years. A road that will be carved with more than just the accomplishments that he earns at The Big House. It'll be strengthened because of who he sees himself personally.
Someone who's more than just a route runner, open-field blocker and pass catcher. Rather, someone who's a community activist.
"I feel like everyone should give back, especially if you're a football player because it's a good cause," Morgan said. "People want and need to give back so if you're able to make lives better, why not do it?"
The post Michigan WR Semaj Morgan giving a voice to the voiceless appeared first on On3.