Midwest 2024 WR to spend his Tuesday with the Gators
2 min read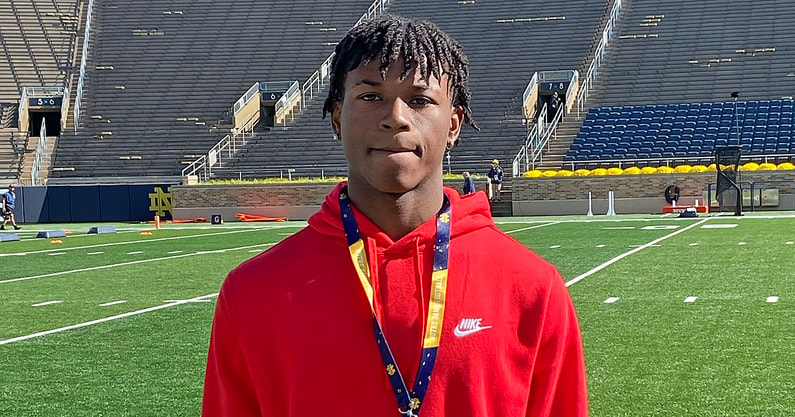 After landing a scholarship offer just over a month ago, 2024 wide receiver NiTareon Tuggle is now set to get his first taste of the Gators.
On Tuesday, the South Bend (Ind.) Northwood standout is arriving in Gainesville for a visit. The Gators are casting a wide net in terms of offering 2024 wide receivers, with Tuggle being one of the top targets in the Midwest. Assistant wide receivers coach David Doeker and recruiting assistant Joe Hamilton are among those in communication with the 6-foot-3, 185-pound junior.
In addition to the Gators, Tuggle possesses offers from Georgia, Michigan, Texas A&M, Oregon, Miami, Washington and Auburn among others.
"It's been hectic," Tuggle told On3 in March. "It has been a lot, but I'm still enjoying it just day-by-day. It's a blessing that I'm in this position to get all these offers and I work so hard for it, so I can't complain about it."
According to the On3 Industry Ranking, a weighted average that utilizes all four major recruiting media companies, Tuggle is the No. 79 wide receiver in the 2024 class. He is also the No. 477 prospect overall and No. 4-ranked junior in Indiana.
During the 2022 season, Tuggle reeled in 40 receptions for 792 yards and 15 touchdowns. He was responsible for passing, rushing and kickoff return touchdowns as well.
Tuggle has one official visit scheduled for June
Georgia, which is the lone program with an official visit scheduled, is trending in the On3 Recruiting Prediction Machine. Those odds are currently at 43.7 percent. Michigan currently has the second-best odds, and like Georgia, played host in March. Additional programs that have received visits this year are USC, Notre Dame, Texas A&M, Michigan State and Cincinnati.
Largo (Fla.) linebacker Adarius Hayes, Willis (Texas) quarterback DJ Lagway, Atlanta (Ga.) Woodward Academy linebacker Myles Graham, North Palm Beach (Fla.) The Benjamin School running back Chauncey Bowens and Nashville (Ga.) Berrien safety Josiah Davis make up UF's class.
Stay tuned to Gators Online.
The post Midwest 2024 WR to spend his Tuesday with the Gators appeared first on On3.