Monday's Morass: What If Lincoln Riley Makes A Difference With The Defense?
5 min read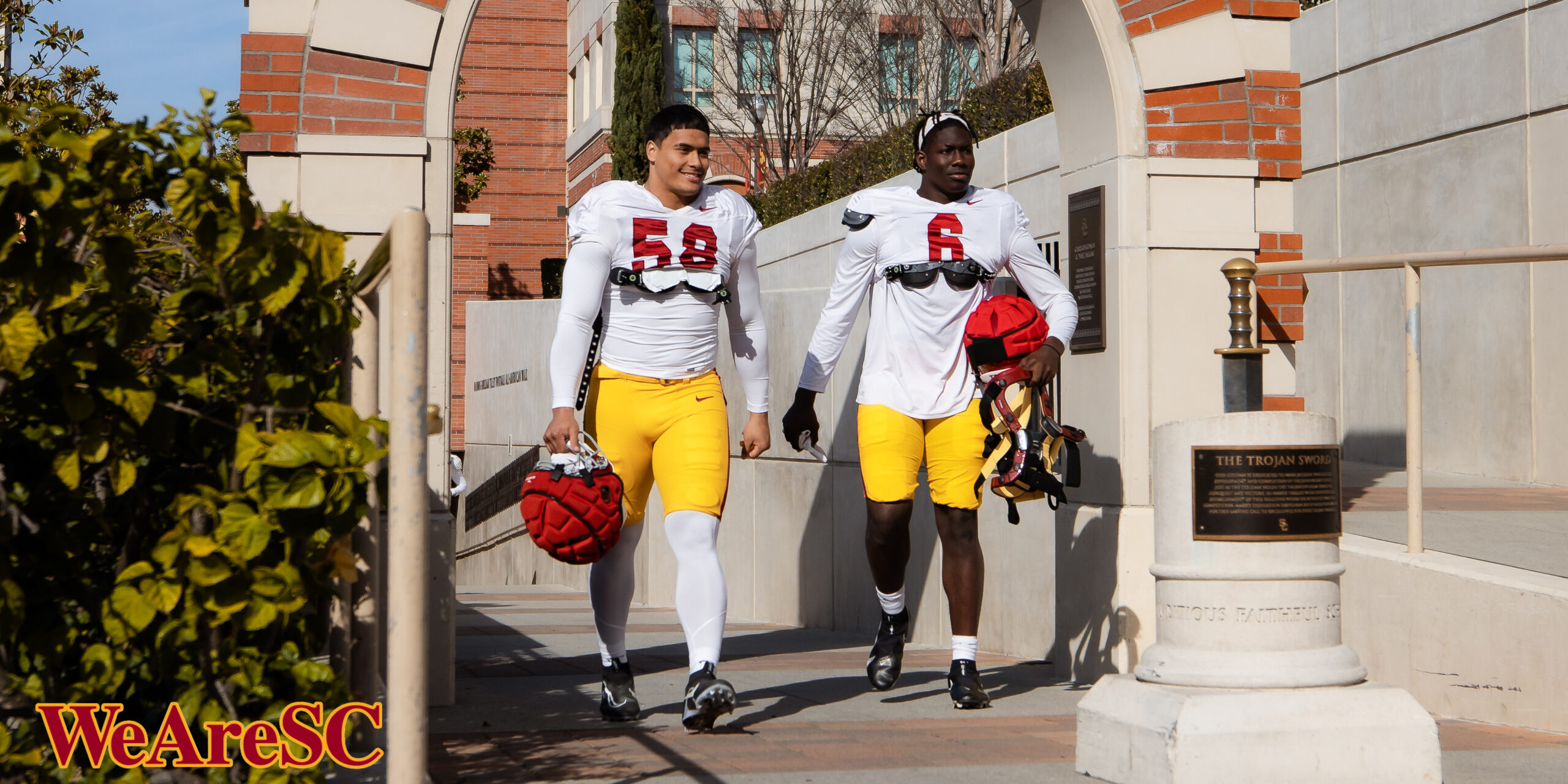 Spring camp came back from taking a spring break last week and Lincoln Riley is spending more time with the defense in 2023. There's so much to think about coming out of the weekend, each week Monday's Morass will keep your USC sports mind clear from anything you might, or might not be aware of to start the new week.
So here are a few "what ifs" to think about while spring camp resumes.
What if USC plays with a better defensive mentality in 2023?
Lincoln Riley sat down with the media on ZOOM following Saturday's spring practice No. 6 and said, "You can have perfect scheme, perfect technique, perfect fundamentals, all of that.——If the mentality is not where it needs to be for every individual player out there, the product's not going to look the way it needs to," Riley said. "I'me Excited about the edge that we're competing with right now."
So more than a year after taking over the program, Riley is making sure the 2023 USC defense plays with the same "mentality and edge" the offense showed in 2022.–The offense was pretty good.
Despite leading the country in scoring and winning the Heisman, the offense wasn't perfect in year-1.
However, it was still good enough to cover up most of team's zits and blemishes. Trying new things and new players, their defensive counterparts had different results when things weren't going perfectly.
Riley believes it's the mentality that needs an attitude adjustment.
Here is what Bryson Shaw said last week when he spoke with the media. "I think Coach Grinch, is a fantastic coach, I love playing for him. He gets us fired up every day, he gets us ready to attack. We all love playing for him.–It's not on him, it's on the players for not executing.–"We all feel like we let him down.–We just wanna get this year for him. I feel like you can feel that in how we're practicing." Here is what Bryson Shaw said last week when he spoke with the media.
Off the record, I've spoken to other players on both sides of the ball and not everyone on defense has Bryson Shaw's mentality of accountability.
The game film doesn't lie.–Grinch's defense was inconsistent in 2022.
The schedule is more challenging this season, however, last year they won 11 games and return Superman at quarterback.
If all of the Trojan defensive players can play with the same mentality that Riley's offense plays with, USC will make the college football playoffs in 2023.
What if Korey Foreman and Solomon Tuliaupupu become stand-out defensive ends at USC?
That would be good news–No, that would be fantastic news!
It also means depth on the defensive line is developing faster than Korey Foreman stacking back-to-back positive practice days together. "He's been able to stay on the field.–He's been able to stay in workouts. He hasn't had a lot of times where he's in and out of stuff. So what happens is you're starting to see him stack good days on top of each other," said Riley. "He has improved and is such a better player right now than he was 12 months ago," Riley said. "It's not even close. It is not even close and the kid is really working hard. He's really taking some steps."
I said not too long ago that Coach Shaun Nua would have a positive impact on Foreman.
Solomon Tuliaupupu is another player developing in the defensive line room and is having a dominant spring camp. The transfers have gotten the lion's share of attention this spring from the media while others are just taking care of business quietly without much notice.
That silence could be changing. I keep hearing from players that "Solo" is putting guys on their backsides during practice. "His bullrush is fierce!" was just one of the ways to describe Tuliaupupu's tenacity. Basically Solo plays with the type of mentality Riley wants and it's probably why he's still on the roster.
Riley loves to bring up players from his past coaching that developed and helped the team reach its goal. When Foreman arrived at USC on day-1 the anticipation was high but it's been dipping. Tuliaupupu had high expectations too, however, injuries have been an issue.
Korey and Solo becoming standout defensive ends in 2023 will serve two future benefits.
No. 1, it means the 2023 USC defense is pretty good, they have depth, and they're producing Tuli Tuipulotu-type of results. Coach Manning said it best last week; he's coached both Solo and Foreman."Just a huge need for guys that can get to the quarterback.–That was just a big focus this year, something we thought we lacked a lot last year, to be honest. Need guys that can get to the quarterback."
Secondly, and this cannot be overstated enough, local defensive prospects who have been avoiding USC because they wanted to see players better developed, they'll have two solid pieces of evidence to help change their minds.
What if a player wants to transfer to USC because of NIL opportunities?
The process doesn't take very long and Riley has said there is a certain amount of trust involved, but if the player transferring passes the vetting process Lincoln Riley and the player committee puts them through, great!
The Trojans have used the transfer portal to build a championship-contending roster on both sides of the ball, and the work isn't done yet. Riley admits, there is going to be more player movement. "There'll be more movement on the roster.—You can't predict exactly how many guys are going to leave. You don't have control over other guys getting into the portal. That's going to depend on what's there and how many upgrades we think are available.
Bringing in any player who can help the team get over the hump and become a championship winner is a risk. Especially, if the player is doing it mostly for NIL reasons.
Say a player like Marvin Harrison Jr. decides in May that he wants to play with Caleb Williams for a year before they both head to the NFL. I doubt that Lincoln would say no, and I know the fan base would be pretty happy.
But what if it wasn't Marvin's idea to make the move? There is no reason for the future 1st round draft pick to leave his current situation in Columbus Ohio unless it's for financial considerations. Caleb Williams came to Los Angeles and it has paid off in more ways than you can count from a NIL perspective, and maybe Marvin wants to experience some of the types of return by changing locations.
If Harrison's representatives make a NIL decision, does that force Riley's hand to take the transfer if the roster has other needs?
This was hypothetical, and playing with Caleb Williams is an opportunity any wide receiver would relish but not every transfer is making their own decision.
The post Monday's Morass: What If Lincoln Riley Makes A Difference With The Defense? appeared first on On3.