My favorite WR in 2025 so far: Adrian Wilson
2 min read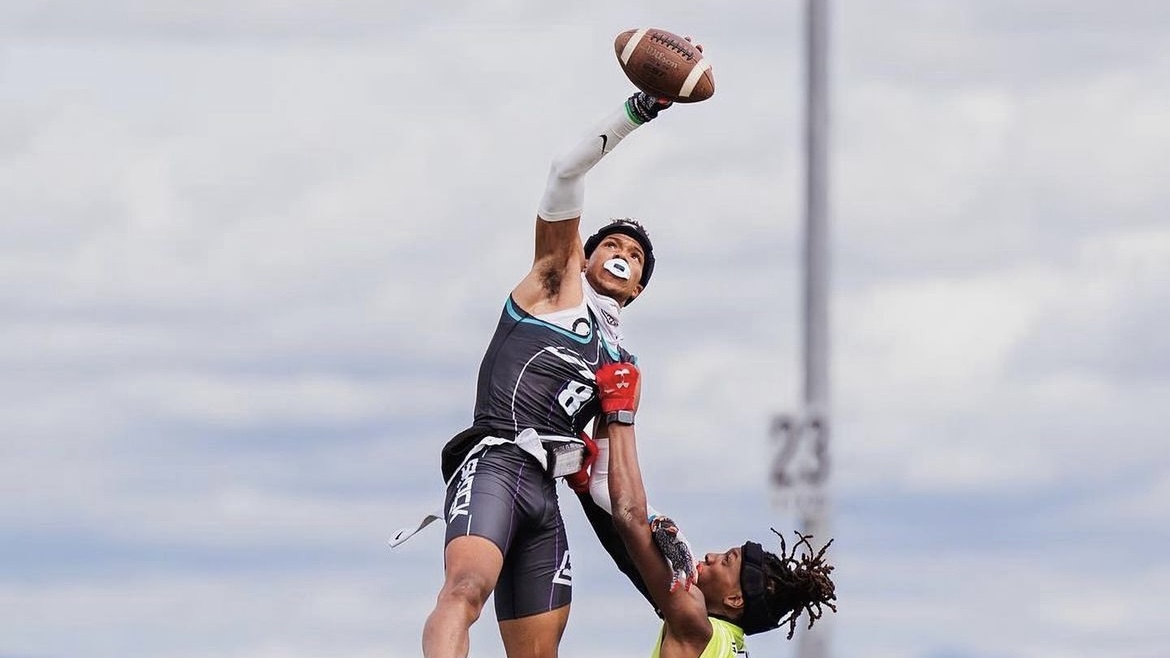 It was only five weeks that I was introduced to 2025 Pflugerville (Tex.) wide receiver Adrian Wilson while in Houston for a Shock Doctor tournament. After first seeing him, I wrote that Wilson was "a prospect deserving of more attention."
Since that time, I have kept my eye on the young wideout and I have only become more intrigued and enamored with him as a prospect. In fact, others have caught on at On3. As of last week, Wilson is ranked as the No. 5 wide receiver in the nation and the No. 26 prospect overall.
Not only does he provide size at 6-foot-1 and 170 pounds, but most impressively, Wilson has as strong of hands as I've seen this 7v7 circuit. He also shows great body control at the catch point, giving him a wide catch radius. There has not been one defensive back this winter or spring who has been able to cover him. 
This can be shown off perfectly from one clip of Wilson in a recent 7v7 game. He ran a simple corner route to the back pylon and let his quarterback put the ball in the air. Wilson then jumped up and snagged the ball with one hand, reeling it in, then finding room for his feet sneak in the line.
Wilson has seen his recruitment develop and grow in the past six weeks or so, now holding offers from Baylor, Houston, SMU, Texas State, Texas Tech, Arizona, Arizona State, Colorado State, and UTSA.
As a sophomore, in eight games played, Wilson had 28 receptions for 547 receiving yards and eight touchdowns. After this off-season's development and from what I've seen in the 7v7 setting, I expect Wilson to have a breakout year with the pads on.
Wilson has impressive testing numbers, reporting a 4.56 forty yard dash and a 39-inch vertical jump. And I think with time and development, his 4.56 time will get faster. At the current time, Wilson is only 15-years old and will not turn 16 for another nearly six months.
I am a huge fan and supporter of Wilson and I am expecting to see his recruitment take off to a different level. Power five programs from across the country will love his film and when they see him in person, they will be offering immediately. He is that kind of prospect.
The post My favorite WR in 2025 so far: Adrian Wilson appeared first on On3.