Nationally pursued DL TJ Lindsey is trending with Texas A&M, official visit upcoming
3 min read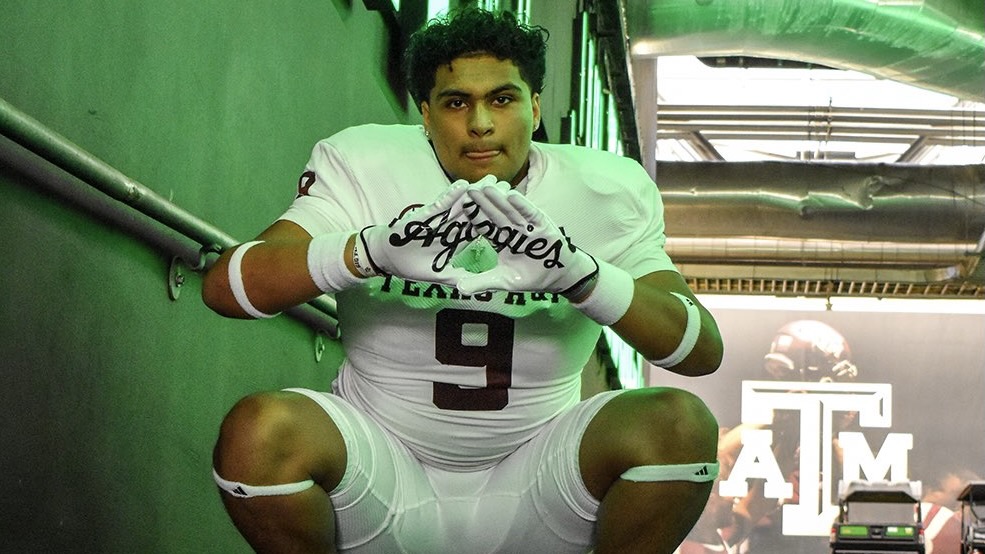 2024 Bryant (Ark.) defensive lineman TJ Lindsey has been heavily involved with the Texas A&M Aggies for a few months now and that relationship continues.
Lindsey has been busy in 2023 visiting more than eight programs including the Aggies. Some of the others schools include Arkansas, Georgia, Tennessee, LSU, Kentucky, and Oklahoma.
Lindsey is the No. 415 overall prospect in the 2024 class, according to the On3 Industry Ranking, a weighted average that utilizes all four major recruiting media companies. He ranks as the nation's No. 39 defensive lineman and the No. 6 recruit in Arkansas. 
On3, however, is higher on him than other recruiting services, ranking him as the nation's No. 30 defensive linemen in the most recent On300 rankings.
Texas A&M has emerged a top contender, and possibly even the leader, to land a commitment from Lindsey.
Lindsey is high on the Aggies and is especially fond of the community around the Aggies.
"College Station is a place I can definitely see myself living in, reminds me a lot of home (Little Rock)," he added. "It's a city, but it's not too overpopulated. The school is known for top D-linemen, and I love the way Coach Robinson and Coach Price coach the guys. They develop well, and the Texas A&M degree holds heavy weight. The Aggie network is something I love, and me and Coach Fisher also have a great relationship." 
Lindsey will be back in College Station this weekend for another unofficial visit, and he also plans to see Notre Dame (April 22) and Oregon (April 29) later this month.
Texas A&M will land an OV from Lindsey in June
Texas A&M has come on strong with the 6-foot-5, 250-pounder.
Elijah Robinson and Terry Price are leading the charge for Lindsey, who says the Aggies are trending for an official visit.
"The school pursuing me the hardest is Texas A&M. They're coming at me hard," he told On3. "I talk to Coach Robinson and Coach Price, all of them. They're good people. Kevin Mashek and I have a good relationship right now and they're probably on me the hardest."
Texas is a second school Lindsey says will be receiving an official visit. I believe it likely he uses most, if not all, of his five allotted official visits. The aforementioned Oregon and Notre Dame are two potential OV recipients.
In February, he told On3 that he was really just in the beginning stages of his recruitment, but wanted to get out and visit more schools. Now that he has done that, Lindsey is focusing on specific things during his trips to help narrow things down. 
"Just the staff in general, I'm gonna be around the people more than I'm gonna be around football," he said. "And then opportunities that they can provide on the field, off the field, even after football. Those are the things I'm really looking at now, especially in person."
The post Nationally pursued DL TJ Lindsey is trending with Texas A&M, official visit upcoming appeared first on On3.