NC State basketball roster outlook for 2023-24: Updated
5 min read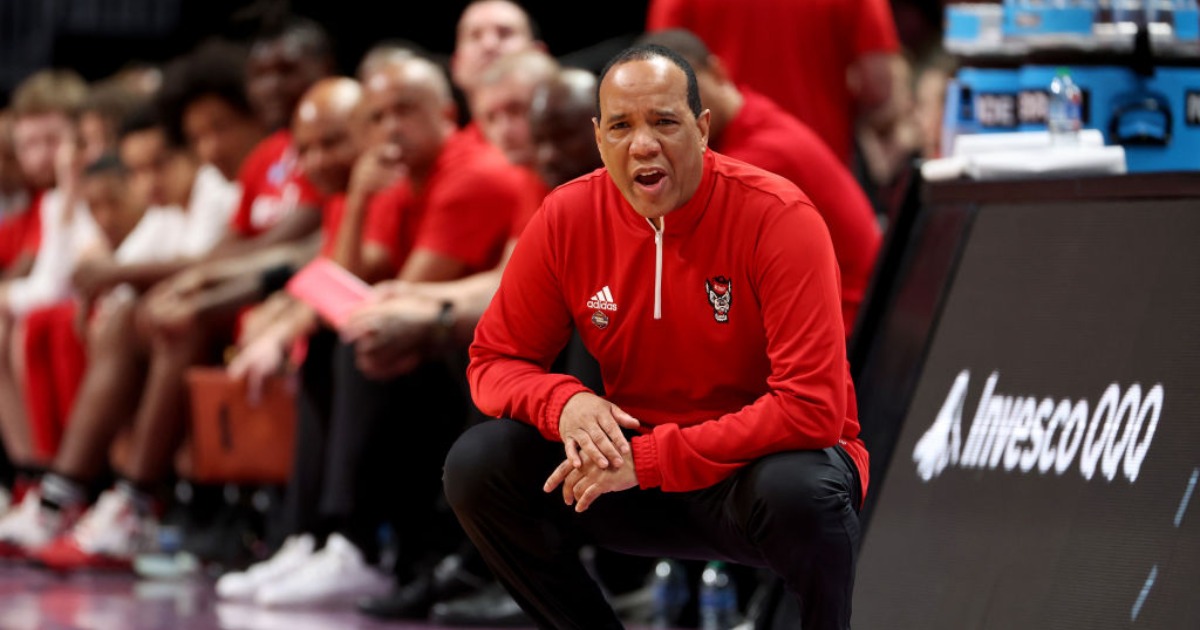 The NC State basketball season is over after a loss to Creighton in the first round of the NCAA Tournament. With the transfer portal humming, there is no rest for the weary. NC State head coach Kevin Keatts and his assistants must get to work quickly on next year's roster.
TheWolfpacker.com detailed four questions that must first be answered before figuring out what to do in the transfer portal.
Here is how the NC State basketball roster is currently configured for the 2023-24 season, subject to many changes to come over the next few weeks and months. However, the write-up features every player eligible to return doing so unless they have announced otherwise.
Guards
Terquavion Smith, NC State's star sophomore guard, confirmed the expected when he announced Tuesday that he was turning pro.
Smith was second-team All-ACC this past season and led the Wolfpack in scoring at 17.9 points a contest. He also paced NC State with 140 assists and 49 steals.
Smith eclipsed 1,000 career points during the year, putting him on a pace that would have made him one of the all-time leading scorers in NC State basketball history had he stayed for four years. His career average of 17.1 points per game is eighth highest all-time in the program.
His 187 three-pointers are eighth most at NC State.
Jayden Taylor is transferring to NC State basketball after his sophomore season at Butler and may be the leading contender to replace Smith's spot in the lineup. Taylor led the Bulldog in scoring at 12.9 points per game. He also contributed 3.8 rebounds, 1.3 steals and 1.3 assists while shooting 40.8 percent from the field and 32.6 percent beyond the arc.
Taylor scored 18 points in a Butler loss to NC State in the Bahamas in November. He shot 5 of 8 from the field, including 4 of 6 on threes, against Sweet 16-bound Tennessee to score 18 points in the opener of that tournament
On3's basketball transfer portal rankings had Taylor rated No. 7 among available combo guards, and he picked the Pack after also officially visiting Arkansas.
Jarkel Joiner has exhausted his eligibility. The second-team All-ACC performer was arguably the Pack's MVP this season after averaging 17.0 points per contest, while committing just 49 turnovers in 34 games and playing a team-high 35.8 minutes per contest.
Joiner led NC State in scoring during ACC play at 17.3 points per contest and was 64 of 70 from the free throw line against conference teams.
Casey Morsell, who has an extra season of eligibility left due to the COVID rule that added a year for everyone playing in 2020-21, enjoyed a breakout campaign, averaging 11.8 points per contest and shooting 41.1 percent on threes, making 78 of 190 attempts. Morsell was second on the team in both threes made and shooting percentage beyond the arc.
Morsell is expected to go through the NBA Draft process but will maintain his collegiate eligibility.
Rookie LJ Thomas had the highest three-point shooting percentage at 47.4 percent after he made 9 of 19 treys. Thomas played in 30 of 34 games, averaging 9.5 minutes per contest. He contributed 2.4 points per game.
Breon Pass played a reserve role for the second straight year, although he played more frequently in games (30 vs. 25 as a rookie). He averaged 1.5 points.
The addition to the backcourt is Trey Parker, a Fayetteville, N.C., native playing at Overtime Elite in Atlanta, which is a semi-pro league for high schoolers that allows participants to maintain collegiate eligibility. In 19 games, the high-flying Parker averaged 12.1 points, 2.8 boards, 2.3 steals and 2.2 assists.
The On3 Industry Ranking for Parker has him rated No. 77 nationally in the 2023 class.
NC State's Backcourt Roster For 2023-24
NameYear*Height, WeightHometown2022-23 StatsCasey MorsellSr.6-3, 200Ft. Washington, Md.34 starts, 11.8 ppgBreon PassJr.6-0, 175Reidsville, N.C.30 games, 1.5 ppgTrey ParkerFr.6-1, 165Fayetteville, N.C.—Jayden TaylorJr.6-4, 195Indianapolis, Ind.32 games, 12.9 ppg (at Butler)LJ ThomasSo.6-2, 205Plant City, Fla.30 games, 2.0 ppg
* — Year is based on players' 2023-24 classification
Forwards And Centers
NC State basketball has lost two players off the frontcourt to the transfer portal.
Ebenezer Dowuona returned to a primary reserve role after being forced into a starting role a year ago. Dowuona averaged 1.7 points and 1.9 rebounds in 2022-23 while blocking 26 shots in 30 games and averaging 10.9 minutes per contest. He entered his name into the portal last week.
Jack Clark, who like Morsell has an extra season of eligibility available because of the COVID year, also hopped into the portal, revealing his choice Friday afternoon. Clark missed 11 games due to injury, but was effective when he did play, averaging 9.0 points and 6.9 boards while making 28 threes, albeit at just a 28.9 percent clip.
Greg Gantt and Ernest Ross split the power forward duties while Clark was absent. Gantt, however, entered the transfer portal Wednesday morning. Gantt missed games early in the year with a knee injury and then was sidelined for the last two contests after getting hurt in the ACC Tournament opener. He averaged 2.0 points and 4.5 boards.
Ross played all 34 games and averaged 3.5 points and 2.5 boards, while finishing second on the team with 27 blocked shots.
The other departure (currently) from the NC State basketball roster is Dusan Mahorcic, who averaged 8.7 points and 6.6 rebounds in 10 games (9 starts) before dislocating his patella and missing the remainder of the year. However, there is a chance that Mahorcic could be granted a waiver for an extra season of eligibility.
D.J. Burns Jr. was platooning with Mahorcic before his injury, averaging 20.9 minutes per game. In Mahorcic's absence, Burns saw increased playing time and finished the year averaging 12.5 points and 4.8 rebounds in 22.9 minutes, shooting 56.1 percent from the field. He has one more season with the Wolfpack.
In conference play, Burns was notably effective, averaging 16.1 points and 5.6 boards while shooting 56.6 percent from the field. Burns was named honorable mention All-ACC.
Isaiah Miranda redshirted after enrolling midyear. After reclassifying into the 2022 class, the 7-footer was rated at No. 40 nationally in the On3 Industry Rankings.
Dennis Parker Jr. from John Marshall High in Richmond, Va., signed with NC State basketball in November, joining Trey Parker. In 25 games as a senior, Dennis Parker averaged 20.0 points, 4.5 rebounds and 2.4 steals per contest while shooting 57.4 percent from the field.
The On3 Industry Ranking has him rated No. 97 nationally in the 2023 class.
NC State's Frontcourt Roster for 2023-24
NameYear*Height, WeightHometown2022-23 StatsDJ Burns Jr.R-Sr.6-9, 275Rock Hill, S.C.34 games, 12.5 ppg, 4.8 rpgIsaiah MirandaR-Fr.7-1, 205Pawtucket, R.I.—Dennis Parker Jr.Fr.6-7, 175Richmond, Va.—Ernest RossJr.6-9, 195Alachua, Fla.34 games, 3.5 ppg, 2.5 rpg
* — Year is based on players' 2023-24 classification
NC State Basketball Scholarship Count
Due to the NCAA's ruling from the IARP committee on the case involving the recruitment of Dennis Smith Jr., NC State lost a scholarship in 2022-23, but that returns to the team this coming season, increasing the limit back to 13.
NC State is currently at nine scholarships, pending any decision on a Mahorcic waiver.
The post NC State basketball roster outlook for 2023-24: Updated appeared first on On3.