Nebraska TE Arik Gilbert on track to finally reach lofty potential on, off the field
3 min read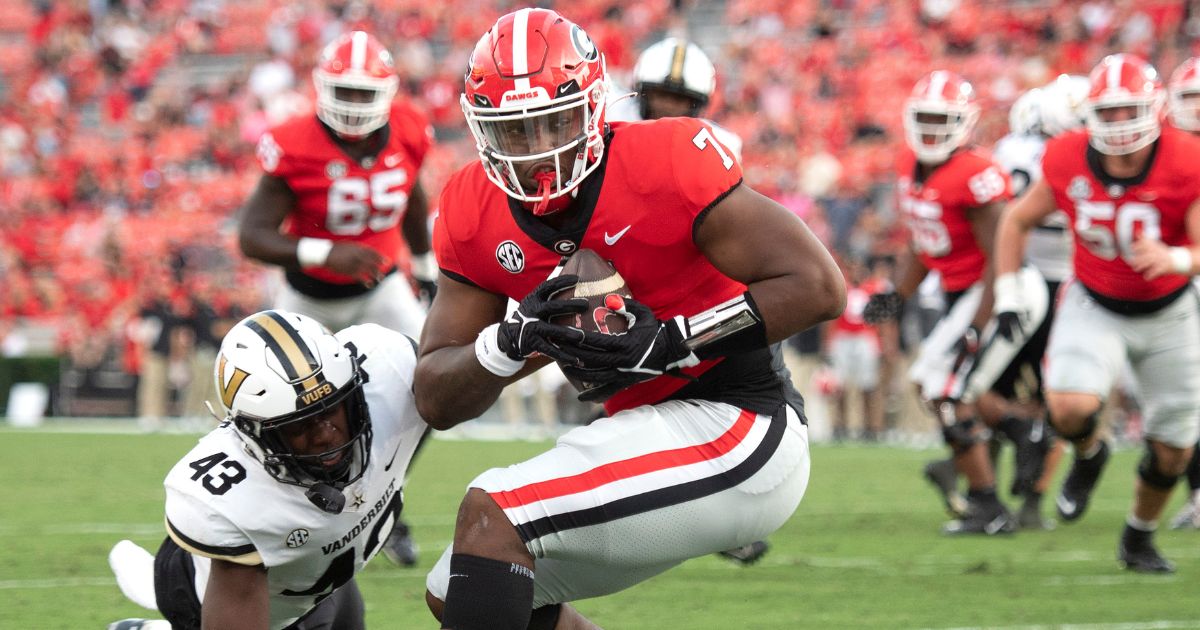 It doesn't take long for Arik Gilbert to stand out on the football field.
Nebraska's official roster lists the Georgia transfer tight end at 6-foot-6, 260 pounds. But NU offensive coordinator Marcus Satterfield said the redshirt sophomore was now probably closer to 270-280.
All while possessing the speed and athleticism of a player 50 pounds lighter.
"Freak, man," Satterfield said when asked to describe Gilbert. "He's super gifted. Very, very, very good kid. Flashes at times when he does things. It's mind-boggling to be that big and move your body like that. So, really excited where he's going off the field and on."
Click here for a limited time, register, and get full access to this spring for only $10
Gilbert hoping to find his footing at Nebraska
As a player, Gilbert has always possessed unlimited potential. 
A five-star recruit, Gilbert was the No. 5 overall prospect and No. 1 tight end in the country coming out of Marietta (Georgia) High School in 2020.
He committed to LSU and recorded 35 catches for 368 yards and two touchdowns in his lone season as a Tiger, earning Freshman All-SEC honors. 
He transferred to Georgia in 2021. After sitting out a year, PFF named Gilbert a 2022 preseason All-American along with being on the Mackey Award watchlist. 
While he was part of back-to-back national championships with the Bulldogs, Gilbert caught just two passes for 16 yards and a score during his time in Athens.
Gilbert hit the portal this winter and landed at Nebraska, hoping to finally maximize his ability. Head coach Matt Rhule hasn't tempered his excitement about what Gilbert could be in the Huskers' offense.
The key, Rhule said, will be developing him as a person just as much as a football player.
"I just think he's as talented a player as there is. He's a player," Rhule said. "What we want to do, like with all of our players, I want him in 10 years to say his life is better for having played with us at Nebraska. That's all I care about with all these guys.
"What that means for him, I'm just getting to know him. I want him to have elite success in the classroom, I want him to go be involved in the community, I want him to have great relationships, and I want him to go play well in football."
Rhule taking a day-by-day approach with Gilbert
Rhule told HuskerOnline last month that building the necessary level of trust and connection with Gilbert would be an ongoing process.
If the Huskers can get things to click with him, they could end up with one of the more dangerous offensive weapons in college football.
"I think our job here is to help him," Rhule said. "The football part will come. Just help him do all the things it's going to take to have it work out… I think it's just a process of – sometimes, when players have a lot of expectations put on them, they have a tendency where every day is, like, too anxious. 
"We're trying to teach these guys, 'Just worry about today, man. Don't worry about where you're getting drafted or how everyone expects (you) to play. Just worry about today.'"
Never miss breaking news or another HuskerOnline article again. Click HERE to sign up for HuskerOnline's Daily and Breaking News Newsletters.
The post Nebraska TE Arik Gilbert on track to finally reach lofty potential on, off the field appeared first on On3.