Newsstand: 13 Notre Dame men's and women's basketball players make ACC All-Academic teams
3 min read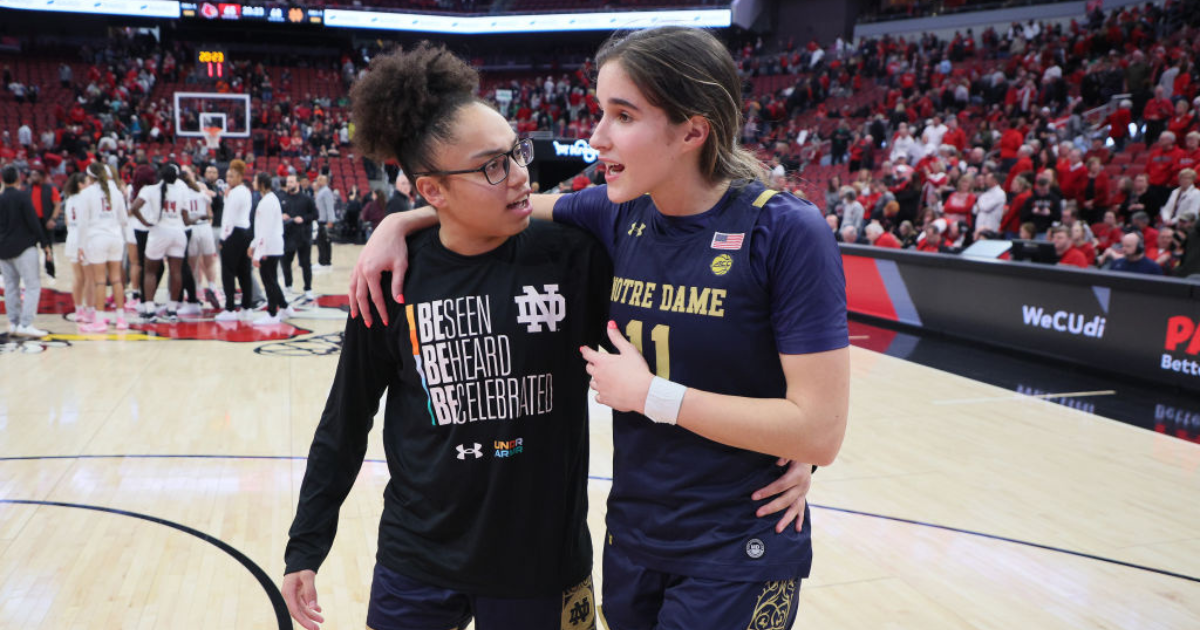 Notre Dame's two basketball programs had a combined 13 players land on their respective ACC All-Academic teams Thursday. The men's team had six honorees, tied for the most in the league, and the women had seven.
Freshman guard JJ Starling, freshman forward Ven-Allen Lubin, grad student forward Nate Laszewski (business analytics), grad student guard Cormac Ryan (strategy), grad student guard Marcus Hammond (nonprofit administration) and grad student guard Trey Wertz (business analytics) were the men's honorees. This year is Ryan and Laszewski's second appearance on the all-academic team.
Lubin is the only one of those six on the Irish's 2023-24 roster. Starling transferred to Syracuse, and the others are out of eligibility.
Grad student guard Jenna Brown (non-degree seeking), sophomore guard Sonia Citron (management consulting), grad student forward Lauren Ebo (management), grad student guard Dara Mabrey (nonprofit administration), junior forward Nat Marshall (political science), sophomore guard Olivia Miles (political science) and junior forward Kylee Watson (film, television, theater) were the women's all-academic selections.
This year is Mabrey's fifth on the ACC All-Academic team. Citron and Miles made it for the second time.
To be selected, players must have had at least a 3.0 grade point average the prior semester, own a 3.0 cumulative GPA and appeared in at least 50 percent of a team's games that season.
Notre Dame Tweets of the Day
Don't overthink Michael Mayer.
Former Irish cornerback Julian Love will have his number retired at his high school.
Could this be sight in the fall?
PROMOTION: Join for only $29.99 until Aug. 31 to unlock premium access for all of spring practice and beyond. This is a limited time offer, so act fast!
Quote of the Day
"His overall athleticism, he can bend better. His output is higher, longer, especially inside the trenches. When you're in better shape, everything is calmer."
– Defensive line coach Al Washington on tackle Jason Onye
Headlines of the Day
How Jason Onye has surged into Notre Dame defensive line rotation in 'make it or break it' spring
Why Joshua Burnham is playing vyper after Al Washington recruited him as a linebacker elsewhere
Jordan Botelho's opportunity is here, but reaching it was no small feat itself
Why Junior Tuihalamaka has a bright future as a Notre Dame defensive end
Four standouts from Wednesday's open spring practice
Latest Mel Kiper Jr. mock draft has Michael Mayer going to a frequently projected destination
Lucky Charms: Notre Dame football recruiting tidbits
Notre Dame offer fires up four-star EDGE Gabe Kaminski
Styles Prescod's head coach goes in-depth on the 2024 O-lineman ahead of Notre Dame return visit
The post Newsstand: 13 Notre Dame men's and women's basketball players make ACC All-Academic teams appeared first on On3.