Newsstand: What Micah Shrewsberry told Notre Dame football team after practice
3 min read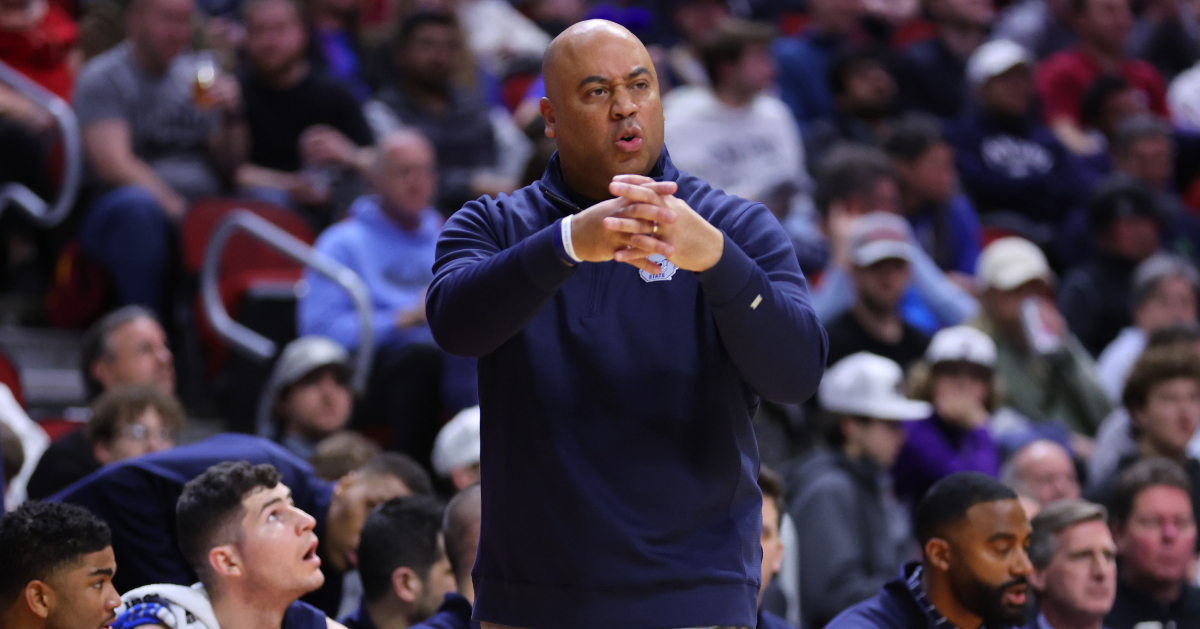 Micah Shrewsberry and his family arrived on campus Friday evening, just hours after he was officially announced as Notre Dame men's basketball coach. He made a stop to visit the school's flagship team less than a day after arriving.
Shrewsberry was at Notre Dame football practice Saturday morning and spoke to the team afterward. He's not just an Indiana native who's now working in his home state. He's coaching at the school with the football team he grew up watching.
"I'm from Indiana," Shrewsberry told the team after Saturday's practice. "I grew up in Indiana. Coached most of my life here. It's exciting for me to be back. But I told Coach (Marcus Freeman) the other day, I love college football. I don't watch the NFL at all. I love college football. But I grew up a Notre Dame football fan. You don't know how many games Saturday afternoon I sat on the couch and turned it to NBC to watch it. I'm excited to be here. I'm excited to be around and watch you guys and be here at Notre Dame."
The 46-year-old Shrewsberry – Penn State's head coach the last two years – will be formally introduced at a press conference on March 30. He replaced Mike Brey, who stepped aside after 23 seasons in the role earlier this month. Shrewsberry previously coached at Purdue (2011-13, 2019-21) and Butler (2007-11), and was also an assistant for the Boston Celtics from 2013-19. He was IU-South Bend's head coach from 2005-07.
Notre Dame Tweets of the Weekend
Marcus Freeman with the most notable visitor of the weekend.
Notre Dame fencing: National champions for the third straight year.
Micah Shrewsberry and Marcus Freeman meet.
PROMOTION: Join for only $10 for the next four months to unlock premium access for all of Notre Dame spring practice and beyond. This is a limited time offer, so act fast!
Quote of the Weekend
"He'll make fun of me for saying this, but he's got a little swagger to him now. He's got a little something to him now."
– Tight end Kevin Bauman on offensive coordinator Gerad Parker
Headlines of the weekend
The biggest storylines from week 1 of spring practices
Quick-hitters: Gerad Parker on Sam Hartman, vision for the offense
What we saw Saturday during spring practice No. 3
Notre Dame football spring practice No. 3 observations: offense
Notre Dame spring practice No. 3 observations: defense, special teams
Notre Dame women's basketball runs out of steam in Sweet 16 loss to Maryland
2024 five-star Justin Scott shares significance behind third Notre Dame visit
2025 athlete Jordan Young breaks down visit
Spring recruit visit observations: Where was 2024 five-star DL Justin Scott's focus during practice?
Pot of Gold: Mapping where Irish sent out all of their new 2025 offers
The post Newsstand: What Micah Shrewsberry told Notre Dame football team after practice appeared first on On3.