Nick Saban stresses ball security while talking pocket awareness for QB Jalen Milroe
2 min read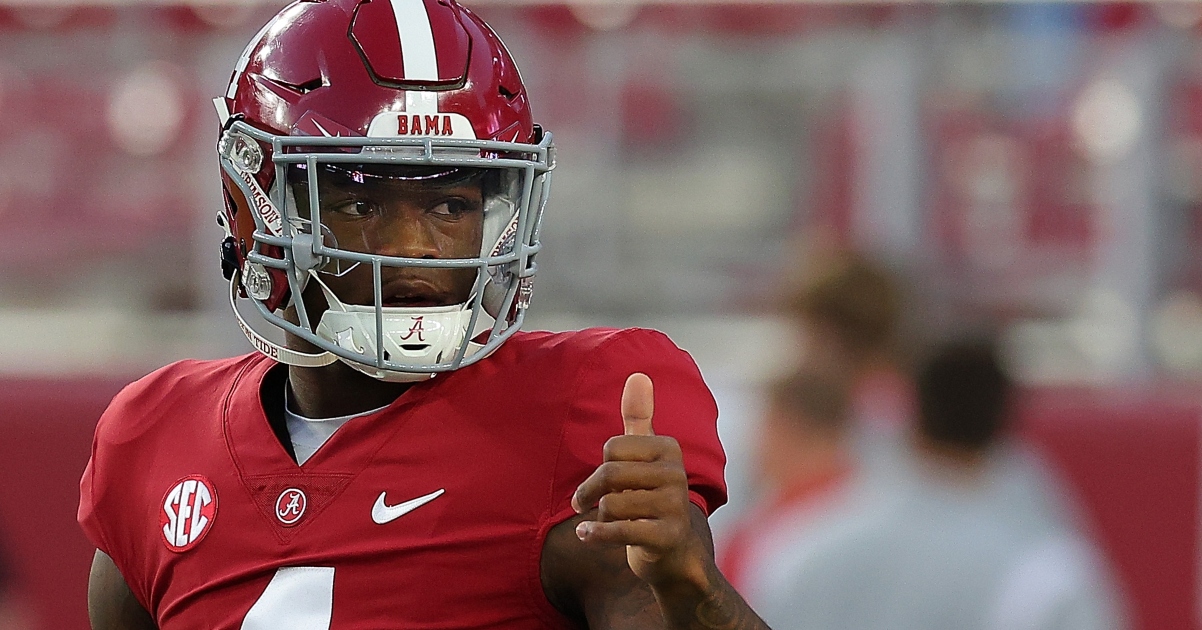 Alabama quarterback Jalen Milroe is in the midst of the biggest offseason of his football life. Milroe is in a battle with Ty Simpson for the starting role and neither one has taken a commanding lead as the spring camp enters its final few practices.
One area where Milroe has made progress is in his pocket awareneess, head coach Nick Saban said at a recent press conference.
"He's made progress," Saban said Saturday following the team's second spring scrimmage. "I think the more experience he has, the better he's going to get at those types of things. One of the things we really try to emphasize: two hands on the ball. I didn't think he's pocket awareness was bad last year. I think his ball security was not what it needs to be. Sometimes he starts moving around, you got to have two hands on the ball. So they can't knock the ball out of your hands. That's something we worked on really hard so far this spring."
Milroe, a former four-star recruit in the 2021 recruiting class, played in eight games in 2022 as the backup to Bryce Young. He played significant minutes against Arkansas after Young left in the second quarter with an injury and then started the game the following week against Texas A&M.
For the season, Milroe was 31-for-53 throwing the ball for 297 yards, five touchdowns and three interceptions. He also dashed for 263 rushing yards and one touchdown on 31 carries.
Saban: Both QBs 'made some good plays' in spring game
While no leader in the Alabama quarterback race has been named, Milroe is the current projected favorite, according to AL.com's Mike Rodak.
Nick Saban also addressed the quarterback situation in total during his recent press conference. He unsurprisingly gave little away about who may or may not be in the lead as spring practices starts winding to a close.
"They both made some good plays, but they also both made some plays that they probably wish they would have had back," Saban said. "But they're making progress, they're improving. I think that they're developing some confidence, you know, in the offense and what they're supposed to read and what they're supposed to do. I thought we were a little up and down today. I think we made some really good plays, but I also thought we made some maybe mistakes that we need to eliminate."
CLICK HERE to subscribe to the On3 YouTube channel today for all of the latest news on college football, recruiting, NIL, more!
The post Nick Saban stresses ball security while talking pocket awareness for QB Jalen Milroe appeared first on On3.