Ninth-inning rally falls short as Florida State Baseball loses 10th straight game
3 min read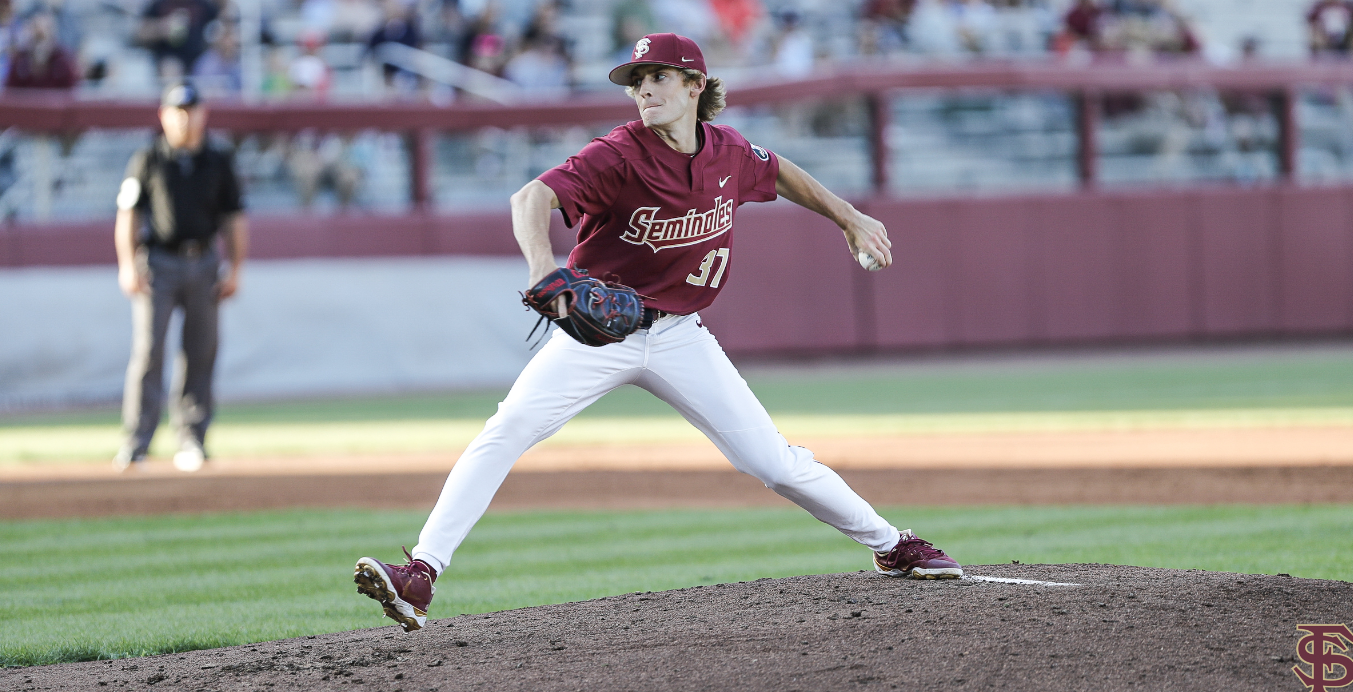 For a split second, when the ball left the bat, it looked like the Florida State baseball team had ended its school-record losing streak in grand fashion.
But freshman Cam Smith's drive to left field with the bases loaded and two outs was caught at the edge of the warning track, and the Seminoles had come up short yet again — this time by the score of 5-4 to visiting Jacksonville on Tuesday night.
Florida State, which welcomes ACC rival Clemson for a three-game series at Dick Howser Stadium on Thursday, is now 12-16 on the season. Jacksonville improves to 20-10.
"Did it sound like he got it? No," first-year Florida State head coach Link Jarrett said of Smith's game-ending fly-out. "In a 3-1 count, knowing where you are, in a fastball-and-take-the-offspeed mindset, you would think you would really get that thing. So, I don't know if it was in or what. But it wasn't enough. It wasn't good enough to really damage it.
"And it was set up to be damaged."
*** Sign up for premium access to Warchant.com and the On3 Network for only $29.99. ***
Instead, it was another loss. In a season that has been nothing but for the last month.
After getting swept on the road at Miami this past weekend, and giving up double-digit runs in two of the three games, the Seminoles immediately fell behind again on Tuesday as starting pitcher Ryan Denison gave up a first-inning grand slam to Jacksonville's Chandler Howard in the first inning.
Florida State only allowed one run the rest of the way — on a long home run by Florida transfer Kris Armstrong, who now has 17 on the season — as the Seminoles' bullpen pitched one of its best games of the season.
Andrew Armstrong, Brennan Oxford and Doug Kirkland allowed just four hits and one earned run in 8 1/3 innings of work. They also combined for 14 strikeouts.
"That's a great matchup when you have some left-handed arms," Jarrett said of the Seminoles' bullpen. "Now, getting to those arms. We thought we could work through a start out of a guy that was really the only fresh guy we had. We didn't.
"And the lefties came in and were able to navigate it pretty well. … They pitched great. They pitched fine. The start, obviously, really hurt."
The Seminoles kept chipping away at the lead but could never get all the way back.
Florida State got an RBI double from Jordan Carrion in the second, an RBI single from DeAmez Ross in the fourth, an RBI groundout from Carrion in the eighth and then an RBI single from Jaime Ferrer, who had three hits on the night, in the bottom of the ninth to cut the lead to 5-4.
When Ferrer raced to second on a throw to third following his single up the middle, the Seminoles had two runners in scoring position and one out.
Jacksonville elected to walk Colton Vincent to load the bases and pitch to freshman Ben Barrett. He struck out on four pitches, setting the stage for Smith, who just couldn't quite do enough with that 3-1 pitch, and the visiting Dolphins held on for the win.
***Talk with other Seminole fans on the FSU Baseball Forum***
The post Ninth-inning rally falls short as Florida State Baseball loses 10th straight game appeared first on On3.