No. 3-ranked TE Caleb Odom raves about Miami after second spring visit to Coral Gables
3 min read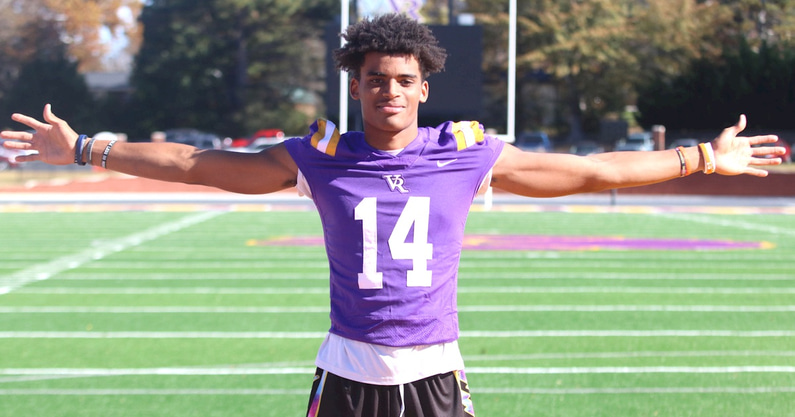 Carrollton (Ga.) 2024 four-star tight end Caleb Odom, the No. 71 overall recruit in the On3 Industry Ranking and No. 3 tight end in the On300, made a point to return to Miami with his mother this weekend after visiting Coral Gables once in early April.
The Hurricanes took full advantage of the opportunity.
Miami convinced 6-foot-6, 215-pound Odom to return to Coral Gables for the second time in less than 40 days to build on their quickly-improving relationship, which has been led by tight ends coach Cody Woodiel, former tight ends coach Stephen Field and head coach Mario Cristobal. Odom said he wanted to learn more about the program and see more of the campus while giving his mother a chance to see the school, which was very important to the elite tight end.
"(My mom) is loving it right now," Odom said. "We got to sit down and watch football with coach Woodiel, and he's been able to explain to her how they want to use me. She loves this place and the campus."
Recruiting Notebook: Miami hosts quartet of five star prospects, score of priority targets
Miami made a serious impression on Odom and his mother, although the On3 Recruiting Prediction Machine right now still lists Ole Miss as the heavy favorite with an estimated 76.7% chance to land him. Miami sits second with an estimated 5% chance of landing the four star, although Odom has hesitated to publicly name a frontrunner.
But giving Miami a chance to recruit both Odom and his mother was important to him this weekend.
"This (visit) was different because my mom was down here," Odom said. "It's not tailored to just me now. My mom got to see the place and spend a lot of time with coach Woodiel."
Odom recently listed Miami among his top seven schools along with Alabama, Colorado, Georgia, Ole Miss, Florida and Penn State. He said he included the Canes because of their program history and recent recruiting success. Miami made a serious impression on his last trip south and has continued to push over the last month.
"(We're talking) every day," Odom said. "Coach Cristobal, he'll text in a group chat with me, he'll send me a 'good morning,' quotes and everything, so it's great. It's a great relationship. It just really shows me how much they want me, texting me every day, texting my mom every day, so it means a lot."
Odom already has a Miami official visit scheduled for June 23 and a Penn State official visit set for June 9. He said he plans to take an official visit to Georgia and is considering taking official visits to Alabama and Colorado. He may take more official visits now that players can take unlimited official visits.
He wants to commit sometime in mid-to-early August.
CaneSport's Take
The Hurricanes have turned into a real player for Odom and have generated some recent momentum, but the question has now become whether or not Miami can sustain its momentum for the next month before his official visit. If it can, the Canes should have a great shot with the four-star.
The post No. 3-ranked TE Caleb Odom raves about Miami after second spring visit to Coral Gables appeared first on On3.